Screen has launched its critics jury grid for the Platform strand at this year's Toronto International Film Festival (TIFF, 6-16 September) with Emir Baigazin's The River the first title to take its place.
This year's grid will feature scores from six critics:
Justin Chang, Los Angeles Times
Radheyan Simonpillai, NOW/CTV
Loren King, Boston Globe
Joshua Rothkopf, Time Out New York
Vincent Le Leurch, Le Film Français
Screen's own critic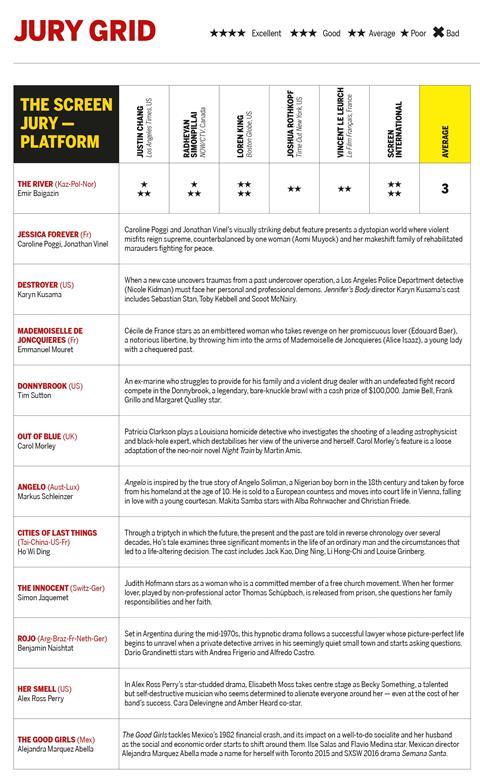 The River has made a strong start to the grid, with an average of 3. It scored consistently, with Rothkopf and Le Leurch awarding two stars, Chang and Simonpillai choosing three and King and Screen's critic giving four.
Baigazin's film tells the story of five young brothers living under a controlling father. When they happen upon a nearby river which had been kept secret from them, they discover a whole new side to life.
Last year's Toronto Platform jury grid was a tie between Andrey Zvyagintsev's Loveless (later nominated for best foreign language film at the Oscars), and Lynne Ramsay's You Were Never Really Here starring Joaquin Phoenix, both achieving 3.2.
Earlier this year Lee Chang-dong's Burning set the record score in the history of the jury grid at Cannes, with a 3.8 average.
Next up on this year's Toronto Platform grid are Caroline Poggi and Jonathan Vinel's debut Jessica Forever, and Destroyer starring Nicole Kidman from Jennifer's Body director Karyn Kusama.