Hit Korean horror played at Cannes 2016 and scored multiple deals.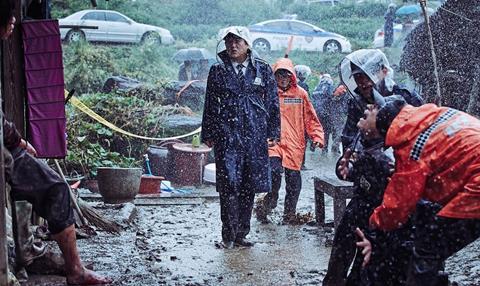 Fox International Production (FIP) Korea is in early talks with Ridley Scott's Scott Free over an English-language remake of Na Hong Jin's hit horror-thriller The Wailing.
Head of FIP Korea, Hosung Kim, first hinted at the news yesterday (Jan. 19) while accepting the Korean Film Reporters' Association (KOFRA) award for best picture of 2016. The film also won KOFRA's best director award for Na Hong Jin.
Speaking to Screen, Kim revealed that a senior Scott Free executive had recently contacted him with an offer to do the English-language remake.
"They said The Wailing reminded them of films such as The Exorcist, The Ring and Seven. The locality and sensibility of The Wailing is so strong that I don't think it would be easy to do a Western remake, and it will be important who directs it. So I told him I think the only director who could do the remake is Na Hong Jin. But we are still in early stages of talks," he said, emphasising that neither he nor Na were ruling out any eventuality at this stage.
Director Na has previously said that he is interested in working in Hollywood although no concrete plans have been confirmed as of yet.
"We're being careful. As you know, there are a lot of remakes out there being developed [that haven't come to fruition]," said Kim.
Written and directed by Na, The Wailing was produced by FIP Korea and Side Mirror. It played out of competition at the 2016 Cannes Film Festival and sold to multiple territories, including WellGo USA for North America.
The film is a set in a quiet Korean village that is rocked by a series of inexplicable murders after the arrival of a mysterious stranger. When an investigating officer's daughter falls foul of the same violent spell, he resorts to bringing in a shaman to help cure her and solve the mystery, with unexpected results.
Kim added that he had reservations about a potential remake: "What other country has such diverse religious beliefs as Korea? In The Wailing, you see not a Korean Buddhist monk, but a Japanese monk type of person, a shaman, Christianity, Catholicism, and diverse pagan and occult beliefs.
"It's different from the religious worldview of the West where they have monotheism in Christianity. So when you are tossed a question about faith, would the emotional response be as intrinsic as for Koreans? Of course the reactions we had in Cannes and from overseas sales were of surprise, but that was because it was foreign culture to them. Would it work if the film were in their own language?"
Distributed locally by 20th Century Fox Korea, The Wailing ranked eighth at the 2016 South Korea box office. It clocked up 6,879,908 admissions and approximately $47.5m, according to the Korean Film Council.
Following the success of The Wailing, Kim said FIP has started discussing the possibility of 20th Century Fox distributing future FIP Korea productions in North America.
"Our next film,Proxy Soldiers just wrapped its shoot last week – the film is directed by Chung Yoon-chul who did Marathon. It's in editing now and being considered for North American release, too," he said.