EXCLUSIVE: Neil Friedman also announces hire of Oded Horowitz.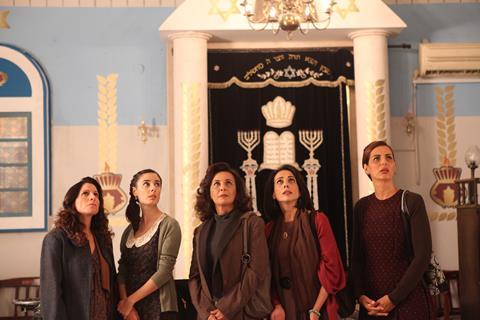 Santa Monica-based arthouse distributor Menemsha has passed $1m at the box office with Israeli drama The Women's Balcony.
The film premiered in Toronto 2016 and becomes the second in recent times to cross the milestone for Neil Friedman's company after Dough.
Evelyn Hagoel, Igal Naor, Orna Banai, Einat Saruf, Itzik Cohen and Aviv Alush star (pictured) in the story of female members of an Orthodox community who rally together after the collapse of the women's balcony in a Jerusalem synagogue. Emil Ben Shimon directed.
Friedman has also confirmed the hire of Oded Horowitz as his head of acquisitions. "He's a star," Friedman said. "He's been a distributor and an exhibitor in Israel for 25 years and has a wonderful eye. I give him a lot of the credit for the acquisition of The Women's Balcony, which we acquired last year in Toronto."
In another notable accomplishment, Ferenc Török's Hungarian post-war drama 1945 has shared with Andrei Konchalovsky's Paradise the San Francisco Film Critics prize for best film in the San Francisco Jewish Film Festival.
The acclaimed film was the centerpiece screening at the festival, which runs through August 6, and recently won the Jerusalem Film Festival's Avner Shalev – Yad Vashem Chairman's Award for artistic achievement in a Holocaust-related Film.
Menemsha plans a November 1 release in New York. 1945 received its world premiere at the Berlinale this year.