Audience winner also revealed in Karlovy Vary.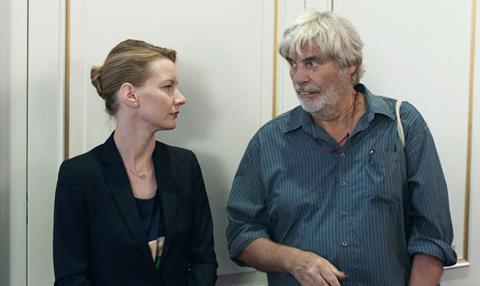 The films selected for the 10th anniversary edition of the European Parliament's Lux Film Prize have been revealed at the Karlovy Vary International Film Festival (KVIFF).
At a packed event hosted at Karlovy Vary's Hotel Pupp on Sunday (July 3), the 10 films were unveiled by Michaela Šojdrová, vice-chair of the committee on culture and education, Martina Dlabajová, vice-chair of the committee on budgetary control, Julie Ward and Bogdan Wenta, members of the committee on culture and education and Doris Pack, LUX Film Prize Coordinator.
The films are:
As I Open My Eyes (A Peine j'Ouvre Les Yeux), Leyla Bouzid (Fra-Tun-Bel-UAE)
A Syrian Love Story, Sean McAllister (UK)
Letters From War (Cartas da Guerra), Ivo M Ferreira (Por)
A War (Krigen), Tobias Lindholm (Den)
Things To Come (L'avenir), Mia Hansen-Løve (Fra-Ger)
Like Crazy (La Pazza Gioia), Paolo Virzi (Ita-Fra)
My Life As A Courgette (Ma Vie De Courgette), Claude Barras (Swi-Fra)
Sieranevada, Cristi Puiu (Rom-Fra)
Suntan, Argyris Papadimitropoulos (Gre-Ger)
Toni Erdmann, Maren Ade (Ger-Aus-Rom)
Like Crazy, My Life As A Courgette, Sieranevada and Toni Erdmann all debuted at Cannes in May while As I Open My Eyes and A War bowed at Venice. Letters From War and Things To Come premiered at Berlin in February while Suntan was first shown at Rotterdam in January.
Three of the 10 films will be selected for the final competition and will be screened and promoted during the Lux Film Days in all 28 EU Member States from October to December 2016.
The initiative aims to circulate films beyond their national market, subtitling them into 24 official languages of the European Union and screening them in the 28 member countries.
This year, for the first time, the European Parliament and Creative Europe Media Desks are together organising the screenings in the Member States.
Audience winner
The KVIFF gathering also heard that Deniz Gamze Ergüven's Mustang won the Audience Mention 2015, given to one of last year's three Lux Film Prize finalists that received the highest number of votes from audiences across Europe.