Manchester By The Sea is second, while Moonlight sits third.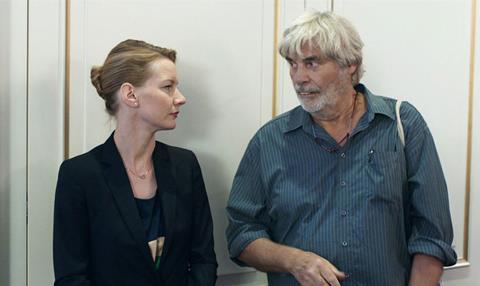 Maren Ade's comedy Toni Erdmann has been crowned Screen's critical darling of 2016, narrowly edging out Kenneth Lonergan's drama Manchester By The Sea on this year's critics' poll.
While boths films amassed eighteen points (see below for an explanation of the points system), Toni Erdmann edged out its rival courtesy of having one extra top-place finish.
Barry Jenkins' Moonlight was third on the overall list with 15 points, while Paul Verhoeven's Elle was fourth with 12.
Damien Chazelle's La La Land rounded out the top five with 10 points.
1) Toni Erdmann (18 points)
"Surprising, tense, funny, unsettling and uplifting," Lee Marshall.
"A masterclass of building a film over time," Sarah Ward.
"Superbly written and directed…Sandra Huller and Peter Simonischek both give revelatory performances," Jonathan Romney.
2) Manchester By The Sea (18 points)
"A story of monumental heartbreak that just crackles from beginning to end. Casey Affleck is devastating," Fionnula Halligan.
"A film that has truthful humanity embedded in its DNA," Charles Gant.
"Is there a more elegant dramatist currently working than Lonergan?" Wendy Ide.
3) Moonlight (15 points)
"Both epic and intimate; deeply personal in its depiction of masculine identity, race and sexuality," Allan Hunter.
"An eloquent, shimmering film," Fionnuala Halligan.
"A portrait of squandered potential redeemed by self-acceptance and love," Tim Grierson.
4) Elle (12 points)
"Consistently thrilling," Lisa Nesselson.
"Has Huppert ever been better?" Fionnuala Halligan.
5) La La Land (10 points)
"Bittersweet emotions and old-style movie magic," Allan Hunter.
"This will surely be the breakout hit of the year's top awards contenders," Charles Gant.
6) American Honey (7 points)
"A propulsive drive along America's poverty line," Fionnuala Halligan.
"Sasha Lane is a fiery revelation," Tim Grierson.
7) Paterson (6 points)
"Poetry of everyday life, tongue-in-cheek, tender, gentle and whimsical," Dan Fainaru.
"Quietly profound, terrifically funny," Tim Grierson.
8) Things to Come (6 points)
"[An] acutely judged portrait of middle-aged tumult," Sarah Ward.
"Bracingly intelligent and unashamedly intellectual," Wendy Ide.
9) Jackie (5 points)
"[A] multi-layered fact/fiction mash-up," Lee Marshall.
"Probes and devastates in equal measure," Sarah Ward.
10) Sierenvada (5 points)
"A stunning portrait of the contemporary middle class," Dan Fainaru.
Methodology explained:
Any film featuring in a critic's top five list is awarded points.
The number of points given to the film is dependent on its ranking on the list. A film which is placed in first is awarded five points, while any film that finishes fifth on a list is awarded one point.
This table tallies up the points given to each film by each critic, adding the scores given on each critic list to create grand totals for every film.
The film with the most points is awarded first place on the table.
In the event of a tie in points, the number of critic lists a film is featured on decides the ranking with the film on more lists given a higher placement. If the films have appeared on an equal number of critic lists, then the highest ranking the film achieved on any list is used to separate the movie, with the film with the highest finish given a superior position on table. If the films have equally high finishes, then the film that has appeared at its highest position the most is ranked above the other.