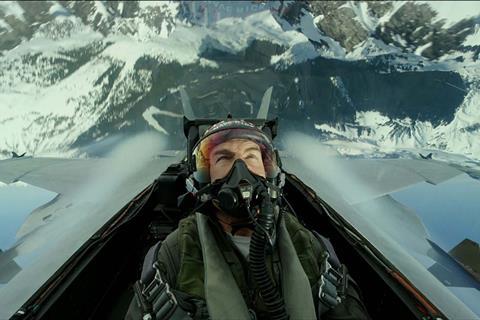 Days after becoming Paramount's biggest release in North America, Top Gun: Maverick now ranks as the studio's number one global release.
The Tom Cruise action adventure crossed $600m at the international box office to reach $602.5m which combined for a $1.208bn worldwide tally and overtook Transformers: Age Of Extinction on $1.104bn.
Maverick ranks as Paramount's all-time number one live-action release in 28 markets including the UK, France, Australia, Brazil, Sweden, Denmark, Poland, Belgium, Netherlands, South Africa, and UAE.
It also bears the distinction in Austria, Croatia, Czech Republic, Estonia, Finland. Hungary, Iceland, Kuwait, Lebanon, New Zealand, Norway, Oman, Portugal, Qatar, Romania, Serbia and Montenegro and Slovenia.
Meanwhile Disney executives confirmed Thor: Love And Thunder has crossed $400m at the global box office after a $19.5m Thursday haul raised the tally to $401.9m heading into the tentpole's second weekend. Chris Hemsworth and Natalie Portman star.
The latest international and North American grosses stand at $214.7m and $187.2m respectively as of Friday. The UK has produced $20.1m, Australia $17.6m, South Korea $17.5m, Mexico $15.3m and India $12.9m.