Maren Ade's German comedy won three awards including best director and best actress, while Barry Jenkins's drama was named best film.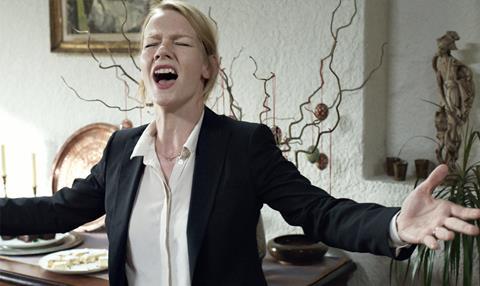 Father-daughter comedy Toni Erdmann was also named best foreign language film. Moonlight won best film and best supporting actor for Mahershala Ali at Sunday's awards meeting of The Toronto Film Critics Association (TFCA).
Best actor honours went to Adam Driver for Paterson. Kenneth Lonergan's Manchester By The Sea won awards for screenplay and supporting actress for Michelle Williams.
The Canadian Tire Allan King Documentary Award, which comes with a $5,000 cheque, went to Kirsten Johnson's Cameraperson. Zootopia won the animation prize.
The best of three finallists selected for the Rogers Best Canadian Film Award will be unveiled at the TFCA Awards Gala on January 10. They are: How Heavy This Hammer by Kazik Radwanski; Operation Avalanche by Matt Johnson; and The Stairs by Hugh Gibson.
The winner of the Stella Artois Jay Scott Prize for an emerging artist, to be announced at a later date, will be presented with a $5,000 cheque at the gala.
As previously announced, the 2016 recipient of the Technicolor Clyde Gilmour Award is Alanis Obomsawin, the veteran NFB filmmaker of such landmark films as Kanehsatake: 270 Years Of Resistance. She will present Amanda Strong, a young filmmaker of her choice, with $50,000 worth of services from Technicolor at the gala.
The TFCA will also present Denis Villeneuve with the 20th Anniversary Special Award for Excellence, recognising his record three Rogers Best Canadian Film Awards for Polytechnique, Incendies and Enemy.
"This year's winning films not only signalled themes of diversity," said TFCA president Brian D. Johnson, "they represented a wide diversity of filmmaking styles. Moonlight, Manchester By The Sea, and Toni Erdmann run the gamut from grim drama to riotous comedy, yet they all are highly original films that take radical departures from convention."
TFCA AWARDS IN FULL
Best Picture: Moonlight
Best Actor: Adam Driver, Paterson
Best Actress: Sandra Hüller, Toni Erdmann
Best Supporting Actor: Mahershala Ali, Moonlight
Best Supporting Actress: Michelle Williams, Manchester By The Sea
Best Director: Maren Ade, Toni Erdmann
Best Screenplay, Adapted Or Original: Manchester By The Sea by Kenneth Lonergan
Best First Feature: The Witch by Robert Eggers
Best Animated Feature: Zootopia
Best foreign-language film: Toni Erdmann
Canadian Tire Allan King Documentary Film Award: Cameraperson
Rogers Best Canadian Film Award Finallists: How Heavy This Hammer by Kazik Radwanski; Operation Avalanche by Matt Johnson; and The Stairs by Hugh Gibson