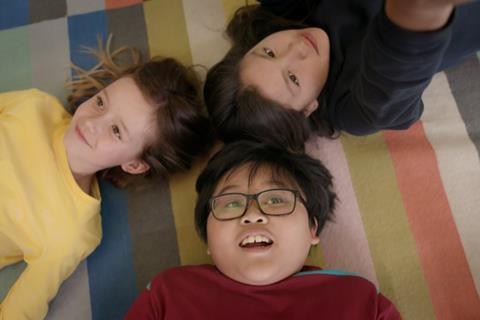 Toronto-based LevelFILM has acquired Canadian rights to TIFF Discovery selection Scarborough directed by Shasha Nakhai and Rich Williamson.
The film explores over the course of a school year the struggles, endurance, and resilience of the culturally diverse Toronto community through the lives of three children growing up within a system that has set them up for failure.
It received its world premiere as a digital screening on Friday and plays in person and to press and industry on Saturday (September 11).
The directors adapted the film from the novel by Catherine Hernandez. Liam Diaz, Essence Fox, Anna Claire Beitel and Felix Jedi Ingram Isaac are among the cast. Nakhai and Williamson filmed on location and also served as producers.
Scarborough was made with the participation of Telefilm Canada and the Talent Fund, with support from Toronto Arts Council, Toronto Reel Asian International Film Festival - First Feature Lab, and TIFF Talent Accelerator. LevelFILM's head of distribution John Bain negotiated the deal with Nakhai on behalf of Compy Films.
Separately, levelFILM is understood to have struck an output pact with Greenwich Entertainment, the US distributor that released Free Solo. The pact starts with Ebs Burnough's documentary The Capote Tapes. LevelFILMS's current slate includes Akilla's Escape, The Body Remembers When The World Broke Open, and Firecrackers.