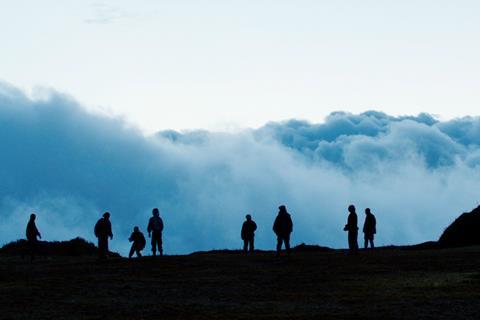 Fifteen projects from Romania, Moldova, Ukraine, Hungary, Bulgaria, Greece and Turkey were presented at the Transilvania Pitch Stop (TPS) at the Transilvania International Film Festival (TIFF) in Cluj-Napoca in Romania last week.
The €20,000 Eurimages co-production development award went to Hungarian filmmaker Mihály Schwechtje's Democracy Work In Progress. The project had been developed at the Nipkow Programme in Berlin last year.
Turkish director Selman Nacar's Between Two Dawns was awarded €25,000 in postproduction services from Chainsaw Europe. The project is being co-produced by Romania's Oana Giurgiu of Libra Film Productions and aims to shoot this summer.
Another Libra Film production, Eva Pervolovici's Océane, was awarded a five-day residency during next year's Berlinale by Renate Roginas' Villa Kult, and Moldovan filmmaker Ion Bors and his producer Sergiu Cumatrenco Jr. will be travelling to the Connecting Cottbus at the beginning of November to pitch Bors' debut Carbon at the co-production market.
The TPS jury included the outgoing head of the Israel Film Fund Katriel Schory and leading Romanian producer Ada Solomon.
TIFF's industry programme, of which TPS is part, also included closed screenings for sales agents and festival programmers of new Romanian films and the fourth edition of the four-day Transilvania Talent Lab (TTL) for cinema managers from Romania and the Republic of Moldova to help support their programming and marketing activities.
The four-day workshop culminated in an audience development and innovation day lab run by Europa Cinemas for the second year.
In addition, TIFF hosted workshops by LIM – Less Is More, the European development platform for feature films with limited budgets, and the First Films First training programme for debutant directors from South-Eastern Europe.
Festival winners
Colombian director Alejandro Lande's third feature, the survival thriller Monos was the festival's big winner, clinching the €15,000 Transilvania trophy. The film premiered at Sundance where it won the Special Jury Award and went on to screen in the Berlinale's Panorama.
Denmark's May El-Toukhy won the best director prize for her second feature Queen Of Hearts, while the international jury headed by Canadian director Denis Coté gave its special jury award to French actor-director Louis Garrel for A Faithful Man which he had written with veteran screenwriter Jean-Claude Carrière.
Icelandic actor Ingvar E. Sigurdsson won the international jury's best performance award for his portrayal of a man obsessed with finding out the truth about his wife's recent death in a car accident in Benedikt Erlingsson's's A White, White Day.
Wojciech Smarzowski's Polish box office hit Clergy won the Fipresci prize, and the audience award went to Nora Fingscheidt's System Crasher.
Festival audiences voted Stere Gulea's Moromete Family: On The Edge of Time the most popular film in the Romanian Days section. The film has garnered over 190,000 admissions in Romania since its release last autumn.
Andrei Cohn's Arrest, produced by Cristi and Anca Puiu's Mandragora, took home the Romanian Days Award for best feature film, while Marius Olteanu's Monsters was named best days by the Romanian Days competition jury. The film premiered at the Berlinale and went on to win the Grand Prix in Sofia in March.
New arthouse platform
TIFF Unlimited a subscription streaming VoD platform was launched during the festival to bring films from former and present editions of the festival to Romanian audiences.
"In Romania, many films are gone after the festival and never seen again or they only last for two or three weeks in the cinemas here," said TIFF president Tudor Giurgiu at a panel about new trends in regional distribution at the festival's European Film Forum.
He said the festival has been inspired by similar VoD platforms created by the Rotterdam and Gothenburg film festivals. The initiative is supported by Romania's National Cinematography Center (CNC) and the National Cultural Fund Administration.
An initial 51 titles were available on the platform including titles from this year's festival including Woman at War, Tonia Mishiali's Pause, Sue Thomson's The Coming Back Out Ball Movie, and Dominga Sotomayor Castillo's Too Late To Die Young.
Previous TIFF titles available were Lars von Trier's Melancholia and Nymphomaniac: vols. 1 & 2, Miroslav Slaboshpitsky's The Tribe, Abdellatif Kechiche's Blue is The Warmest Color, Tudor Cristian Jurgiu's Japanese Dog and Gaspar Noé's Enter The Void.
Giurgiu said the platform was able to react quickly to films that performed well at the festival He revealed negotiations had been held with PBS Distribution, the rights holder of Barak Goodman's documentary Woodstock: Three Days That Defined A Generation, after enquiries from the public following a successful open-air screening at the Vlaha Sculpture Park on June 4. TIFF Unlimited was able to secure a six-month window to stream the film to subscribers two days later.
Titles will be added to TIFF Unlimited catalogue every two weeks and the platform will also feature 'making of' films and festival masterclasses.
FILM+ initiative expands to Moldova, Serbia and Bulgaria
Romania's FILM+ initiative that supports low-budget independent production through development, production and work in progress labs is being opened to filmmakers from Moldova, Bulgaria and Serbia for its fourth edition in 2019-2020.
Speaking to Screen, FILM+'s head of studies and artistic director Alex Traila explained the expanded initiative was being supported by €48,000 a year for the next three years from Creative Europe MEDIA and €25,000 a year for the next two years from Romania's National Cultural Fund Administration.
The call for entries for the expanded format will open on Friday June 14 and will be open to both shorts and low-budget feature-length debuts with no conditions on the genre or length.
Traila said he expects a total of 15 projects to be selected, with six projects taking part in the Development Lab, five in the Production Lab, and four for the Work in Progress Lab.
The line-up for the fourth edition will be announced in mid-September, followed by a residency in Bucharest from October 21-26 and further workshops in Belgrade, Sofia and Chisinau in early 2020. The final event will be held back in TIFF in Cluj in June 2020.