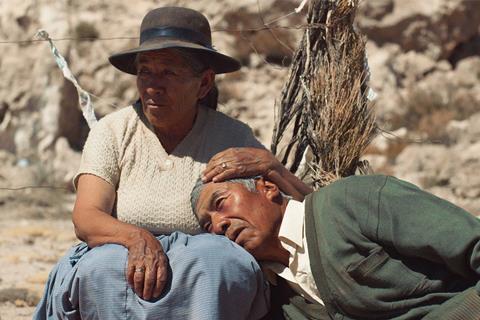 Transilvania International Film Festival (TIFF, June 17-26) has unveiled the 12 films that will screen in its official competition.
Each title competing for the Transilvania Trophy will receive its Romanian premiere at the 21st edition of the festival, which is set to take place in the city of Cluj-Napoca.
The line-up features Alejandro Loayza Grisi's Utama, a Bolivian drama about an indigenous couple trying to survive a drought, which took home the Jury prize at Sundance Film Festival early this year.
Other titles include the directorial debut by French filmmaker Vincent Maël Cardona - Magentic Beats. The film centres on a young pirate radio DJ who is called up for military service and drafted to West Berlin and it won the SACD Prize for best French-language feature at Cannes in 2021.
Guðmundur Arnar Guðmundsson's Icelandic drama Beautiful Beings, which featured in Berlinale's Panaroma selection earlier this year, will also screen in competition, as will female bodybuilding drama Gentle by rising Hungarian directors László Csuja and Anna Nemes.
The festival has also launched a documentary competition and has selected 10 feature projects from first and second-time filmmakers.
TIFF Official Competition 2022
A Higher Law (Romania, Germany, Serbia)
Dir. Octav Chelaru
Babysitter (Canada)
Dir. Monia Chokri
Beautiful Beings (Iceland)
Dir. Guðmundur Arnar Guðmundsson
Feature Film About Life (Lithuania)
Dir. Dovile Sarutyte
Gentle (Hungary)
Dirs. László Csuja, Anna Nemes
Mikado (Czech Republic)
Dir. Emanuel Pârvu
Magnetic Beats (France, Germany)
Dir. Vincent Maël Cardona
The Last Execution (Germany)
Dir. Franziska Stünkel
The Night Belongs To Lovers (France)
Dir. Julien Hilmoine
The Execution (Russia)
Dir. Lado Kvantaniya
Utama (Bolivia, Uruguay, France)
Dir. Alejandro Loayza Grisi
Pamfir (Ukraine, France, Poland, Chile, Germany, Luxemburg)
Dir. Dmytro Sukholytkyy-Sobchuk
Documentary competition
You Are Ceaușescu to Me (Romania)
Dir. Sebastian Mihăilescu
Bucolic (Poland)
Dir. Karol Pałka
Excess Will Save Us (Sweden)
Dir. Morgane Dziurla-Petit

Chanel 54 (Argentina)
Dir. Lucas Larriera
Brotherhood (Italy, Czech Republic)
Dir. Francesco Montagner
Mother Lode (Switzerland, France, Italy)
Dir. Matteo Tortone

Ostrov (Switzerland)
Dirs. Svetlana Rodina and Laurent Stoop
The Plains (Australia)
Dir. David Easteal
Atlantide (Italy)
Dir. Yuri Ancarani
For A Fistful Of Fries (Belgium, France)
Dirs. Jean Libon and Yves Hinant