Festival receives record number of submissions as top brass trim roster by 20%.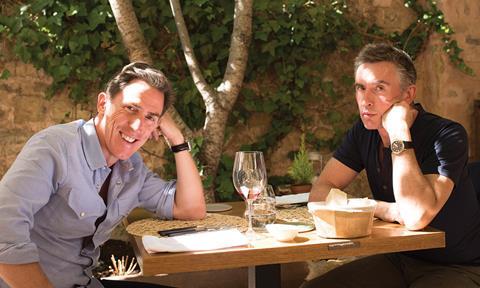 World premieres of Michael Winterbottom's The Trip To Spain (pictured), Nick Broomfield and Rudi Dolezal's Whitney. "can I be me,", and Hell On Earth: The Fall Of Syria And The Rise Of ISIS by Sebastian Junger and Nick Quested are among the line-up at the 16th annual Tribeca Film Festival (April 19-30).
Festival top brass led by new director of programming Cara Cusumano and artistic director Frédéric Boyer unveiled on Thursday 82 of the 98 features that will screen at this year's edition.
Trimmed down by 20%, the festival received a record number 8,700 submissions, of which 3,362 were features – and includes 32 films in competition comprising 12 documentaries, 10 US narratives and 10 international narratives. Films in competition will compete for cash prizes totalling $160,000.
Spotlight Narrative section features 15 fiction films, while Spotlight Documentary includes 16 non-fiction films. Five fiction and one documentary film play in Midnight.
The 2017 roster includes 78 world premieres, six international premieres, six North American premieres, two US premieres, and six New York premieres. Thirty-two films are directed by women.
To honour Earth Day on April 22, a selection of documentaries highlighting environmental issues will play on the day.
In addition to Cusumano and Boyer, the feature film programmers include Liza Domnitz, Loren Hammonds, Ian Hollander, programmer-at-large Jeff Deutchman, programme advisors Paula Weinstein and Tammie Rosen, and a team of associate programmers.
VR and Storyscapes selections will be announced on March 3, while remaining features including Galas, the Closing Night Film, and Special Sections, will be announced on March 7.
All selections are world premieres unless stated otherwise. IP = international premiere; NAP = North American premiere. As previously announced, Tribeca will open with the music industry documentary Clive Davis: The Soundtrack Of Our Lives.
US NARRATIVE COMPETITION
Aardvark, dir Brian Shoaf
Abundant Acreage Available, dir Angus MacLachlan
Blame, dir Quinn Shephard
The Endless, dir Justin Benson and Aaron Moorhead
Flower, dir Max Winkler
Keep The Change, dir Rachel Israel
Love After Love, dir Russell Harbaugh
One Percent More Humid, dir Liz W. Garcia
Saturday Church, dir Damon Cardasis
Thirst Street, dir Nathan Silver.
INTERNATIONAL NARRATIVE COMPETITION
The Divine Order (Die Göttliche Ordnung) (Switzerland), dir Petra Volpe IP
Holy Air (Hawa Moqaddas) (Israel), dir Shady Srour
Ice Mother (Bába z Ledu) (Czech Republic-Slovakia-France), dir Bohdan Sláma
King Of Peking (China-USA-Australia), dir Sam Voutas
Newton (India), dir Amit V Masurkar NAP
Nobody's Watching (Nadie Nos Mira) (Colombia-Argentina-Brazil-USA-Spain), dir Julia Solomonoff
November (Estonia), dir Rainer Sarnet IP
Sambá (Dominican Republic), dirs. Laura Amelia Guzmán and Israel Cárdenas
Son Of Sofia (O Gios Tis Sofias) (Bulgaria-France-Greece), dir Elina Psykou
Tom Of Finland (Finland-Sweden-Denmark-Germany), dir Dome Karukoski IP.
WORLD DOCUMENTARY COMPETITION
Bobbi Jene (Denmark-Israel-USA), dir Elvira Lind
Copwatch (USA), dir Camilla Hall
The Death And Life Of Marsha P. Johnson (USA), dir David France
The Departure (USA), dir Lana Wilson
No Man's Land (USA), dir David Byars
The Reagan Show (USA), dirs Pacho Velez and Sierra Pettengill
A River Below (Colombia, USA), dir Mark Grieco
The Sensitives (USA), dir Drew Xanthopoulos
Shadowman (USA), dir Oren Jacoby
A Suitable Girl (USA, India), dirs Smriti Mundhra and Sarita Khurana
True Conviction (USA), dir Jamie Meltzer
When God Sleeps (USA-Germany), dir Till Schauder.
Spotlight Narrative entries include world premieres of Michael Winterbottom's The Trip To Spain with Steve Coogan and Rob Brydon, and Azazel Jacobs's divorce comedy The Lovers, which A24 financed and stars Debra Winger and Tracy Letts. The section includes Oren Moverman's recent Berlin world premiere The Dinner, and Julian Rosefeldt's Sundance selection Manifesto starring Cate Blanchett.
Spotlight Documentary includes world premieres of Whitney. "can I be me," by Nick Broomfield and Rudi Dolezal, Hell On Earth: The Fall Of Syria And The Rise Of ISIS by Sebastian Junger and Nick Quested, Alex Gibney's No Stone Unturned.
Among the Viewpoints selection are the world premiered of Brendan Muldowney's action-adventure Pilgrimage and My Friend Dahmer by Marc Meyers, as well as Matthew Heineman's recent Sundance premiere City Of Ghosts.
Midnight's five entries are: Devil's Gate by Clay Staub; Dumb: The Story Of Big Brother Magazine by Patrick O'Dell; the New York premiere of Hounds Of Love by Ben Young; Psychopaths by Mickey Keating; Kevin Phillips's Super Dark Times; and Tilt by Kasra Farahani.
"It's uncertain and tumultuous times like these that we need artists and storytellers the most, and this year's programme is a testament to the unending capacity of film for impact, empathy, and even much needed escapism," Cusumano said. "Each in their own way, these 98 films fill me with optimism and inspiration at the unique power of our medium, and the eyes of a talented filmmaker to inspire, challenge, and maybe even change the world."
"This year's film slate is perhaps our most varied yet in both the generosity in the stories told and the diversity of the styles of filmmaking, with the international films transcending geographical boundaries," Boyer said. "It is a group of beautiful films of discovery, and strong performances from directors and actors from every corner of the globe, including from countries that are not the mainstay of cinema. We are really impressed with the films, and are excited to share with the Tribeca audience."