EXCLUSIVE: TrustNordisk/Zentropa and Brain Academy are partnering on an eight-part TV series.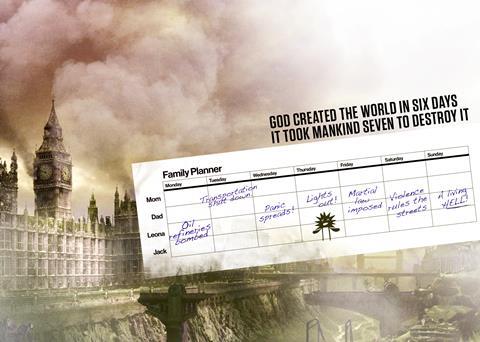 Danish sales powerhouse TrustNordisk and its parent production company Zentropa are developing a major TV thriller series in partnership with Swedish TV veteran Peter Settman's new production company, Brain Academy.
The planned eight-part series is adapted from UK writer Alex Scarrow's 2007 novel Last Light.
The story looks at the breakdown of global society over just one week – starting with attacks on the world's oil supply, creating an imminent oil shortage. During seven days the anonymous terrorists hold the planet hostage while the world rapidly collapses. The disaster is seen through the eyes of one family, including a London-based oil engineer and his estranged 21-year-old daughter.
Although the series is created by Los Angeles and Stockholm-based writer Soni Jorgensen and Brain Academy partner Patrik Ehrnst, there are a group of writers in discussions but none can be announced yet. Writers and directors are expected to be a mix from the UK and Scandinavia. The cast is expected to be internationally known actors.
"From a financing point of view we have some serious interest," TrustNordisk CEO Rikke Ennis told Screen.
"The feel of it will be independent but there could be some major players involved," added Helena Danielsson, partner at Brain Academy, who will serve as the project's lead producer. "We want to keep it as edgy as possible."
Danielsson is one of five Nordic producers taking part in a Film London familiarisation trip in early December. They will tour facilities, take advantage of networking opportunties, and also attend Content London from Dec 1-3, where Danielsson will discuss the project.
Project origins
TrustNordisk's Peter Ahlen is part of the creative team who first brought the book to Ennis.
"We thought of it as a feature film in the beginning. It's the depth of the characters, that made us think it has to be a TV series," she said.
"It's so relevant and it's about how fragile the world is and it's also a family falling apart and finding each other in crisis."
She added that the "series will feel Scandinavian due to the storytelling and depth of characters but due to the fact that the series will be shot in different parts of Europe, the language will be mainly English. We intend however to use the best Scandinavian talent we have, both in terms of cast and directors."
The plotlines will be thrilling but Settman said it's also very character driven. He added that the series will feel especially topical in the modern world.
"It's a realistic drama, it's not like Armageddon sci-fi," added Danielsson, whose film credits include Venice prizewinner The Childhood of a Leader, Beyond and Call Girl. "It's more about the earth and our resources, and greed and power."
Settman's background is in non-scripted TV, working on Swedish hits at his former compay Baluba, and also known as the host of popular show Så ska det låta.
"I wanted to get more into scripted work," Settman said of launching Brain Academy, which is part of Modern Times Group's NICE Entertainment Group. "And to discover all the new possibilities that scripted does with Scandinavian content."
Danielsson, who has a longtime relationship with TrustNordisk, introduced Settman and Ennis at the 2015 Berlinale to start discussing working together.
Settman said: "If we want to have a local scripted DNA in Scandinavian and rest of Europe we need to find new ways of producing, that was my other point of view.
"I was talking to Rikke about all of that I was excited by her personality, her energy. We had the same vision for what we can do. "
Settman said TrustNordisk was the right partner because "they're in the forefront of Scandinavian content and getting that to the rest of the world".
The project marks a step forward for TrustNordisk and Zentropa. "It's a new launching point for us wanting to show that we can be more aggressive when it comes to TV series," Ennis said.
"We've sold TV series for a while but now we're getting into it on an idea level, we're thrilled about it. We can find and package our own projects, with talent, financing, and production…we want to find the new scale of Scandinavian drama.
"When we met Peter and Helena and discussed the project it felt like the perfect partnership sharing the same vision and it seems like we can all add value to make this become a success."
There is also potential to expand the story beyond one season, the partners added.