Universal's The Beguiled records Sofia Coppola's second best UK opening.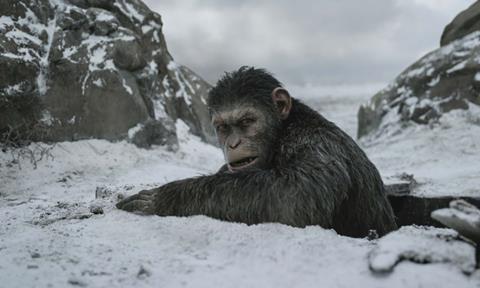 UK TOP FIVE
| Ranking | Film/Distributor | Weekend gross | Running total |
| --- | --- | --- | --- |
| 1 | War For The Planet Of The Apes (Fox) | $9.4m (£7.2m) | $9.4m (£7.2m) |
| 2 | Despicable Me 3 (Universal) | $5m (£3.84m) | $33.5m (£25.6m) |
| 3 | Spider-Man: Homecoming (Sony) | $4.8m (£3.7m) | $22m (£16.8m) |
| 4 | Car 3 (Disney) | $3.42m (£2.63m) | $3.42m (£2.63m) |
| 5 | Baby Driver (Sony) | $1.3m (£976,000) | $11.4m (£8.7m) |
(Note - Dollar conversions are based on today's rates)
FOX
War For The Planet Of The Apes triumphed on its UK bow as it dethroned Spider-Man: Homecoming at the top of the box office.
Fox's well-received threequel fought to a non-final $9.4m (£7.2m) debut from its 599 sites, including $2.6m (£2m) in previews. Its Fri-Sun tally of $6.8m (£5.2m) would have also seen it chart at number one.
That's down on Dawn Of The Planet Of The Apes' $11.4m (£8.71m) opening, including $2.1m (£1.61m) in previews, but is comfortably ahead of Rise Of The Planet Of The Apes' $7.6m (£5.84m), including $1.4m (£1.1m) in previews.
Further blockbuster competition arrives this Friday [July 21] in the form of Dunkirk, but War's strong reviews and word-of-mouth should see it enjoy a sustained run, even if it might not reach Dawn's height of $42.8m (£32.7m).
Also for Fox, The Boss Baby stands at an excellent $37.5m (£28.68m).
UNIVERSAL
Despicable Me 3 fell a slim 27% on its way to a $5m (£3.84m) third weekend as it remained in second.
Universal's latest Illumination Entertainment hit is now up to a strong $33.5m (£25.6m) to date in the UK and, having comfortably seen off Cars 3, the next family competition arrives on July 24 in the form of Captain Underpants.
Also for Universal, The Beguiled recorded director Sofia Coppola's second best UK opening with $542,000 (£414,080) from its 251 sites, including $35,000 (£27,115) in previews.
That's only behind Lost In Translation's $1m (£797,071) debut from 96 sites and while The Beguiled won't come close to that film's $13.2m (£10.06m) total, it should enjoy healthy midweek results.
It Comes At Night dropped a steep 74% with a $77,000 (£58,588) second weekend for $634,000 (£485,157) to date.
SONY
Spider-Man: Homecoming fell to third as a 45% drop (excluding previews) saw it swing to a $4.8m (£3.7m) second weekend.
Sony's latest Spidey outing and first Marvel Studios release is now up to $22m (£16.8m), taking it past Thor and soon to surpass Iron Man in terms of Marvel releases in the UK.
It will cross the £20m mark by the end of this coming weekend at the latest in its quest to track down previous Spider-Man films in the UK.
Also for Sony, Baby Driver continued its decent UK run by dropping a slim 30% with a $1.3m (£976,000) third weekend for $11.4m (£8.7m) to date, making it director Edgar Wright's second biggest UK result, ahead of The World's End.
DISNEY
Cars 3 was on par with Cars as the lowest ever opening for a Pixar film in the UK as it arrived in fourth.
Disney's animated threequel grossed $3.42m (£2.63m) from its 517 sites, narrowly behind Cars' $3.49m (£2.67m) bow from 513 sites which was the lowest Pixar debut to date.
Cars 2 arrived with $4.64m (£3.55m) debut from 486 sites in 2011, and Cars 3 faces a challenge to match the $20.4m (£15.62m) and $21.5m (£16.45m) results of Cars 2 and Cars, respectively, although the summer school holidays could aid the film if it holds well against Despicable Me 3 and the upcoming Captain Underpants.
PARAMOUNT
Falling more than 70%, Paramount's Transformers: The Last Knight posted a non-final $160,000 (£122,000) fourth weekend for $12.1m (£9.29m) to date and will likely miss out on £10m.
WARNER BROS
Wonder Woman lassoed an extra $143,000 (£109,000) for $28.5m (£21.77m) after seven weeks in play through Warner Bros.
LIONSGATE
In its third week of release, Lionsgate's All Eyez On Me took $129,000 (£98,626) for $2.41m (£1.84m).
THUNDERBIRD RELEASING
Including $5,100 (£3,890) in previews, Thunderbird Releasing's David Lynch: The Art Life posted a non-final UK bow of $30,000 (£23,022) from its 19 sites.
UPCOMING RELEASES
This week sees a saturation release for Warner Bros' Dunkirk, while Kaleidoscope Entertainment's Monster Island receives a wide release.
Dogwoof's City Of Ghosts, Arrow Films' Scribe and Park Circus' re-release of Victim are among the films receiving a limited release.