Harry Potter spin-off is now the fifth-biggest release of 2016 with $48m (£37.76m).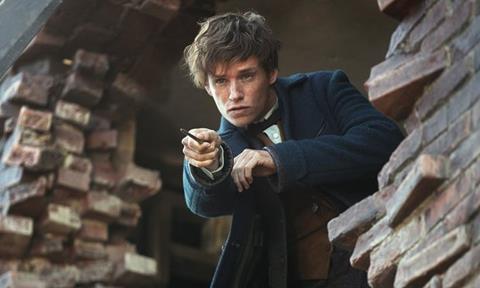 UK TOP FIVE
| Ranking | Film/Distributor | Weekend gross | Running total |
| --- | --- | --- | --- |
| 1 | Fantastic Beasts (WB) | $5.64m (£4.44m) | $48m (£37.76m) |
| 2 | Moana (Disney) | $2.8m (£2.2m) | $2.8m (£2.2m) |
| 3 | Sully: Miracle On The Hudson (WB) | $2.25m (£1.77m) | $2.25m (£1.77m) |
| 4 | Allied (Paramount) | $845,000 (£665,000) | $3.63m (£2.86m) |
| 5 | Pitbull: Tough Women (Phoenix) | $570,000 (£448,320) | $570,000 (£448,320) |
(Note - Dollar conversions are based on today's rates)
WARNER BROS
Fantastic Beasts And Where To Find Them has become the sixth film this year to record a hat-trick at the top of the UK box office.
Warner Bros' Harry Potter spin-off fell a respectable 50% on its way to a $5.64m (£4.44m) third weekend for a resounding $48m (£37.76m) after 17 days in play, making it the biggest hit of 2016 for Warner Bros in the UK ahead of Batman v Superman's total of $46.5m (£36.6m).
Fantastic Beasts now ranks as the fifth-biggest release of 2016 to date and it will shortly overtake Deadpool's $48.2m (£37.9m). It likely has one more weekend as the UK's number one before Rogue One: A Star Wars Story arrives on December 15.
Also for Warner Bros, Sully: Miracle On The Hudson achieved Clint Eastwood's second-best result as director as it landed in third.
The biopic scored a decent $2.25m (£1.77m) debut from its 561 sites, marking a $4,012 (£3,157) site average. In terms of Eastwood's directorial outings, it's only behind American Sniper's $3.22m (£2.53m) from 410 sites.
DISNEY
Moana had to settle for second on its UK bow.
Disney's latest animation sailed to $2.8m (£2.2m) from its 553 sites, marking a site average of $5,055 (£3,976), with the majority of its take coming from Saturday and Sunday.
It does mark one of the lowest UK debuts for a Walt Disney Animation Studios outing, but Moana will be hoping for minimal drops over the coming weekends and then to prosper once the school holidays start over Christmas.
Also for Disney, Doctor Strange conjured up another $274,000 (£215,650) for $28.8m (£22.68m) to date.
PARAMOUNT
Allied fell 49% on its way to a non-final $845,000 (£665,000) second weekend as it dropped to fourth.
Paramount's romantic thriller is now up to $3.63m (£2.86m) after ten days in play and while it's comfortably overtaken The Walk, it will end its run as one of Robert Zemeckis' lowest-grossing outings in the UK.
PHOENIX
Following the success of Pitbull: Early Orders, Pitbull: Tough Women enjoyed an excellent start to its UK run.
Phoenix's sequel rounded off the top five with a $570,000 (£448,320) debut from its 105 Odeon sites, recording the second-highest site average of the weekend with $5,431 (£4,270).
EONE
As expected, eOne's Arrival is now director Denis Villeneuve's best-ever UK result as the sci-fi added $502,000 (£395,098) for $10.3m (£8.13m) to date.
Also for eOne, Bad Santa 2 fell 54% (excluding previews) with a $345,000 (£271,857) second weekend for $1.8m (£1.42m) after 12 days in play. It's unlikely to match Bad Santa's $3.1m (£2.44m) result from 2004.
The Edge Of Seventeen posted a soft $344,000 (£270,352) UK debut, including $76,000 (£59,575) in previews, from its 303 sites. Back in 2010, Easy A recorded a UK bow of $353,000 (£277,975) from 203 sites.
FOX
Falling 60% in its seventh weekend, Fox's Trolls danced to a non-final $423,000 (£333,115) for $28.3m (£22.24m) to date.
Also for Fox, A United Kingdom posted a $304,000 (£238,819) second weekend for $1.87m (£1.47m) to date, and it should soon surpass Belle's $2.3m (£1.8m) result as director Amma Asante's best UK performer.
ICON FILM DISTRIBUTION
Bleed For This failed to land a knockout punch on its UK debut.
Icon Film Distribution's boxing drama grossed $320,000 (£250,975), including previews, from its 238 sites, some way short of director Ben Younger's best UK bow, Prime's $1.08m (£851,322) from 383 sites.
Fellow boxing drama Southpaw landed last year with $2.11m (£1.66m) from 401 sites.
SODA PICTURES
In its second weekend, Soda Pictures' Paterson added $101,000 (£79,046) from its 57 sites for $427,000 (£335,496) to date.
SONY
A Street Cat Named Bob has crossed the $5.1m (£4m) mark in the UK following a $59,000 (£46,000) fifth weekend.
NATIONAL AMUSEMENTS
Japanese box office sensation Your Name took a further $58,000 (£45,614) for a strong $371,000 (£291,678) to date through National Amusements.
VERTIGO RELEASING
Including two previews, Vertigo Releasing's Chi-Raq grossed $36,000 (£28,202) from its 22 sites.
CURZON ARTIFICIAL EYE
From its nine sites through Curzon Artificial Eye, The Unknown Girl recorded a UK bow of $17,000 (£13,434), including previews. It's one of the lowest debut for the Dardenne brothers, but also of their smallest releases.
ALTITUDE
Toronto 2015 closing film Mr. Right received a limited release as a home entertainment set-up, grossing $4,000 (£3,108), including previews, from its nine sites through Altitude.
UPCOMING RELEASES
This week sees saturation releases for eOne's Office Christmas Party (opens December 7) and Vertigo Releasing's Snowden, while Fox's Birth Of A Nation receives a wide release.
Dogwoof's Life, Animated, Studiocanal's SXSW winner Krisha and Lionsgate's The Pass are among the films receiving a limited release.