Warner Bros' reboot lands with $7.6m (£6.22m); Elle posts strong site average.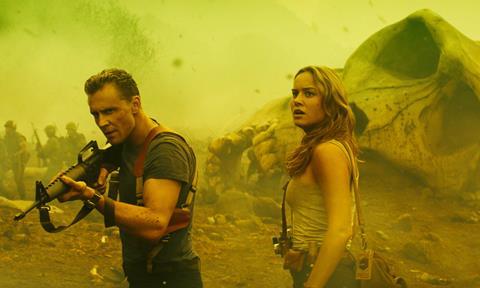 UK TOP FIVE
| Ranking | Film/Distributor | Weekend gross | Running total |
| --- | --- | --- | --- |
| 1 | Kong: Skull Island (WB) | $7.6m (£6.22m) | $7.6m (£6.22m) |
| 2 | Logan (Fox) | $4.7m (£3.86m) | $20.6m (£16.86m) |
| 3 | The Lego Batman Movie (WB) | $1m (£820,000) | $31.7m (£26m) |
| 4 | Viceroy's House (Fox) | $700,000 (£572,904) | $2.9m (£2.34m) |
| 5 | Moonlight (Altitude) | $582,000 (£476,419) | $4.1m (£3.35m) |
(Note - Dollar conversions are based on today's rates)
WARNER BROS
Kong: Skull Island brought a swift end to Logan's UK reign as it debuted top of the box office.
Warner Bros' King Kong reboot opened to a healthy $7.6m (£6.22m) bow from its 565 sites, including $748,000 (£612,000) from Thursday (March 9). Its Fri-Sun tally of $6.8m (£5.61m) would have also seen it land at number one.
The opening compares favourably to Legendary's Godzilla reboot, the first instalment of their MonsterVerse, which opened with $7.8m (£6.39m) from 550 sites and bigger previews of $1.45m (£1.19m).
That film went on to take $21m (£17.2m) in the UK which seems like a sturdy target for Kong: Skull Island, although it will have to compete with the arrival of Disney's likely huge Beauty And The Beast remake this Friday (March 17).
Also for Warner Bros, The Lego Batman Movie fell almost 50% with a $1m (£820,000) fifth weekend for $31.7m (£26m) to date.
John Wick: Chapter 2 and Fist Fight stand at $7m (£5.77m) and $891,000 (£729,000), respectively.
FOX
Logan fell 45% (excluding previews) with a non-final $4.7m (£3.86m) second weekend as it dropped to second.
Fox's latest X-Men offering is now up to a promising $20.6m (£16.86m) after 12 days in play, already making it the biggest solo Wolverine outing in the UK and the fifth-biggest Fox Marvel outing, including Deadpool.
Logan should hit £20m by the end of this coming weekend at the very latest, which would make it only the third X-Men film (excluding Deadpool) to cross the £20m mark.
Also for Fox, Viceroy's House fell 37% on its way to a $700,000 (£572,904) second weekend for $2.9m (£2.34m) to date, having added around $1m (£850,000) across its first Mon-Thurs period.
Hidden Figures has accumulated $6.5m (£5.31m) after four weeks in play, while Bollywood title Badrinath Ki Dulhania posted a UK debut of $229,000 (£187,585) from its 58 sites.
ALTITUDE
Moonlight remained in fifth as it dropped only 35% with a non-final $582,000 (£476,419) fourth weekend.
Altitude's Best Picture winner is now up to an excellent $4.1m (£3.35m) in the UK and will be playing in 431 sites overall this week, but not all sites will be playing for the full week.
UNIVERSAL
Sing fell out of the UK's top five for the first time in its seventh week of release.
Universal's latest Illumination Entertainment hit dropped 43% with $560,000 (£458,352) for $34.2m (£28m) to date, and will still hope to stick around long enough to hit £30m.
Also for Universal, Fifty Shades Darker is now the second biggest 18-rated film of all time at the UK box office.
The raunchy sequel whipped up a further $370,000 (£302,808) for $27.7m (£22.69m) after five weeks in play, surpassing the final results of Gone Girl and The Wolf Of Wall Street.
TRAFALGAR RELEASING
Elle has given an auspicious start to Lyn Goleby's newly launched outfit Trafalgar Releasing.
Paul Verhoeven's critically acclaimed thriller took a strong $310,000 (£253,619) from its 62 sites through Trafalgar Releasing and Lionsgate, including $38,000 (£30,797) in previews, marking a healthy $4,998 (£4,091) site average.
Also for Trafalgar Releasing, NT Live's Hedda Gabler grossed $789,000 (£645,591) from its 527 sites on Thursday (March 9).
DOGWOOF
With the majority coming from previews, Dogwoof's Dancer recorded a UK debut of $250,000 (£204,574) with Fri-Sun takings totalling $20,000 (£15,990) from its 16 sites.
LIONSGATE
Having crossed £30m on Thursday (March 9), Lionsgate's La La Land danced to an extra $131,000 (£107,000) for a terrific $36.8m (£30.14m) to date.
The result means that the award-winning musical is the distributor's third biggest release of all time at the UK box office, behind Hunger Games outings Catching Fire ($41.8m/£34.2m) and Mockingjay - Part 1 ($38m/£31.1m).
Also for Lionsgate, Patriots Day stands at $2.1m (£1.72m) and ranks as one of director Peter Berg's lowest-grossing films in the UK.
VERTIGO RELEASING
Driving into 183 sites through Vertigo Releasing, Joan Collins comedy The Time Of Their Lives had an unmemorable $131,000 (£106,833) UK bow.
PARK CIRCUS
In its second weekend, Park Circus' Certain Women added $22,000 (£18,271) from its 22 sites for $124,000 (£101,342) to date.
ICON FILM DISTRIBUTION
Including $9,600 (£7,873) in previews, Icon Film Distribution's The Love Witch posted a UK debut of $18,000 (£14,385) from its 11 sites.
As part of Picturehouse's Discover Tuesdays, the film will play in 31 sites tomorrow (March 14).
ARROW FILMS
Catfight fought to a UK opening of $2,200 (£1,769) from its three sites, including previews, through Arrow Films.
UPCOMING RELEASES
This week sees saturation releases for Disney's Beauty And The Beast and Universal's US box office smash Get Out.
Icon Film Distribution's Personal Shopper receives a wide release, while Curzon Artificial Eye's The Salesman, Warner Bros' Wolves At The Door and Studiocanal's Seoul Station are among the films receiving a limited release.