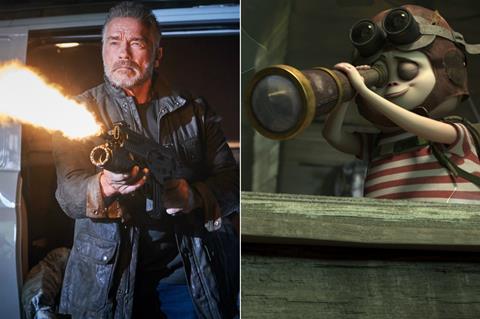 Disney's action franchise title Terminator: Dark Fate and Universal's The Addams Family are the latest titles looking to challenge the box-office dominance of Warner Bros' Joker this weekend at the UK box office.
Terminator: Dark Fate is the sixth film in the Terminator series. It takes place 27 years after the events of Terminator 2: Judgement Day when a new, modified liquid metal Terminator robot (Diego Luna) is sent from the future by Skynet to destroy a cyborg human (Mackenzie Davis). Sarah Connor and the original Terminator come to help them save the world.
| | | |
| --- | --- | --- |
| Film | Opening weekend (£) | Total gross (£) |
| The Terminator (1985) | 13,810 | 87,419 |
| Terminator 2: Judgement Day (1991) | 2.6m | 18.7m |
| Terminator 3: Rise Of The Machines (2003) | 6.1m | 18.9m |
| Terminator Salvation (2009) | 6.9m | 14.2m |
| Terminator: Genisys (2015) | 3.1m | 11.1m |
Since a small release for the first title in 1985, all four subsequent films have started beyond the £1m mark.
The highest total was for 2003's Terminator 3: Rise Of The Machines with £18.9m; while the most recent instalment, 2015's Terminator: Genisys starring Emilia Clarke and franchise regular Arnold Schwarzenegger, dipped to a £3.1m opening weekend and £11.1m total.
The decreasing figures suggest Dark Fate may follow a similar trajectory. However, signs of hope for Disney are the return of Linda Hamilton as Sarah Connor; the enduring draw of Schwarzenegger; and the film's direct connection to the original Terminator films. James Cameron, who directed the first two titles, is a producer with creative control on Dark Fate and has returned the story to its original timeline.
Aiming for the family market on the pre-Halloween weekend, The Addams Family is the fourth film to depict Charles Addams' satirical 1930s cartoon creations and the first animated offering.
It sees the spooky family preparing for a visit from creepier relatives when a shady TV personality attempts to remove them from their town.
A stellar voice cast includes Oscar Isaac, Charlize Theron, Chloë Grace Moretz, Finn Wolfhard, Nick Kroll, Snoop Dogg, Bette Midler and Allison Janney.
First title The Addams Family opened to £1.3m in 1991, ending on a decent £10.4m. The second film, Addams Family Values, started with £853,923 in 1993, and ended on £6.5m; while 1998's Addams Family Reunion was a TV movie.
Similar numbers would make a challenge for the top of the box office tough. However, the combination of the voice cast, the durability of studio animated features, and the pre-Halloween weekend at the end of most UK schools half-term holidays should see the film into the seven-figure opening range.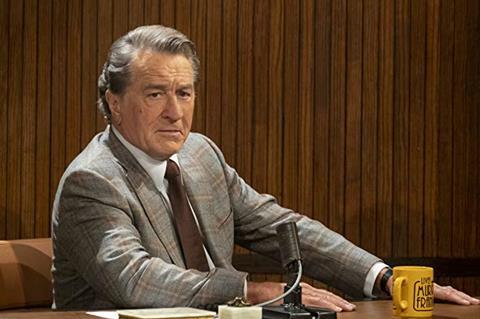 Running joke
For the third weekend in a row, the question at the top of the charts is: can any film dethrone Joker?
Having held the top spot for three sessions, it had £40.3m as of last weekend and is already the fourth highest-grossing film of the year in the UK.
It has fallen 22% then 44% on its second and third weekends; a 33% drop this time would leave it on £3.7m, while 55% would put it on £2.5m and 66% would give it £1.9m.
These are very robust figures going into a fourth-weekend session; it's possible the crime drama will hold its crown for another week.
Further openers
Other openers this weekend include Alejandro Landes' Monos through Picturehouse Entertainment.
Launched at Sundance this year where it won the world cinema dramatic special jury award, it has since had an extensive and successful festival tour, winning the top award at the BFI London Film Festival earlier this month.
It centres on eight armed children who take a middle-aged woman and conscripted milk cow hostage on a remote Latin American mountaintop. Colombia selected it as its Oscar entry earlier in the autumn; its multiple prizes make it a serious contender for the nomination stage.
Landes previously directed features Cocalero (2007) and Porfirio (2011), which debuted at Sundance and Cannes respectively.
Curzon is distributing Francois Ozon's Catholic church rape scandal thriller By The Grace Of God, which won the Silver Bear grand jury prize in Competition at the Berlinale this year.
The director's highest UK gross was £847,797 for thriller In The House in 2013. Curzon has picked up several of his films across the last 20 years, including his most recent, 2018's L'Amant Double.
Sony is distributing Deon Taylor's police drama Black And Blue, starring Naomie Harris and Tyrese Gibson as a rookie cop investigating a murder and the stranger she allies herself to for help.
It is Taylor's 10th feature in the last 12 years; horror The Intruder grossed £101,000 in summer 2018.
As well as The Addams Family, Universal has Joe Talbot's feature debut The Last Black Man In San Francisco, which won him the directing and creative collaboration awards on debut at Sundance this year. It is a drama about a young man searching for a place he belongs in an ever-changing city.
STX is launching horror Countdown, about an app that predicts the moment people will die. First-time feature director Justin Dec has previously had production roles on films including Jason Reitman's Up In The Air and Adam Shankman's Rock Of Ages.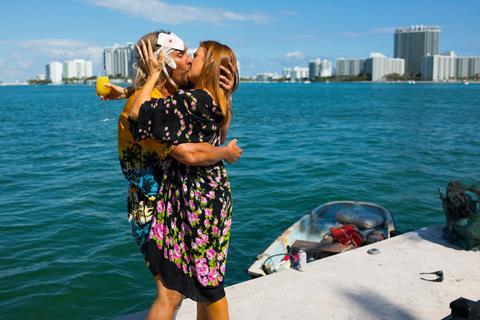 Blue Finch Films has Harmony Korine's comedy The Beach Bum, starring Matthew McConaughey as a rebellious stoner named Moondog who lives life by his own rules.
Korine achieved an impressive £876,751 from a £31,477 start with his previous film, Spring Breakers, in 2013.
Signature Entertainment is launching Abner Pastoll's crime thriller A Good Woman Is Hard To Find, which picked up five prizes including best actor and best film at FrightFest in London in August.
Anti-Worlds Releasing will launch Aaron Schimberg's Chained For Life, which has won US festival prizes at Florida, Knoxville, New Hampshire, and New Orleans film festivals.
Angel Face Productions is releasing Marilyn Edmond's depression drama Connect starring Kevin Guthrie, following its debut at Glasgow Film Festival this year.
Further titles include Bollywood drama Saand Ki Aankh through Reliance Entertainment; religious drama The Pilgrim's Progress through 4DM/Lighthouse Alliance; and a re-release of Steve James' 1994 documentary Hoop Dreams through Violet Pictures.
Key holdovers also looking to make the most of the half-term audience include Disney's Maleficent: Mistress Of Evil; Sony's Zombieland: Double Tap; and Studiocanal's A Shaun The Sheep Movie: Farmageddon.