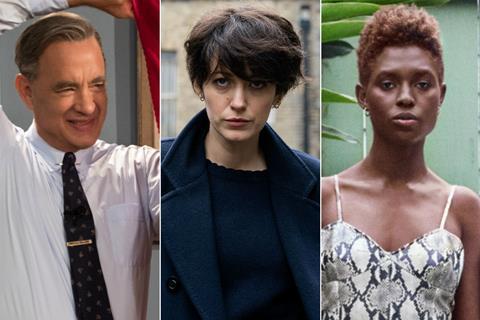 Several of the prominent openers at the UK box office are directed by women this weekend.
Released through Sony, Marielle Heller's A Beautiful Day In The Neighborhood stars Tom Hanks as late US TV host Fred Rogers, who hosted pre-school show Mister Rogers' Neighborhood for more than three decades.
The film has one Bafta and Oscar nomination, both for Hanks' performance in the supporting actor category.
Heller has been overlooked in the best director categories, both for this film and last year's Can You Ever Forgive Me?.
This is her third feature. Her 2015 debut The Diary Of A Teenage Girl won the Independent Spirit award for best first feature among other prizes.
That film opened to £81,790, ending on £279,742, while Can You Ever Forgive Me? opened to £519,049, closing on £2.2m. Sony will hope the star power of Hanks plus growing familiarity with Heller's work will continue this upward trajectory.
Paramount is distributing The Rhythm Section, the second feature from Reed Morano. Blake Lively stars as a woman seeking revenge against those who orchestrated the plane crash that killed her family.
The film is also Morano's third feature. She previously directed 2015's Meadowland, starring Olivia Wilde and Luke Wilson, and 2018 post-apocalyptic drama I Think We're Alone Now, starring Peter Dinklage and Elle Fanning.
Morano also shot both those films and has extensive credits as a DoP, including Beyoncé's Lemonade, Kill Your Darlings starring Daniel Radcliffe and 2017 documentary Joan Didion: The Center Will Not Hold.
In television, she is best-known for directing and executive producing the first three episodes of Hulu's The Handmaid's Tale in 2017.
Lively made her name in television as Serena van der Woodsen in the CW's Gossip Girl, which ran from 2007 to 2012. She has led a succession of decent box office results in the last few years, including 2015's The Age Of Adaline (£1.4m), 2016's The Shallows (£2.2m) and 2018's A Simple Favour (£5.2m).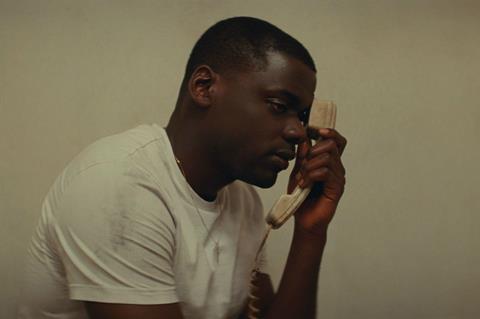 Melina Matsoukas' Queen & Slim, distributed by eOne, was on the edges of the awards conversation before being crowded out by other titles.
It stars Bafta 2018 Rising Star and Screen Star of Tomorrow 2009 Daniel Kaluuya alongside Jodie Turner-Smith as a couple who go on the run after killing a police officer.
Scripted by Master Of None writer and star Lena Waithe, the film marks Matsoukas' directorial debut. She has previously worked extensively in music videos, directing for artists including Beyoncé, Lady Gaga, Kylie Minogue, Rihanna, Christina Aguilera, Jennifer Lopez and Whitney Houston.
Indie titles
A couple of American independent titles are also debuting this weekend in the UK.
Robert Eggers' The Lighthouse, produced by A24 and distributed through Universal in the UK, stars Willem Dafoe and Robert Pattinson as two lighthouse keepers in 1890s New England who descend into madness. It debuted in Directors' Fortnight at Cannes last year.
Eggers' breakout The Witch opened to £435,598 in March 2016, ending on £1.2m. Both Pattinson and Dafoe have previously led A24 titles; the former with the Safdie brothers' Good Time in 2017 (total: £71,651), and the latter with Sean Baker's The Florida Project (£941,029) the same year.
Warner Bros is distributing Clint Eastwood's Richard Jewell, the true story of the American security guard who prevented a bomb explosion at the 1996 Olympics, and was then wrongly accused of being a terrorist himself.
Paul Walter Hauser plays the title role, with Kathy Bates receiving a best supporting actress Oscar nomination for playing his mother, Bobi
The prolific Eastwood has now directed 35 features since his 1971 debut Play Misty For Me. His highest-grossing title is 2015's American Sniper, which opened to £2.5m and ended on £13.7m. Eastwood's films regularly land in the £1m-£10m range and Warner Bros will be hoping for the same here.
In the independent realm, Sparky Pictures is finally bringing Terry Gilliam's The Man Who Killed Don Quixote to UK screens, following the film's turbulent production history and nearly two years on from its Cannes debut.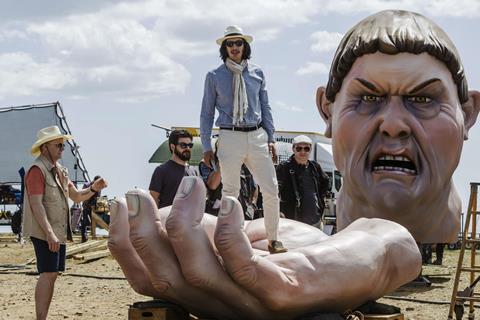 The Don Quixote story has been adapted 19 times for screen, with none of those making it to UK cinemas in recent years.
A 2002 documentary about Gilliam's first attempt to make his film, Lost In La Mancha, opened to £42,824 and grossed £233,833 in total.
Jonathan Pryce and Adam Driver share the screen as Quixote and advertising executive Toby. Both are competing for best actor at the Baftas and Oscars for separate perfromances in Netflix films – Pryce in The Two Popes and Driver in Marriage Story.
In smaller releases, Modern Films has rock-star photographer documentary Show Me The Picture: The Story Of Jim Marshall; New Wave Films has Sudanese film club doc Talking About Trees; and Strike Media has Philippine historical drama Quezon's Game.
Two Polish crime dramas, Jak Zostalem Gangsterem and Psy 3: W Imie Zasad, are released through Phoenix Productions and Magnetes Pictures respectively.
With none of these titles guaranteed a multi-million opening, there is every chance that Sam Mendes' 1917 could top the box office for a fourth weekend, especially given its ever-increasing Bafta and Oscar buzz.
The film has dropped an average of 21.4% across its first two weekends. A similar performance would put it on £3.5m, which should be enough to retain the top spot.
The Personal History Of David Copperfield, Bad Boys For Life, and Little Women are among the other strong holdovers.