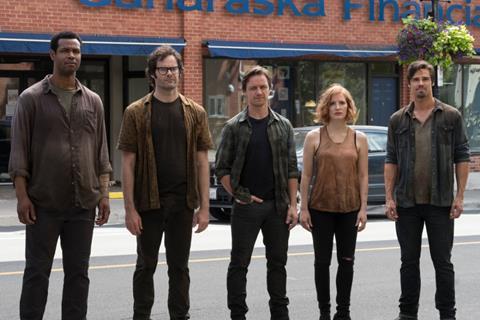 It: Chapter Two, Warner Bros' sequel to its 2017 remake adaptation of the classic Stephen King horror novel, is the main story at the UK box office this weekend.
The previous film was a smash in the UK, setting the biggest all-time opening in the UK for a horror film with £10m from 605 sites in September 2017. Eventually, it reached £32.3m, which also makes it the biggest overall horror release of all time in the country. Its $700m worldwide gross also makes it the genre's all-time global box office champion.
Chapter Two is opening in the same slot, and faces minimal competition from other new releases this week, as well as relatively average weather. However, middling reviews could restrict takings, though horror audiences do tend to be loyal so it should still register a strong opening.
Last week, the UK box office was dominated by holdovers as new openers struggled to make a significant impact at the top of the chart. That's likely to be the case again this week (outside of It, which will land top), with other new arrivals likely to have minimal box office prospects.
New Wave is handling a limited release of Rojo. Benjamin Naishtat's Spanish-language drama set during the Argentina pre coup d'etat, which premiered at Toronto last year.
Peccadillo Pictures is releasing Cedric Le Gallo and Maxime Govare's French comedy The Shiny Shrimps, about an Olympic champion at the end of his career who makes a homophobic remark and is forced to coach a gay water-polo team as punishment.
Phoenix Productions is handling the UK roll out of Polityka, a Polish drama from director-writer-producer Patryk Vega. Phoenix has had multiple successes in the UK in recent years with Polish fare, particularly 2018 drama Clergy (which grossed an impressive £1.3m in the UK), and multiple collaborations with director Vega including the Pitbull series and Women Of Mafia and its sequel.
Elsewhere, Kaleidoscope Entertainment is handling the release of Barnaby Southcombe's Scarborough, and Parkland Entertainment has Norwegian-British comedy All At Sea.
Key holdovers include Sony's Once Upon A Time … In Hollywood, Disney's The Lion King, and Lionsgate's Angel Has Fallen.