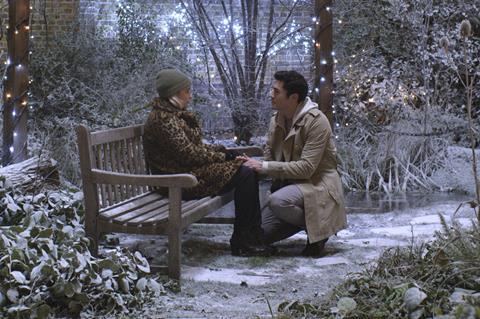 Universal's romantic comedy Last Christmas is hoping to end the six-week run of Joker at the top of the UK box office this weekend.
Directed by Paul Feig, the film stars Emilia Clarke – a 2010 Screen Star of Tomorrow – as a woman whose despondency at working in a year-round Christmas store is alleviated by the arrival of an attractive young man, played by Henry Golding.
The film features the music of the late pop star George Michael, including the track which provides the title.
Christmas movies can be a lucrative market with the right messaging. Last year Universal's The Grinch opened in top spot with a strong £5m, growing all the way to £28m. Sony animation Arthur Christmas started with £2.1m in November 2011, growing to £21.4m.
It returned to the number one spot on its seventh weekend over Christmas Eve and Christmas Day, indicating how an early launch before seasonal blockbusters can swell a Christmas title to a long run.
The highest-grossing Christmas title of all time in the UK is Richard Curtis' Love Actually which opened to £6.7m in November 2003, eventually reaching £36.8m.
The season also attracts repeat business, with A Christmas Carol, The Nutcracker, and more recently Nativity all producing multiple editions.
Universal has previously had success in the Christmas romantic comedy genre, with 2006's The Holiday opening to £2.8m and closing on £12.3m.
Feig also has good box office pedigree as a director, having earned a £3.5m start and £23m total gross for 2011's Bridesmaids.
Race to the top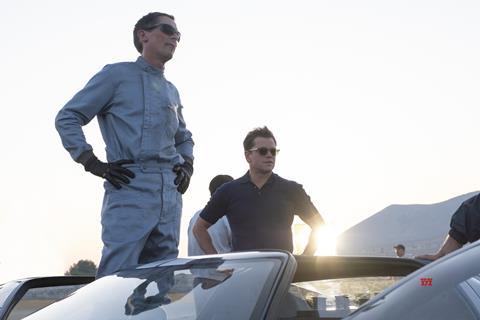 Lionsgate's Le Mans '66 (called Ford V Ferrari in the US and many other territories) also opens this weekend.
Directed by Logan's James Mangold, it debuted at Telluride in August. Matt Damon and Christian Bale star in the 1966 real life story of the American car designer and British driver looking to build a Ford car to challenge Ferrari at the Le Mans 24-hour race.
Ron Howard's 2013 Rush, a genre companion, grossed £10.1m from a £2.1m start, while Tom Cruise-led Days Of Thunder made £3.5m in 1990. Lionsgate will hope the combined star power of Damon and Bale will broaden the film's appeal beyond petrolheads.
Bale's top titles by box office are the Dark Knight franchise, of which The Dark Knight Rises scored highest with a £14.4m start and £56.3m total gross.
Damon has worked more prominently in prestige titles; his highest gross is the £23.7m for 2015's The Martian, for which he was nominated for the best actor Oscar.
Two awards season contenders starring Adam Driver will receive small theatrical releases before going wide on streaming platforms soon after.
Scott Z. Burns' real-life drama The Report follows an FBI agent (Driver) as he carries out an intensive investigation of the CIA's use of torture on suspected terrorists. It premiered at Sundance in January.
The film will play in 25 locations, before launching on Amazon Prime Video on November 29.
Noah Baumbach's Marriage Story, which debuted in Competition at Venice, also stars Driver, opposite Scarlett Johansson in a drama about a couple going through a divorce.
The film has significant awards buzz in multiple categories including best actor for Driver, actress for Johansson and director for Baumbach. Netflix is conducting a limited theatrical release for it this weekend, before it premieres on the streaming service on December 6.
Abe Forsythe's comedy-horror Little Monsters, starring Lupita Nyong'o as a teacher protecting her class from a zombie outbreak, is released this weekend through Altitude. Nyong'o is a strong box office draw, with high grosses for 2018's Black Panther (£50.6m), 2014's 12 Years A Slave (£20m) and this year's Us (£10.1m).
Vertigo Films is distributing Lee Won-Tae's crime drama The Gangster, The Cop, The Devil. It debuted as an out-of-competition Midnight Screening in Cannes this year, before playing festivals including Switzerland's Neuchâtel and Poland's Transatlantyk.
Together Films is releasing Damon Gameau's climate change documentary 2040, which showcases practical solutions to current environmental concerns with a view to the future.
Foreign-language releases include Nuno Bernado's boxing drama Gabriel through Jade Films and Indian titleMarjaavaan through Eros International.
Further new titles include crime drama Back Roads through Studio Soho Distribution; and rom-com Someone, Somewhere through Studiocanal.
Joker leads the holdovers, with Maleficent: Mistress Of Evil and The Addams Family both in seven-figure territory last time out.