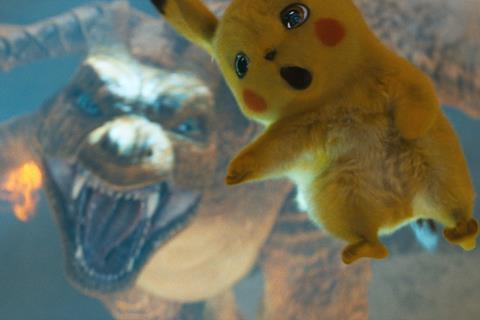 Warner Bros' Pokémon Detective Pikachu faces a daunting task in trying to wrest the box office crown from Avengers: Endgame this weekend.
The feature is the latest instalment in the popular Japanese franchise, with Ryan Reynolds lending his voice and motion-captured face to the small rodent-like creature with powerful electrical abilities. It is the first Pokémon film to mix animation with live action.
In this story, a former Pokémon trainer Tim Goodman (Justice Smith) finds a talking Pikachu that once belong to his father, and wants to be a detective.
Previous Pokémon films to have played in the UK include Pokémon: The First Movie in 2000, which started with £2.8m and ended on £11.7m. It was followed by Pokémon: The Movie 2000 later that year, which began with £488,570 and finished on £2.3m.
Less successful titles from the franchise include Pokémon 3 in 2001, which opened to £261,480 and ended on £745,157; and more recently, Pokémon The Movie: I Choose You! in November 2017, which began on £304,521 and ended on £435,638.
Pokémon Detective Pikachu will have to substantially outstrip them all to stand any chance of dethroning Avengers: Endgame. The Disney behemoth scored a second weekend of £14.3m – the second-highest ever in the UK – and had already broken into the all-time top 10 after just 12 days on release.
Even a large 60% drop to its third weekend would still see Endgame take £5.7m, a figure probably beyond Pokémon Detective Pikachu's reach.
Third weekends for other blockbuster titles in Endgame's realm include £5.7m for Avengers: Infinity War last year; a Christmas holiday-assisted 1% rise and £10.3m for total box office record holder Star Wars: The Force Awakens in January 2016; and £10.4m for Skyfall, the second weekend record holder, in November 2012.
Anywhere close to the £10m barrier would represent a strong result for Iron Man and his cohorts.
Universal's The Hustle is another title looking to capitalise on any Avengers fatigue. Anne Hathaway and Rebel Wilson lead the film as a pair of female scam artists who team up to take down the men who have wronged them. It is the first feature directing effort from The Thick Of It star and regular Veep director Chris Addison.
Wilson's recent comic output includes 2016's How To Be Single (opened: £1.9m, finished: £6.1m) and the Pitch Perfect series, the best-performing of which was 2015's Pitch Perfect 2 (opened: £5m, finished: £17.4m).
Hathaway starred in last year's Ocean's 8 (opened: £4.3m, finished: £11.1m), and has previously taken the lead in comedies such as 2015's The Intern (opened: £756,605, finished: £2.9m) and 2008's Get Smart (opened: £1.5m, finished: £4.8m). These figures suggest Universal will be hoping for a start in seven-figure territory.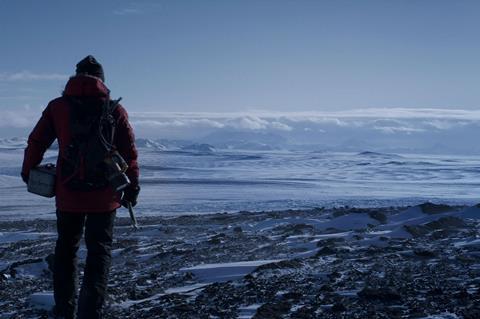 Signature Entertainment is releasing Arctic, the directorial debut of Brazilian musician and YouTube star Joe Penna. Mads Mikkelsen leads the cast as a man stranded in the titular territory who must take extreme measures to survive.
Claire Denis' latest film High Life starring Robert Pattinson as a father trying to survive in deep space with his daughter, is out through Thunderbird Releasing. Denis' record gross in the UK is still 2000's Beau Travail with a £30,222 start and £302,232 finish; Thunderbird will be hoping the Pattinson star power can propel High Life beyond that mark.
Amazing Grace, Alan Elliott and Sydney Pollack's documentary about legendary soul singer Aretha Franklin, is released this weekend through Studiocanal. The film premiered at DOC NYC in New York last November, and has since played at Berlin Film Festival and SXSW.
Cannes 2018 title Diamantino, about a Cristiano Ronaldo-style footballer who loses his touch and must find a new purpose, is released through Modern Films.
Entertainment Film, whose Fisherman's Friends is still running at £7.1m last weekend, has UK crime thriller The Corrupted, led by 2010 Screen Star of Tomorrow Sam Claflin, set ahead of the 2012 Olympics.
Other new titles include Destination Wedding starring Keanu Reeves and Winona Ryder through Vertigo; documentary Dead Good through Miracle/Ponder; Sundance 2018 hit Madeline's Madeline through MUBI; and Amma Asante's Where Hands Touch through Spirit Entertainment.
Pinpoint Films has the Cornwall-filmed Songbird starring Cobie Smulders, Jessica Hynes and Noel Clarke; Gigglefish Studios is releasing animation Strike; Eclipse Pictures has boxing drama Float Like A Butterfly; and Cosmic Cat is distributing Final Ascent: The Legend Of Hamish Macinnes.
Aside from Avengers: Endgame, other key holdovers include Seth Rogen and Charlize Theron in Long Shot; horror The Curse Of La Llorona; canine comedy A Dog's Journey; and author origin story Tolkien.