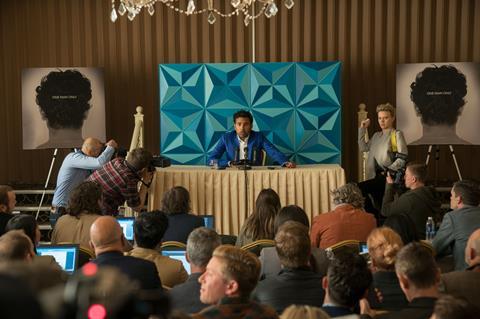 This week's new openers at the UK box office include Danny Boyle's Yesterday, the story of a failing musician who wakes up in a parallel universe where the Beatles never existed, meaning he has free rein to exploit their entire back catalogue to propel himself to stardom. Universal is releasing the film into 645 cinemas today (Friday, June 28).
The film follows a recent run of successful, music-themed films based on popular British bands. Bohemian Rhapsody, the story of UK rock group Queen featuring their music, ended on a hefty £54.9m after opening with a £6.4m weekend. Rocketman, the Elton John biopic with the singer's songs and musical segments, is up to £21.1m after five weeks on release and opened with £4m.
Yesterday differs in that it isn't a biographical tale. Himesh Patel plays the lead in the fictional story - the actor is best known for his long stint in BBC soap opera EastEnders and this is his first major film role. The feature does have star power, however, in the form of leading lady Lily James, as well as extended cameos from Ed Sheeran and James Corden.
Director Danny Boyle's best-performing title in the UK remains Slumdog Millionaire, which grossed £31.7m after starting with £1.8m in 2009. His other top-performers include T2 Trainspotting (grossed £17.1m, opened with £5.2m), The Beach (£13.3m and £2.4m), Trainspotting (£12.4m and £551,920), 127 Hours (£7.8m and £2.2m) and 28 Days Later (£6.3m and £1.5m).
Due to the enduring popularity of the Beatles in the UK, Universal will be expecting Yesterday to reach the upper echelons of those numbers.
The film was written and produced by Richard Curtis, whose past credits include Bridget Jones' Diary (£42m in the UK) Four Weddings And A Funeral (£27m) and Love Actually (£36.8m). All of those titles saw Curtis team up with regular producers Tim Bevan and Eric Fellner at Working Title, and that's the case again on Yesterday – when Working Title and Curtis partner, the end result often seems to chime with UK cinema audiences.
Elsewhere this weekend, Curzon is releasing Peter Strickland's latest feature, ghost tale In Fabric. Marianne Jean-Baptiste and Gwendoline Christie star in the story of a cursed dress as it passes from person to person, with devastating consequences. The film premiered at Toronto last year and Curzon is handling the UK release, having acquired rights prior to its festival debut.
As per usual, Curzon will be releasing the film day-and-date in cinemas and on its PVoD Curzon Home Cinema platform, meaning it won't play multiplexes or any other cinemas that enforce traditional theatrical windows, such as the Cineworld-owned Picturehouse. The latter could be a blow to its box office prospects, with Picturehouse accounting for a decent portion of the UK's arthouse cinema real estate.
While often critically-praised, Strickland's films have tended to struggle at the box office. His top-performer in the UK is The Duke Of Burgundy on £169,371 (after a £42,155 opening), narrowly ahead of Berberian Sound Studio on £161,779 (£45,516 opening). Curzon released both of those titles, and will be hoping In Fabric can better those numbers.
This weekend, Dogwoof is releasing feature documentary Apollo 11, about the famed moon landing mission. Compiled from archive footage, the project was produced by CNN Films and has grossed an impressive $8.9m (£7m) to date in the US via distributor Neon. Whether the story will also chime with UK audiences will be seen. First Man, the dramatized version of roughly the same story starring Ryan Gosling and released by Universal, took a disappointing £8m in the UK last year (though the film actually performed comparatively worse in the US).
Further new releases include Trafalgar's event cinema release of Cinderella from Glyndebourne (Sunday 30th), historical drama Robert The Bruce via Signature, and Zee Studios' Hindi crime thriller Article 15.
Key holdovers include Disney duo Toy Story 4, which opened with £13.3m last weekend, and Aladdin, which is now up to £32.6m, and Sony's Men In Black: International, which has been on release for two weeks and has taken £5m.