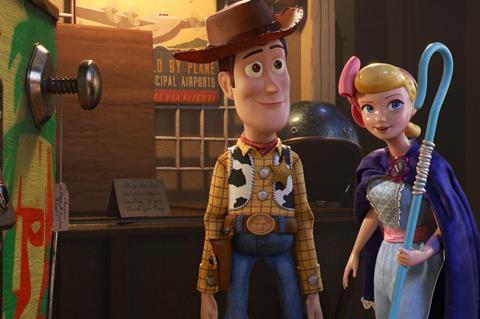 Today's GBP to USD conversion rate: 1.27
| | | | | |
| --- | --- | --- | --- | --- |
| Rank | Film (Distributor) | Three-day gross (June 21-June 23) | Total gross to date | Week |
| 1 | Toy Story 4 (Disney) | £13.3m | £13.3m | 1 |
| 2 | Aladdin (Disney) | £1.2m | £32.6m | 5 |
| 3 | Men In Black: International (Sony) | £1m | £5m | 2 |
| 4 | Rocketman (Paramount) | £780,000 | £21.1m | 5 |
| 5 | The Secret Life Of Pets 2 (Universal) | £473,985 | £17.6m | 5 |
Disney
Disney's ToyStory 4 started in top spot with a stellar £13.3m first weekend – the highest ever three-day opening for an animated title in the UK.
The film opened in 668 venues and scored a location average of £19,231, more than 10 times that of any other title in the top 10.
It surpassed the £11.5m opening weekend of 2010's Toy Story 3, as well as last year's Incredibles 2 (£9.6m).
The release is also the second-highest opening of 2019, behind only Avengers: Endgame's colossal £31.4m and ahead of Captain Marvel's £12.8m – both fellow Disney titles.
The figure was more than the rest of the top 20 titles combined, both across the weekend and on each individual day.
This formed part of a $238m international bow, including $10.7m of global IMAX takings – the second highest ever for an animated film, behind $14.7m for Incredibles 2.
Toy Story 4 rejoins Woody, Buzz and Bo Peep, plus new characters including Forky and Duke Caboom, as they go on a road trip with Bonnie and her family.
Disney also held second place this weekend, with Aladdin falling 58% for £1.2m and £32.6m so far; while Endgame added £80,000 for £87.9m to date.
Sony
Horror Brightburn opened to £296,000 from 451 locations, a low £658 average. With previews of £212,000 after launching on Wednesday, the film is up to £507,000.
Men In Black: International fell 65% on its second weekend with £1m, and is on £5m. It will fall short of the £35.8m, £22.262m and £22.266m recorded respectively by the previous films in the franchise.
Paramount
Rocketman took £780,000 on its fifth weekend – a drop of 52% - and is up to £21.1m in the UK, a decent total for a 15-rated film. It has now entered the top five totals for 2019 in the UK.
Paw Patrol: Mighty Pups took £12,500 and is up to £1.3m, while kids club screenings of Wonder Park propelled it to £23,000 and £4.6m.
Universal
The Secret Life Of Pets 2 added £473,985 for £17.6m after five weekends, while Octavia Spencer-led thriller Ma went up £24,559 for £1.6m after four.
20th Century Fox
X-Men: Dark Phoenix continued to struggle, dropping 68% for £332,720 on its third weekend and £6.7m to date. It will end with the lowest takings in the franchise so far, below The Wolverine's £13.8m from 2013.
Vertigo
Results still to come.
Lionsgate
John Wick 3: Parabellum took £161,433 on its sixth weekend and is now up to £10m, comfortably the best result of the John Wick series (JW1 took £1.6m in 2015 while JW2 did £6m in 2017).
Warner Bros
Godzilla: King Of The Monsters took £150,000 on its fourth weekend, with a cume of £6.7m. It will fall well short of the 2014 monster relaunch, which took £17.2m.
Pokémon Detective Pikachu topped up £48,000 and is now on £13.5m.
Altitude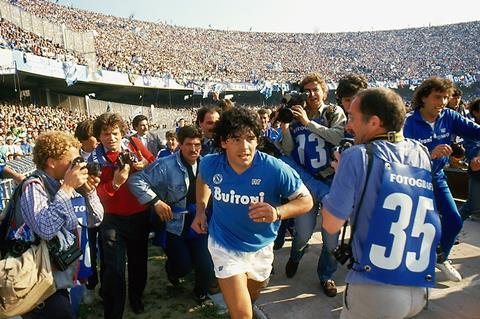 Footballer documentary Diego Maradona recorded a 48% fall on its second weekend, the lowest in the top 15, with £129,000. It is on £609,000 – short of the £3.8m and £3.2m recorded by Asif Kapadia's previous films Amy (2015) and Senna (2011), but still a decent result for a documentary.
B4U
Punjabi-language romantic comedy Shadaa opened to £71,000 from just 14 locations, with an impressive £5,021 average – the second highest this weekend behind Toy Story 4.
eOne
Late Night brought in £58,735 on its third weekend for £1.2m, while Booksmart took £48,712 for £1.4m on its fourth.
Parkland Entertainment
Bill Nighy Scrabble drama Sometimes Always Never fell just 44% on its second weekend, taking £33,221 for £157,619 to date.
Blue Dolphin Films
Docu-drama Hero: Inspired By The Extraordinary Life and Times of Mr Ulric. Cross brought in £2,373 from just two screens.
Curzon
The Flood opened on four screens to £2,032 and £3,983 including previews, while Gloria Bell took £13,654 and is up to £220,906.
New Wave
Cannes 2018 title Amin had a limited release on two screens, bringing in £620.