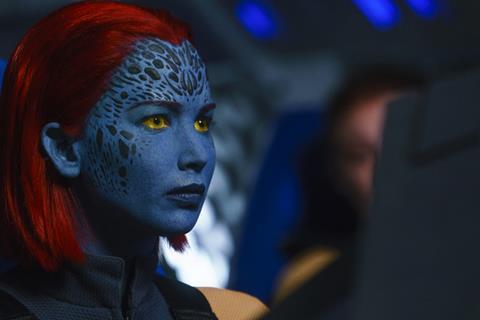 Disney's live-action Aladdin feature is looking to retain its spot at the top of the UK box office chart for a third straight weekend. The film was up to £19.8m as of June 2 having dropped a meagre 15% on its opening, and by close of play on Wednesday (June 5) stood at £21.6m.
The film will face competition from 20th Century Fox's X-Men: Dark Phoenix, the latest edition to the franchise that has spawned a host of entries over the last decade.
While the X-Men comic books originate from the Marvel stable, the film rights were not acquired by Disney when it purchased the Marvel film company, with Fox having owned them since picking up the rights to the characters back in 1994. Now Disney has acquired Fox, future X-Men films will be Disney productions, and all distribution profits on Dark Phoenix will flow back to Disney.
Since Fox took the rights, some 11 films (including spin-offs) have been released by the studio in the UK. The most successful remain the Deadpool and Deadpool 2 spin-offs, which grossed £38.1m in 2016 and £32.7m in 2018 respectively.
From the main stable of X-Men films, the best-performer to date is X-Men: Days Of Future Past, which took £27.3m after opening with £9.1m in 2014. The worst performer is spin-off The Wolverine, which ended on £13.8m in 2013. The remaining films in the main franchise grossed in the £15m-£21m range.
Dark Phoenix is directed by Simon Kinberg, who previously produced both Deadpool 2 and Logan - the latter grossed £23.9m in the UK in 2017. The new film stars Sophie Turner as the titular character alongside a host of franchise regulars. Reviews this week have been weak, which could harm its box office prospects.
Also new in cinemas this week is Nisha Ganatra's US comedy Late Night, which is being released by Entertainment One. Emma Thompson and Mindy Kaling star in the story of a late-night talk-show host who suspects that she may soon lose her long-running show. The film debuted at Sundance this year, where Amazon struck a splashy $13m deal for US rights, while eOne had acquired the title for the UK pre-festival.
Thompson has often proven a box office draw in the UK. Some of her bigger hits include Sense And Sensibility (£13.6m in 1996) and Love Actually (£36.8m in 2003), while she is also well known for the Nanny McPhee and Harry Potter franchises.
Altitude is handling the event-style release of documentary Liam Gallagher: As It Was, about the former Oasis frontman. On the film was broadcast into 280 cinemas accompanied by a special performance by Gallagher from London's Alexandra Palace on Thursday June 6. This is being followed by a release across cinemas and digital platforms today (Friday June 7). The film follows Oasis documentary Supersonic, which eOne released in 2016 when it grossed £760,797.
Modern Films is releasing Dirty God, Sacha Polak's drama about a young mother coping with the effects of an acid attack arranged by her ex-partner. The main character is portrayed by UK newcomer Vicky Knight, who as an eight-year-old was badly burned in a house fire, leaving her with scarring. The actress has since said in interviews that making the film has helped her to accept her own scars.
Dirty God is a co-production between the Netherlands, UK, Belgium and Ireland, and was made with backing from Netherlands Film Fund, Netherlands Production Incentive, BFI, BBC Films, Eurimages, VAF, Casa Kafka, and Screen Ireland. It premiered as the opening film of this year's Rotterdam Film Festival and also played in Sundance's World Cinema Dramatic Competition.
Curzon is releasing Gloria Bell, Sebastián Lelio's English-language comedy-drama starring Julianne Moore. Chilean filmmaker Lelio's Oscar-winning A Fantastic Woman grossed £325,810 via Curzon in 2018, while his English-language drama Disobedience took £567,216 via the same distributor in February this year.
Elsewhere, Dogwoof is releasing feature documentary Halston, Frédéric Tcheng's film about the US fashion designer who rose to fame in the 1970s, and Eros International is handling Urdu-language romantic-comedy Wrong No. 2.
Key holdovers include Universal's The Secret Life Of Pets 2, which has sat second in the chart across its first two weekends, taking £11.9m, Paramount's Rocketman, which is up to £12m after two weeks, and Warner Bros' Godzilla: King Of The Monsters, which underwhelmed with a £2.3m opening weekend.