Universal's reboot has to settle for second as Warner Bros' latest DC outing retains lead.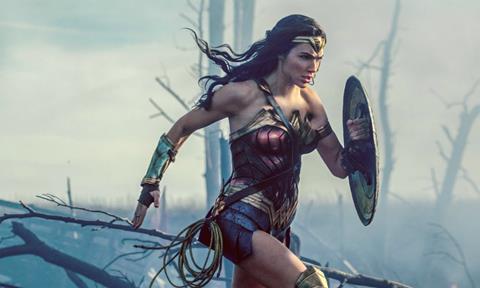 (Note - Dollar conversions are based on today's rates)
UK TOP FIVE
| Ranking | Film/Distributor | Weekend gross | Running total |
| --- | --- | --- | --- |
| 1 | Wonder Woman (WB) | $4.43m (£3.48m) | $16.4m (£12.84m) |
| 2 | The Mummy (Universal) | $4.25m (£3.34m) | $4.25m (£3.34m) |
| 3 | Pirates Of The Caribbean: Salazar's Revenge (Disney) | $1.9m (£1.49m) | $20.4m (£16m) |
| 4 | Baywatch (Paramount) | $1.45m (£1.14m) | $8.9m (£6.98m) |
| 5 | Take That: Wonderland Live From The O2 (CinemaLive) | $1.28m (£1.01m) | $1.28m (£1.01m) |
WARNER BROS
Despite the arrival of The Mummy, Wonder Woman reigned supreme over the UK box office for the second straight week.
Warner Bros' latest DC outing fell only 31% (excluding previews) on its way to $4.43m (£3.48m) second weekend. It has now lassoed $16.4m (£12.84m) after taking $4.1m (£3.2m) over its first Mon-Thurs period.
By the end of next weekend at the latest, it will have surpassed Batman Begins' $20.9m (£16.42m) UK result, and it also has a great chance of recording a hat-trick at the top of the chart.
Also for Warner Bros, King Arthur: Legend Of The Sword stands at $6.1m (£4.82m) after four weeks in play.
UNIVERSAL
Battling generally negative reviews, The Mummy had to make do with second on its UK debut.
Universal's reboot grossed $4.25m (£3.34m) from its 575 sites, marking a site average of $7,400 (£5,811). It's far from a cursed opening, but it will be disappointing not to beat Wonder Woman's second weekend.
It is at least a more successful bow than Universal's first attempt to launch the Dark Universe, Dracula Untold's $2.18m (£1.71m) debut from 449 sites. But even though it was released in 1999, Stephen Sommers' The Mummy opened bigger with $4.8m (£3.77m) from 441 sites.
DISNEY
Falling 46% in its third weekend, Pirates Of The Caribbean: Salazar's Revenge sailed to an extra $1.9m (£1.49m) to remain in third.
Disney's latest adventure for Captain Jack Sparrow has now reached $20.4m (£16m) in the UK and should pass £20m in the coming weeks, although it will end its run as the lowest-grossing Pirates outing so far.
Also for Disney, Guardians Of The Galaxy Vol. 2 has become only the fifth superhero film to hit £40m at the UK box office, with Marvel's latest adding $388,000 (£305,000) for a terrific $51.3m (£40.3m) to date.
Beauty And The Beast boosted 121% with a $130,000 (£102,000) 13th weekend for a magical $92m (£72.26m).
PARAMOUNT
Baywatch fell 40% (excluding previews) as it swam to a non-final $1.45m (£1.14m) second weekend.
Paramount's reboot is now up to $8.9m (£6.98m) after 14 days in play and will hope to challenge director Seth Gordon's best-ever UK result, currently Four Christmases' $13.5m (£10.6m).
CINEMALIVE
Take That: Wonderland Live From The O2 led the market on Friday [June 9] ahead of The Mummy and Wonder Woman.
CinemaLive's event cinema release hit the high note with a take of $1.26m (£997,676) from its 486 sites on Friday, rising to $1.28m (£1.01m) including some encores. That's ahead of the record-breaking Take That Live in 2015 which opened with $1.23m (£965,000) from 421 sites.
It means that Wonderland is the biggest one-night-only live concert event in the UK to date.
FOX
My Cousin Rachel charted sixth with a decent non-final UK bow of $809,000 (£635,141) from its 468 sites.
Fox's adaptation recorded director Roger Michell's third-best UK debut, behind Changing Lanes' $1.03m (£808,268) from 311 sites. It will look to prosper mid-week due to its older-skewing audience.
Also for Fox, Diary Of A Wimpy Kid: The Long Haul fell 40% with a $647,000 (£508,394) third weekend for $6.2m (£4.85m) to date, while The Boss Baby took $198,000 (£155,512) for an excellent $35.9m (£28.19m).
Alien: Covenant and Snatched stand at $16.2m (£12.69m) and $2.66m (£2.09m), respectively.
Secret Cinema's production of Moulin Rouge! ended its run with $5.62m (£4.4m) and more than 70,000 people attending, making it the third most successful Secret Cinema run behind Back To The Future and The Empire Strikes Back.
EONE
Religious drama The Shack recorded an unremarkable UK debut of $122,000 (£96,580) from its 169 sites through eOne.
CURZON ARTIFICIAL EYE
From its 31 sites through Curzon Artificial Eye, Berlin Syndrome posted a UK opening of $43,000 (£33,991).
STUDIOCANAL
In its third week of release, Studiocanal's The Red Turtle added $40,000 (£31,776) for a healthy $445,000 (£350,879) to date.
SONY
Norman could only manage a $22,000 (£17,000) UK debut from its 90 sites through Sony, including previews with the Israeli Film Festival and the Jewish Film Festival.
UPCOMING RELEASES
This week sees saturation releases for Fox's Gifted and Lionsgate's Churchill, while Altitude's Rock Dog receives a wide release.
BFI Distribution's Stockholm My Love, Kaleidoscope Entertainment's Nails and Dogwoof's Whitney: Can I Be Me are among the films receiving a limited release.