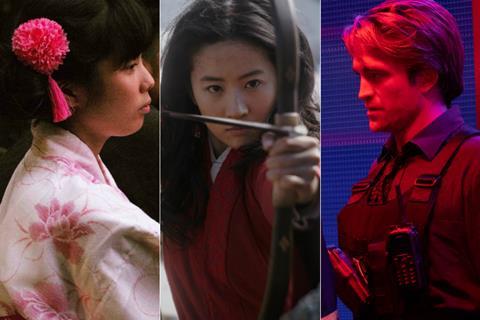 The UK film release schedule is coming together for July and August as the industry approaches the first weekend that cinemas are allowed to reopen.
However, a lack of venues and the difficulty of coordinating international releases means only two films have confirmed new releases for the first weekend of July (3-5, with cinemas opening from July 4), with another beginning previews.
As of July 1, 18 new films will be released into UK cinemas in July. The majority of these are small releases, with none coming from the major studios.
The new titles confirmed for the reopening weekend are Werner Herzog's Family Romance, LLC through Modern Films; and Zacharias Kunuk's One Day In The Life Of Noah Piugattuk through Koenig Pictures on behalf of Telefilm Canada; with previews for Eliza Schroeder's baking drama Love Sarah through Parkland Entertainment, in partnership with Jade Films, which will open on July 10.
Titles arriving later in the month include trapped-in-a-cave thriller Black Water: Abyss (July 10) and Russell Crowe feature Unhinged (July 31) through Altitude; Richard Wong's Come As You Are through Studio Soho Distribution, with a simultaneous online release on Curzon Home Cinema; and Claire Oakley's directorial debut Make Up through Curzon and Alice Winocour's Proxima through Picturehouse Entertainment (both July 31).
Modern Films also has Marco Bellocchio's Cannes 2019 Competition title The Traitor on July 24; while Signature is releasing three animated family titles – Dreambuilders, Fairy Princess & The Unicorn (both July 10), and Snow Queen: Mirrorlands (July 17).
There are currently 12 new releases set for August, including the first summer blockbusters – Christopher Nolan's Tenet through Warner Bros on August 12; and Mulan (August 19) and New Mutants (August 28) through Disney. Picturehouse Entertainment will also launch its second post-lockdown release, with Shannon Murphy's Babyteeth on August 21.
Number of locations
Uncertainty over how many cinemas will be open is playing a major part in the low number of titles, as well as the confirmed number of locations for those that are opening.
Yesterday Cineworld became the first major chain to move its reopening date back, to July 31. That also applies to the Picturehouses cinemas which Cineworld owns.
Signature is still confirming the number of screens for its animated releases; while Sony is planning for a wide release on Broken Hearts Gallery on August 7, with major multiplex chains scheduled to have reopened by then.
Trafalgar Releasing is planning to screen Denis Sanders' 1970 concert documentary Elvis: That's The Way It Is in 250 locations across the UK & Ireland on August 13.
Looking further into August, Piece of Magic Entertainment is planning a wide release in over 400 locations for André Rieux: Magical Maastricht – Together In Music, the latest in the successful event cinema series from the Dutch violinist, this time broadcast from his Netherlands hometown.
Several distributors are re-releasing titles which had truncated outings prior to the lockdown.
Pathé is taking bookings for Philippa Lowthorpe's Misbehaviour with 11 UK venues confirmed as playing it this opening weekend; while in Ireland, Element Pictures Distribution has 18 bookings for Nick Rowland's Calm With Horses, with more to come before the weekend.