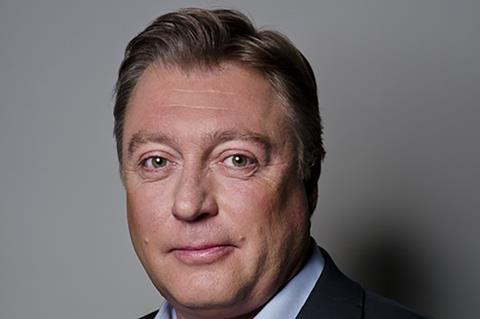 Senior figures in the UK film industry have paid tribute to Robert Mitchell, the former managing director of Walt Disney UK who died suddenly in February aged 56.
The Middlesbrough-born Mitchell worked in marketing for Warner Bros; was at Palace Pictures and was one of the first hires by Daniel Battsek at what was then Buena Vista International (BVI) in 1992.
"I was shocked and saddened to hear the sad news regarding my friend and former colleague Robert Mitchell," said Battsek, now director, Film4.
Battsek had first worked with Mitchell at Palace Pictures between 1986 and 1991. He spoke of Mitchell's "passion and enthusiasm".
"Robert truly was one of a kind and we shared some exciting times – and even the same desk! – at Palace Pictures and then again when I hired him at BVI," Battsek continued.
"Robert was always incredibly confident and brim full of ideas. He was the sort of person who rose to every challenge we faced with the retort of 'Who says that can't be done?'. Robert's ability was not built on bravado alone, he really had a great skill in 'film marketing' which was enormously significant in building BVI from the ground up."
Battsek was echoed by Lee Jury, now senior vice president, studios and integrated marketing, Walt Disney Studios Motion Pictures, Walt Disney Co, EMEA. Jury had worked with Mitchell after joining BVI in 1995.
"Robert was an inspirational film marketer and his passion for the industry was infectious," Jury recalled. "It was thrilling to work with someone with such a desire to challenge the status quo and rewrite the UK movie marketing playbook. He will be greatly missed."
Mitchell also played a formative role in the career of Lawrence Atkinson, now chief executive officer at the DDA Group.
"[Mitchell] was my first boss," said Atkinson, a volunteer at the Edinburgh International Film festival who was hired by Mitchell to work at BVI in London in 1995.
He paid tribute to Mitchell's fierce loyalty. "If you worked with him and for him, he was on your side at all times."
"Robert was a northern lad and you could never take that out of his style," Atkinson continued. "He was very forthright, very honest and open."
"He did unprecedented marketing deals back in the day with the likes of McDonalds, Coca Cola, British Telecom and Procter & Gamble. He set the blueprint for how Disney did promotional partnerships."
Mitchell was also involved in BVI's local comedy label which backed films including Calendar Girls, Kinky Boots and High Heels And Low Lifes.
"He was very good to filmmakers. He would treat the UK productions with the same level of care as he would the Pixar films," Atkinson explained.
Mitchell left Disney in 2009, later becoming chief executive officer of Intandem Films. Highly regarded by his peers, he was an active member of the Film Distributors' Association (FDA) and a strong supporter of cross-industry body All Industry Marketing (AIM), now Cinema First.
"FDA were very sorry to hear the sad news of Robert's passing," said the organisation's chief executive Andy Leyshon. "His lengthy, successful career traversed both studio and independent distribution, where he was responsible for releasing an impressive and eclectic mix of hit films. He was also a very nice man, gregarious and always willing to offer good advice to those taking their first steps in the distribution sector. He had a lot of friends in the industry and will be missed."
"He was a big person. A kind man. Loved his family. Funny and charming. Great company. I will personally miss him very, very much," added Mitchell's friend and colleague Mick Southworth.
Anyone wishing to send condolences to Mitchell's family can do so by contacting Southworth at micksouthworth@gmail.com.