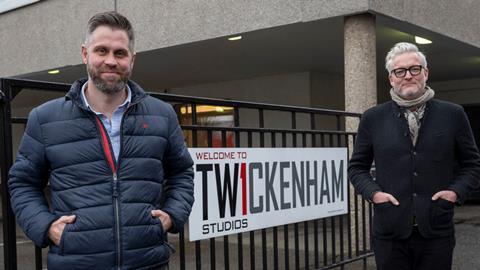 UK TV and advertising executives and property developers Piers Read and Jeremy Rainbird are leading a new fund which aims to invest £500m into the UK studio sector.
The first investment in their company, The Creative District Improvement Company (TCDI) and subsidiary operating company, Time + Space Studios, will be the £50 million acquisition and planned improvement of Twickenham Studios.
As part of the deal which will add film stages and office space, Sunny Vohra, who bought the studio eight years ago, will stay on as chairman and co-owner. Films that have used Twickenham's production or post production facilities include Bohemian Rhapsody, Baby Driver and McMafia.
The Twickenham Studios acquisition includes the studios' previously announced expansion into Liverpool at the Littlewoods Pools building.
The company has also applied for planning permission to build a £148 million new studio complex in Kent, near the Ashford International train station, which will have four stages totalling 80,000 square feet.
Read and Rainbird are also interested in taking over the running of the Dagenham Studios project.
The money raised for the Twickenham Studios acquisition was partially generated from the British Airways Pension Fund.
Read was previously a producer on The Inbetweeners and Peep Show, while Rainbird helped launch Sharon Horgan's Merman label.
TCDI Co. said they are committed to opening "one million square feet of production space by 2024".
Adrian Wootton OBE, chief executive, Film London and the British Film Commission said: "The UK screen industries are enjoying an exceptional boom time and it is crucial that we capitalise on this by continuing to develop our world-class infrastructure and provide access to as much purpose built studio space as we possibly can. I am therefore delighted by today's news of this major investment by a UK company into UK sites, including the expansion of Twickenham Studios with its rich history of attracting filmmakers, bringing benefits to the capital and indeed to the UK as a whole."