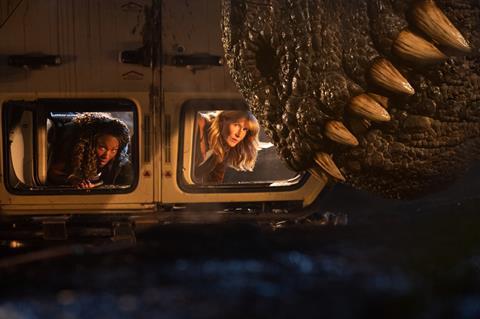 Jurassic World Dominion is hoping to snare the top spot from Top Gun: Maverick at this weekend's UK-Ireland box office, after two weeks at the number one for Paramount's Tom Cruise hit.
Universal is distributing Jurassic World Dominion at 708 sites – Universal's fourth biggest UK-Ireland opening of all time, behind No Time To Die (772),Downton Abbey: A New Era (746) and Downton Abbey (730). The Colin Trevorrow-directed title opened with $55m from early markets last week, and expands to North America, UK/Ireland, China, France, Germany, Australia and Spain this weekend.
The third instalment in the Jurassic World franchise is set a few years after Fallen Kingdom. Humans are adjusting to coexisting with dinosaurs, and Owen (Chris Pratt) and Claire (Bryce Dallas Howard) are raising Maisie (Isabella Sermon), a young clone in danger of being kidnapped by those who would experiment on her. Jurassic Park's Laura Dern, Jeff Goldblum and Sam Neill have also returned to the franchise for the finale in the Jurassic World trilogy.
Jurassic World took £19.35m in its opening weekend back in 2015, including £2.52m in previews. The second instalment, Jurassic World: Fallen Kingdom, didn't quite match up, taking £14.3m in its opening weekend in 2018, including £3.7m in previews.
The second widest release of the week isAll My Friends Hate Me, which BFI Distribution is playing at 72 sites. The UK comedy and Tribeca premiere is directed by Andrew Gaynord, with a cast including Tom Stourton, Georgina Campbell and Dustin Demri-Burns. It focuses on a young man on his birthday. His old college gang have reunited for a celebratory party, but when he suspects that one friend is starting to turn against him, things take a dark turn.
Venice 2021 competition titleIl Buco (The Hole), directed by Michelangelo Frammartino and set amid a cave expedition in 1960s Calabria, southern Italy, is playing for New Wave Films at 21 sites.
Modern Films is putting Jan P. Matuszyński's Venice competition title Leave No Traces at 11 locations. Three of these sites are in Ireland, where Modern Films has partnered with Access Cinema for the release. The title is also having a day and date release with Curzon Home Cinema and BFI Player. The film is set in 1983 in Poland and is based on the true story of a high-school student randomly arrested and beaten to death.
Anti-Worlds Releasing has French director Lucile Hadzihalilovic's English-language debut Earwig playing at 10 sites. The Toronto premiere body horror stars Paul Hilton as a man called Albert, who is employed to look after a young girl, living in near solitary confinement.
Bohemia Media has Listen playing in three sites this weekend, with a further three to follow in the film's second release week. Portuguese filmmaker Ana Rocha de Sousa's debut premiered at Venice in 2020, and explores the subject of forced adoptions.
Also out this weekend is Asia TV's Nenjuku Needhi, a Tamil-language crime drama, based on true events, in which three girls go missing from a small village. South Indian filmmaker Arunraja Kamaraj directs. Peccadillo Pictures is releasing Swan Song, a US comedy directed by Todd Stephens, about a retired hairdresser who escapes his nursing home to fulfil a former client's dying wish.
Key holdovers includeTop Gun: Maverick (Paramount), Doctor Strange In The Multiverse Of Madness (Disney), Sonic The Hedgehog 2 (Paramount), The Bad Guys (Universal) and Everything Everywhere All At Once (A24).