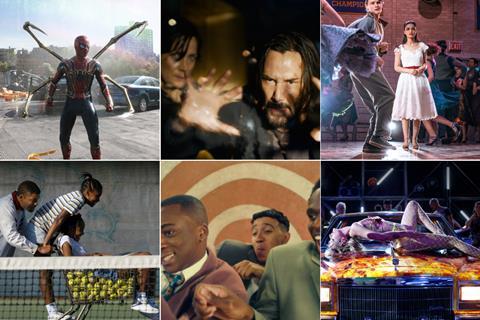 Cinemas in the UK and Ireland are full of a host of new titles between now and the end of 2021, following months of closures due to the Covid-19 pandemic at the start of the year.
Screen is listing the release dates for films in the territory in the calendar below. For distributors who wish to add/amend a date on the calendar, please get in touch with Screen here.
Indoor cinemas in England, Scotland and Wales have been allowed to reopen from the middle of May; and from Ireland and Northern Ireland since the beginning of June.
Screen is also tracking reopening dates of cinemas in territories worldwide; plus individual venues in the UK. It also has calendars for film festivals and the awards season in 2021, plus a rolling coronavirus news page.
May
May 17 (indoor cinemas in England, Scotland & Wales can reopen)
Sound Of Metal (Vertigo), Spiral: From The Book Of Saw (Lionsgate), Nomadland (Disney+), The Courier (Lionsgate), Maya The Bee 3: The Golden Orb (Kaleidoscope), A Space In Time (Bohemia), Undergods (Munro), Those Who Wish Me Dead (Warner Bros), Ammonite (Lionsgate), Minari (Altitude), The Unholy (Sony), The Lady In The Portrait (Cinefile), Peter Rabbit 2: The Runaway (Sony), Radhe: The Most Wanted Bhai (Zee Studios)

May 18
Lupin III: The First (National Amusements)
May 21
Rare Beasts (Republic), The Human Factor (Dogwoof), My New York Year (Vertigo), Dawn Of War (Kaleidoscope), State Funeral (Mubi), Ściema Po Polsku (Magnetes)

May 23
Spring Blossom (Curzon)

May 25
The 8th (Together)
May 26
Demon Slayer: Mugen Train (Sony)
May 28
The Conjuring: The Devil Made Me Do It (Warner Bros), Cruella (Disney), Granada Nights (Eyefive), First Cow (Mubi), Frankie (Picturehouse), Surge (Vertigo), Zebra Girl (Bohemia), Vanquish (Signature), Billie Eilish: The World's A Little Blurry (Altitude), Earwig And The Witch (Elysian), Bank Job (Dartmouth), Felix And The Hidden Treasure (Signature)

June
June 4
A Quiet Place Part II (Paramount), After Love (BFI), Land (Universal), Ahead Of The Curve (Together), Taming The Garden (Dogwoof), Gunda (Altitude), The Killing Of Two Lovers (Curzon), Dream Horse (Warner Bros)
June 9
Nobody (Universal)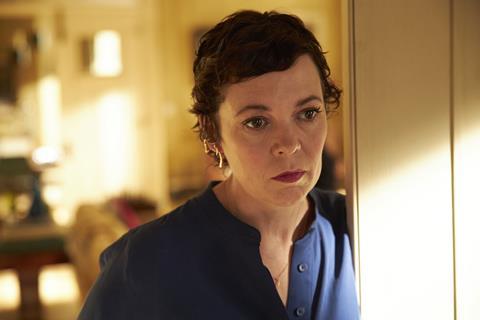 June 11
Vivo (Sony), The Father (Lionsgate), Ellie & Abbie (And Ellie's Dead Aunt) (Kaleidoscope), Me Myself And Di (Kaleidoscope)
June 18
In The Heights (Warner Bros), Luca (Disney+), The Reason I Jump (Picturehouse), In The Earth (Universal), Monster Hunter (Sony), Treasure City (Sovereign), It Must Be Heaven (New Wave)
June 21
The Hitman's Bodyguard 2 (Lionsgate)

June 24
Fast & Furious 9 (Universal)
June 25
Sparkling: The Story Of Champagne (Swipe), Fatima (Republic), The Filmmaker's House (Verve), To Be Someone (Kaleidoscope), Dogtanian And The Three Muskehounds (Altitude), Sweat (Curzon), Supernova (Studiocanal)
July
July 1
Violet Evergarden: The Movie (National Amusements)
July 2
Another Round (Studiocanal), Last Man Standing (Dogwoof), WITCH: We Intend To Cause Havoc (Bulldog), Don't Go Gentle: A Film About IDLES (Doc'N Roll Films), Daisy Quokka: World's Scariest Animal (Signature), French Exit (Sony), Bing's Animal Stories (Vue), Lady Boss: The Jackie Collins Story (Modern), Freaky (Universal)

July 7
Black Widow (Disney)
July 9
Mosley: It's Complicated (Miracle), Jumbo (Anti-Worlds), Martin Eden (New Wave), Tove (Blue Finch), Truffle Hunters (Sony), The Surrogate (Studio Soho), 1921 (Trinity), Occupation Rainfall (Signature), To Be Someone, Poster Boys (Kaleidoscope),

July 16
The Forever Purge, The Croods 2: A New Age (Universal), Deerskin (Picturehouse), Space Jam: A New Legacy (Warner Bros), Escape Room: Tournament Of Champions (Sony), Nowhere Special (Curzon), Two Of Us (Peccadillo), The Birthday Cake (Signature), The Witches Of The Orient (Modern), Summer Of Soul (…Or, When The Revolution Could Not Be Televised) (Disney)
July 23
Old (Universal), Riders of Justice (Vertigo), I Never Cry (Eureka), Night Of The Kings (Altitude), Wrath Of Man (Lionsgate) Here We Are (Studio Soho), Bye Bye Morons (Curzon), Phil Liggett: The Voice Of Cycling (Demand), Luz: The Flower Of Evil (Fractured Visions), The World To Come (Sony), Off The Rails (Munro Film Services)
July 29
The Sparks Brothers (Universal)
July 30
Jungle Cruise (Disney), Spirit Untamed (Universal), Limbo (Mubi), The Most Beautiful Boy In The World (Dogwoof), The Suicide Squad (Warner Bros), The Offering (Sovereign), Vivo (Netflix)
August
August 6
Last Letter From Your Lover (Studiocanal), Stillwater (eOne), The Fever (New Wave), Moonbound (Signature), El Father Plays Himself (Ardimages), The Snail And The Whale / Zog And The Flying Doctors (Magic Light), Profile (Universal), Now, Voyager (BFI), Boys From County Hell (Vertigo), Zola (Sony), Beasts Clawing At Straws (Blue Finch), Son (Altitude)
August 12
Puaada (Zee Studios)
August 13
Free Guy (Disney), Don't Breathe 2 (Sony), Coda (Apple TV+), The Courier (Lionsgate), I'm Your Man (Curzon), Wendy (Elysian), New Order (Mubi), Minamata (Vertigo), Wildland (Picturehouse), Josee, The Tiger And The Fish (National Amusements), Escher: Journey Into Infinity (Munro Film Services), The Paw Patrol Movie (Paramount)
August 18
People Just Do Nothing: Big In Japan (Universal), Snake Eyes: G.I. Joe Origins (Paramount)
August 20
Reminiscence (Warner Bros), Censor (Vertigo), Conni And The Cat (Munro Film Services), Underground (Sovereign), The Bright Side (Break Out), Bell Bottom (Moviegoers Entertainment), Around The World In 80 Days (Vertigo), Pig (Altitude), The Night House (Disney), Barbie: Big City, Big Dreams (National Amusements), Sabaya (Dogwoof)
August 26
Halsey Presents If I Can't Have Love, I Want Power (Imax)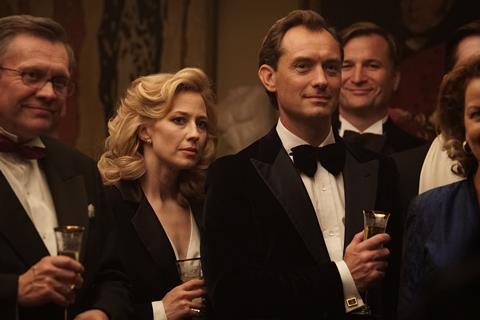 August 27
Candyman (Universal), The Nest (Picturehouse), Our Ladies (Sony), The Pebble And The Boy (Munro Film Services), Demonic (Signature Entertainment), Paris Calligrammes (Contemporary Films), The Toll, Ainbo: Spirit Of The Amazon (Signature Entertainment), Souad (BFI), The Last Bus (Parkland)
August 28
André Rieu's 2021 Summer Concert: Together Again (Piece of Magic)
September
September 1
Almost Liverpool 8 (Dartmouth)

September 3
Annette (Mubi), Wildfire (Modern), Shang-Chi And The Legend Of The Ten Rings (Disney/Dreamworks), Second Spring (Miracle), Shorta (Vertigo), Rise Of The Footsoldier: Origins (Signature), The Champion Of Auschwitz (Parkland), Anthropocene: The Human Epoch (Filmhouse), Janine Jansen: Falling For Stradivari (Asterisk), Misha And The Wolves (Republic), Here Today (Sony)
September 7
Mick Fleetwood & Friends (CinemaLive)
September 8
Walden (Trafalgar), Malignant (Warner Bros)
September 10
Respect (Universal), Herself (Picturehouse), Sweet Thing (Eureka), The Lost Leonardo (Dogwoof), Copshop (Eros STX), Copilot (Modern), From The Vine (Parkland), Herself (Picturehouse/Element), The Collini Case (Peccadillo), The Servant (Studiocanal), Romantic Road (Blue Dolphin)
September 17
Rose Plays Julie (New Wave), Small World (Kinostar), Volcano (Filmhouse), Gunpowder Milkshake (Studiocanal), Prisoners Of The Ghostland (Elysian), La Cha Cha (MusicFilmNetwork), The Story Of Looking (Modern), Escape From Extinction (Kaleidoscope), The Maltese Falcon (BFI), A Brixton Tale (Bulldog), The Big Hit (Studio Soho)
September 21
La Traviata On Sydney Harbour 2021 (CinemaLive)

September 22
The Many Saints Of Newark (Warner Bros)
September 23
Oasis Knebworth 1996 (Trafalgar Releasing)
September 24
Sweetheart (Peccadillo), Gaia (Altitude), The Alpinist (Dogwoof), The Djiin (Koch), The Man Who Sold His Skin (Studio Soho), The Tape (Sparky), True Calling (Tull Stories), Balloon (Day For Night), Gagarine (Curzon), The Ballad Of Billy McCrae (Munro Film Services), Father Of The Cyborgs (Wildcard)
September 28
Romeo & Juliet (National Theatre)
September 29
Oliver Sacks: His Own Life (Altitude)
September 30
No Time To Die (Universal)
October
October 1
Even Mice Belong In Heaven (Signature), Getting Away With Murder(s) (Guerilla), Freakscene - The Story Of Dinosaur Jr (Munro Film Services), Redemption Of A Rogue (Wildcard)

October 8
The Addams Family 2 (Universal), Deadly Cuts (Wildcard), My Little Sister (606 Distribution)

October 11
I Am Belmaya (Dartmouth)
October 14
V&A Presents Alice: Curiouser And Curiouser (Trafalgar)
October 15
Halloween Kills (Universal), The Last Duel (Disney), Never Gonna Snow Again (Picturehouse), The Invisible Life Of Euridice Gusmao (New Wave), Arracht (Break Out)
October 20
One Of These Days (Studio Soho)
October 22
Dune (Warner Bros), Dear Evan Hansen, The Boss Baby 2: Family Business (Universal), Ron's Gone Wrong, The French Dispatch (Disney), Bigfoot Hunters (Fractured Visions)

October 27
Cliff Richard - The Great 80 Tour (CinemaLive)
October 28
The Rocky Horror Live Show (Trafalgar)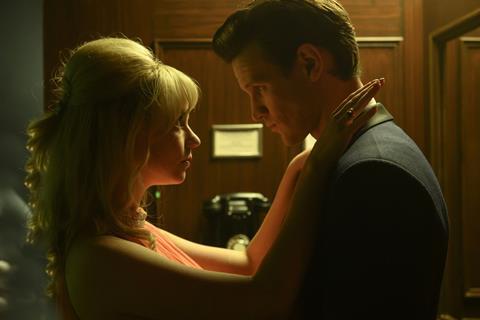 October 29
Last Night In Soho (Universal), Quant (Studio Soho), Azor (Mubi), The Rescue (Dogwoof), Passing (Netflix), Barun Rai And The House On The Cliff (Do It Creative), Antlers (Disney), Wild Indian (Vertigo), The Football Monologues (Tull Stories), The Nowhere Inn (Modern), Chuck Steel: Night of the Trampires (Animortal/Blue Dolphin), Congo Calling (Dartmouth), My Hero Academia: World Heroes' Mission (Sony)
November
November 4
Annatthe (Qube Entertainment), The Doors: Live At The Bowl '68 (Trafalgar)

November 5
Eternals (Disney), The Card Counter (Universal), Highway One (Miracle Comms), Laila In Haifa (Bohemia), Red Notice (Netflix), Bull (Signature), Spencer (STX), Men Who Sing (Dartmouth)
November 6
League Of Legends: World Finals 2021 (National Amusements)
November 7
Spartacus - Bolshoi Ballet 2021 (Trafalgar)
November 9
Eric Clapton: The Lady In The Balcony (National Amusements)
November 11
Fuffad JI (Zee Studios)
November 12
Cry Macho (Warner Bros), Becoming Cousteau (Dogwoof), Mothering Sunday (Lionsgate), Raging Fire (Trinity), Tick, Tick… BOOM! (Netflix), Wesele (Magnetes), Volcano (Filmhouse), Through The Night (Together), Keyboard Fantasies (Modern), Dettori (Dazzler Media/Munro Films), Krime Story. Love Story (Magnetes), You Will Die At Twenty (New Wave), Shepherd (Darkland), Natural Light (Curzon)
November 14
Evangelion - Death Of Evangelion (National Amusements)
November 17
Dear Future Children (Dartmouth)
November 18
Ghostbusters: Afterlife (Sony)
November 19
King Richard (Warner Bros), C'mon C'mon (Entertainment Film Distributors), Petite Maman (Mubi), Drive My Car (Modern), Piano To Zanskar (Tull Stories), Sideshow (Munro Films), Breaking Out (Element Pictures), Bruised (Netflix) Pitbull - Exodus (Kinostar)
November 24
Encanto (Disney)
November 26
House Of Gucci (Universal), Pirates (Picturehouse), Bad Luck Banging Or Loony Porn (Sovereign), JFK Revisited: Through The Looking Glass (Altitude), Rebel Dykes (BFI/Bohemia), The First Wave (Dogwoof), Lapwing (Bulldog), Dying To Divorce (Dartmouth), Antim (Zee Studios), Satyameva Jayate 2 (Cinestaan), To The Moon (Eclipse)
November 28
Anything Goes - The Musical (Trafalgar)
November 30
Exhibition On Screen: The Danish Collector - Delacroix To Gaugin 2021 (Seventh Art)
December
December 3
Boxing Day (Warner Bros), Resident Evil: Welcome To Raccoon City (Sony), Blue Bayou (Universal), Final Account (Universal), Silent Night (Altitude), Velle (Priya Leisure), There Is No Evil (New Wave)
December 4
Euridice - Met Opera 2021 (Trafalgar), CBeebies Christmas Show (Modern)
December 9
The Nutcracker - ROH, London 2021 (Royal Opera House)
December 10
West Side Story (Disney), Lamb (Mubi), Hope (Picturehouse), Clifford The Big Red Dog (eOne), Tigers (Studio Soho), Chadigarh Kare Aashiqui (Cinestaan), Violence Of Action (STX)
December 15
Tosca - ROH, London 2021 (Royal Opera House)
December 17
Spider-Man: No Way Home (Sony), The Story Of Film: A New Generation (Dogwoof), Nine Days (Sony), Lola And The Sea (Peccadillo)
December 19
The Nutcracker - Bolshoi Ballet 2021 (Trafalgar)
December 22
The Matrix: Resurrections (Warner Bros), The King's Man (Disney)
December 26
Titane (Altitude)
December 31
Benden Ne Olur (AF-Media)
2022
January
January 1
The Electrical Life Of Louis Wain (Studiocanal), Cinderella - Met Opera 2022 (Trafalgar)

January 7
Boiling Point (Vertigo), The Lost Daughter, (eOne), The 355 (Universal), Ailey (Dogwoof), Minyan (Peccadillo)

January 14
Operation Mincemeat (Warner Bros), Cyrano (Universal), Scream (Paramount), Cow (Mubi), The Man From Toronto (Sony), Master Cheng (Parkland), Memoria (Sovereign), Deep Water (Disney), Gierek (Magnetes)
January 21
Belfast (Universal), The Souvenir: Part II (Picturehouse), Nightmare Alley (Disney), Memory Box (Modern), Journal For Jordan (Sony), Operation Fortune: Ruse De Guerre (STX)
January 23
Jewels - Bolshoi Ballet 2022 (Trafalgar)
January 28
Sing 2 (Universal), Morbius (Sony), Taming The Garden (Dogwoof), Amulet (Republic), Parallel Mothers (Pathe), The Black Phone (Universal), The Innocents (Signature)
January 29
Rigoletto - Met Opera 2022 (Trafalgar)
February
February 4
Jackass Forever (Paramount), The Eyes Of Tammy Faye (Disney), Unwelcome (Warner Bros), Ali & Ava (Altitude), Lingui, The Sacred Bonds (Mubi), Cicada (Peccadillo), Jockey (Sony), Jules & Jim (BFI), Moonfall (EFD)

February 11
Death On The Nile (Disney), Uncharted (Sony), Marry Me (Universal), Petrov's Flu (Sovereign), Fireheart (eOne), Wheel of Fortune and Fantasy (Modern), Zeros And Ones (Signature), The Devil's Light (Lionsgate)
February 14
Romeo & Juliet - ROH, London 2022 (Royal Opera House)
February 18
Happening (Picturehouse), Rumble (Paramount), Ambulance (Universal), Dog (EFD), Sound For The Future (Tull Stories)
February 25
La Mif (BFI), The Duke (Pathe)
March
March 4
The Batman (Warner Bros), Great Freedom (Mubi), The Real Charlie Chaplin (Altitude), Paris, 13th District (Curzon)
March 6
Swan Lake - Bolshoi Ballet 2022 (Trafalgar)
March 10
Rigoletto - ROH, London 2022 (Royal Opera House)
March 11
Distant (eOne), Turning Red (Disney), True Things (Picturehouse)
March 12
Ariadne Auf Naxos - Met Opera 2022 (Trafalgar)
March 18
Downton Abbey 2 (Universal), Julia *Sony)
March 25
The Lost City (Paramount), Benedetta (Mubi)
March 26
Don Carlos - Met Opera 2022 (Trafalgar)
April
April 1
The Bad Guys (Universal), The Railway Children Return (Studiocanal), Easter Sunday (eOne), Compartment No. 6 (Curzon), A Banquet (Signature)
April 8
The Northman (Universal), Sonic The Hedgehog 2 (Paramount), Bullet Train (Sony), Fantastic Beasts: The Secrets Of Dumbledore (Warner Bros)
April 13
La Traviata - ROH, London 2022 (Royal Opera House)
April 15
Hit The Road (Picturehouse), The Phantom Of The Open (eOne), Thirteen Lives (Universal)
April 22
Everything Went Fine (Curzon), The Unbearable Weight Of Massive Talent (Lionsgate)
April 29
Mrs. Harris Goes To Paris (Universal), Casablanca Beats (Curzon), Fisherman's Friends: One And All (EFD)