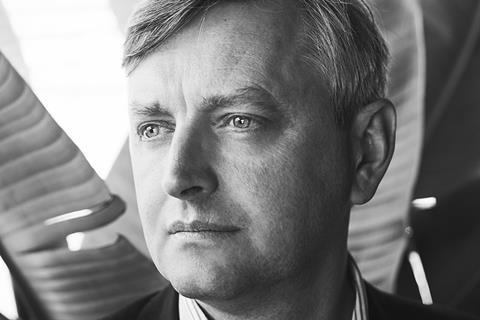 Ukrainian director Sergei Loznitsa is cancelling his membership of the European Film Academy (EFA) in frustration at the organisation's response to Russia's invasion of his native Ukraine.
In an open letter, Loznitsa slammed an EFA statement released on Saturday (February 26) expressing "Solidarity with Ukraine", criticising its language with regards to the ongoing invasion.
Loznitsa has requested Screen International publish his open letter in full:
What a shameful text has been generated by the European Film Academy! "The invasion in Ukraine is heavily worrying us".
When, in the spring of 2014, Oleg Sentsov was arrested, you wrote to the Russian authorities asking them to "consider this matter carefully and fairly".
Is it really possible that after 8 years of war you still remain blind and continue to mutter some gibberish about the fact that a "daily increase of tension has an impact on filmmakers' lives and health, morale, and creative work".
You state in your address that there are 61 Ukrainian members among your ranks. Well, as of today, there are only 60 of them. I don't need you "being alert and staying in touch with me", thank you very much!
You'd better 'stay in touch' with your own conscience.
For four days in a row now the Russian army has been devastating Ukrainian cities and villages, killing Ukrainian citizens. Is it really possible that you – humanists, human rights and dignity advocates, champions of freedom and democracy, are afraid to call a war a war, to condemn barbarity and voice your protest?
Today, on February 28, 2022, there can be no more doubt about one thing: the European Film Academy was set up in 1989 in order to bury its head in the sand and to shy away from the catastrophe which is taking place in Europe.
Sergei Loznitsa, filmmaker
Cannes regular Loznitsa has spent his career making hard-hitting documentaries and fiction features exploring the history and politics of Ukraine and the wider region. His 2018 film Donbass, which won the directing prize in Cannes Un Certain Regard, captured the brutal conflict since 2014 between Ukrainian government forces and Russia-backed separatists in Eastern Ukraine which was a precursor to Russia's current full-scale invasion.
According to Ukrainian interior ministry figures on Monday (February 28), 352 civilians have been killed since Russian troops entered Ukraine last Thursday (February 24) while more than 368,000 people have fled their homes with estimates that as many as seven million people could end up refugees.
Screen has contacted the EFA for comment.