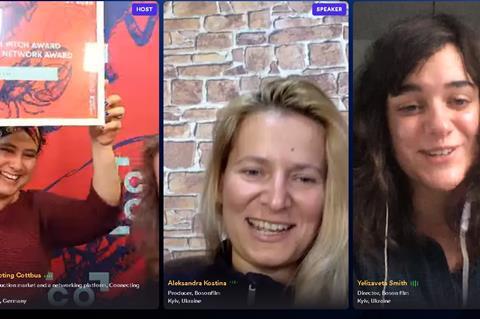 Vacuum, the feature debut by Ukrainian filmmaker Yelizaveta Smith has won the €1,500 best pitch award at Germany's Connecting Cottbus (coco) East-West coproduction market today (November 6), which was held online due to the coronavirus pandemic
The film's producer Aleksandra Kostine of Bosonfilm, also received the Producers Network Award which grants free accreditation to the Producers Network at the Marché du Film in Cannes 2021.
The script has previously been developed through Torino Film Lab Extended and Midpoint Feature Launch and is now at late development stage.
A graduate of Kyiv's National University of Cinema and Theatre, Smith's previous film, the documentary School Number 3, received the Generation 14plus Grand Prix when it was shown at the Berlinale in 2017.
Further winners
Croatian project Honey Bunny was presented with the Avanpost pitch packaging award, which offers in-kind services valued up to €15.000 including financing strategy consulting, the project look-book as well as production/post- production for a proof of concept.
For the first time this year, the Croatian Audiovisual Centre (HAVC) was among the prize sponsors; the €5,000 HAVC project development award was awarded to Lithuanian filmmaker Titas Laucius' debut project Parade.
In addition, three projects - Honey Bunny, Kiril's Luck and Waterdrop were selected for the Midpoint Consulting Award offering in-depth script consultancies with Midpoint experts. And the D-Facto Motion work in progress award, consisting of €35,000 in-kind services ,plus €5,000 granted for additional expenses, went to Stand By Me by the first-time Russian director Tamara Dondurey and producer Katia Filippova of Pan-Atlantic Studio.
Launchpad
Speaking ahead of Friday's Focus coco showcase, coco director Marjorie Bendeck and programme and pitching advisor Martina Bleis revealed 12 projects previously pitched at the East-West coproduction market had been completed and premiered at festivals during 2020.
They included the four films in the spotlight at Focus coco – Servants, I Never Cry, The Campaign and Conference – as well as the Russian-Azerbaijan coproduction The Fisherman's Daughter, Ilya Khrzhanovsky's Dau.Natasha/Dau.Degeneration, and the Turkish film When I'm Done Dying.
A further 13 coco projects went into production or are now in postproduction this year, ranging from Jan P. Matuszynski's Leave No Traces (Poland-Czech Republic) and Andrius Blazevicius' Runner (Lithuania) through Mikhail Borodin's Convenience Store (Russia) to Valentina Hotea's Lebensdorf (Romania-Germany) and Emre Kayis' Anatolian Leopard (Turkey).
The new pandemic restrictions introduced in Germany from November 2 (known as "lockdown light") forced the parallel FilmFestival Cottbus to o abandon plans for a hybrid 30th edition. It was hoping to host cinema screenings in Cottbus, Berlin, Eisenhüttenstadt and two towns across the Polish border this week. The plans are now for the dual festival to take place with film screenings in real cinemas from December 8 to 13. The programme will also be streamed nationwide in Germany via the festival website from December 8 to 31.