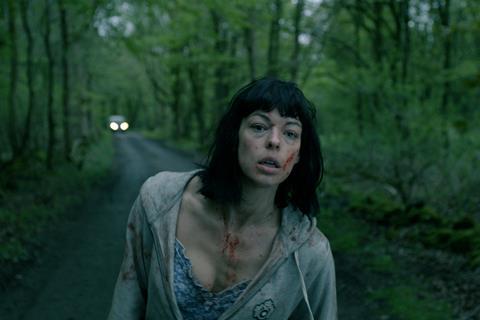 UK genre film festival Grimmfest is to launch a streaming platform today (April 20) that will offer horror films and shorts for free during the Covid-19 lockdown.
Grimmfest TV will launch with several features and around 25 short films, most of which have screened and won awards at the Manchester-based festival. The collection will be made available to watch on the festival's website and at least two titles are set to be added weekly for the duration of the ongoing quarantine.
With the future of its next edition uncertain, Grimmfest will use the platform as a pilot for hosting festival content online.
Grimmfest festival director Simeon Halligan said: "Right now, it's impossible to access cinemas or screening events in most countries so we thought it would be a great idea to give something back to all the amazing genre film fans out there and keep all of us filmmakers and exhibitors doing what we love to do."
Features available at launch will include cannibal horror Habit, starring Jessica Barden (The End Of The F***ing World), and home invasion thriller White Settlers, starring Pollyanna McIntosh (The Walking Dead). Both are directed by Halligan. Other launch titles include Rob Grant's horror comedy Mon Ami, Swedish zombie film Wither and Alex Drummond's outbreak-themed L.A. Contagion.
The rights to these features are owned by Grimm Entertainment, a distribution off-shoot to the festival, except in the case of Wither where Halligan negotiated directly with filmmakers Sonny Laguna and Tommy Wiklund to host their film for a limited period. The features will be available to view in the UK only but the majority of the shorts can be watched worldwide.
Shorts will include Chris McInroy's We Summoned A Demon, which won best short at Grimmfest 2018, and Dani Viqueira's Spanish-language Limbo, which picked up the same prize at last year's festival. Limbo will only be available for two weeks as it is set to play at more festivals after lockdown restrictions have been lifted.
Halligan said the recent launch of Jeffrey Katzenberg's Quibi, which hosts short-form content, had spurred on their decision to favour short films. "We select a maximum of 20 shorts each year for our festival out of hundreds of submissions so we've already done the work to identify the top-end films, so there's real calibre there," he added.
The festival director said he aimed to keep the platform live "for the duration of the lockdown period" and will consider extending the service based on uptake. "If people love it and it works, perhaps it is something we'll build on going forward," said Halligan.
Looking forward to the 12th edition of the festival, which is set to run October 7-11, Halligan said: "It's a massive dilemma for us right now and we need to be as prepared as possible for every possibility. If we can't offer a live festival, we've got to be ready to offer an alternative and may end up doing both, offering live and online options. Obviously, we don't want to cancel. We will have to judge where we are come the summer."
Adding a note of optimism, the festival director said: "Six months from now, there could be a plethora of fantastic films that are seeking exposure and a fanbase that is excited to get back out and share a collective experience at the cinema. By October, people may be desperate to get back out and share movies together."
Last year's Grimmfest ran October 3-6 and saw Kirill Sokolov's Why Don't You Just Die! – a comedy-horror set solely in an apartment – win three awards including best feature. Last year's event also included the festival's first work-in-progress award, which went to Paul Gerrard and Mike Clarke's Karli.