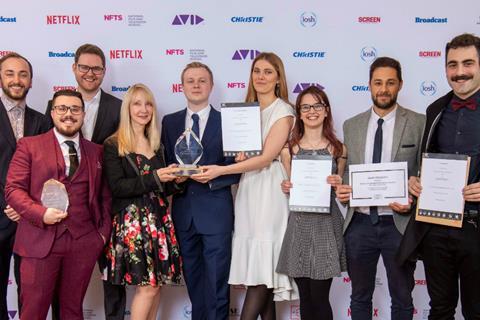 The UK's National Film and Television School (NFTS) has held its 2020 Graduation Showcase, awarding prizes to graduating students and celebrating the past 12 months of graduate productions.
The three-day event included a masterclass at Picturehouse Central in London from Netflix co-founder and CEO Reed Hastings, who told students that "there has never been a better time to graduate" due to the growth and increased investment in the UK.
The showcase then concluded with the prize ceremony at Odeon Luxe in Leicester Square, London on Thursday, February 27.
The Most Promising NFTS Student award worth £1,000 went to digital effects graduate Michael Pearce. The School's head of digital effects John Rowe said Pearce "has earned his reputation as a diligent and trustworthy ally. His determination to succeed and his resourceful nature have resulted in him earning a full-time contract at world-leading post-production house Company 3."
The best cinematographer award went to Adam Singodia for Shoal, with the jury for the award commending "mature and beautifully-crafted cinematography that embellished the story at every turn."
Jan Schroeder received the award for excellence in editing, with the jury commenting "Jan's choice of shots, timings, scene construction and montages enabled the viewer to get inside the head of the protagonist, and understand her determination, but also her demons."
The ceremony also saw the presentation of previously-announced honorary fellowships to Working Title Films founders Tim Bevan and Eric Fellner, and writer-director Sally Wainwright.
Full list of winners
Most promising NFTS student – Michael Pearce, digital effects
Best cinematographer – Adam Singodia, Shoal
Best scheduling skills – Gabriel Lippe
Best budgeting skills – Elodie Taylor
Best all-round student – Lára Theódóra Kristjánsdóttir
Health and Safety Management in Film Production awards – Madelaine Patricia Westwood, James Bowsher, Lára Theódóra Kristjánsdóttir
Excellence in Sound Design – Ed Rousseau
Excellence in Editing – Jan Schroeder