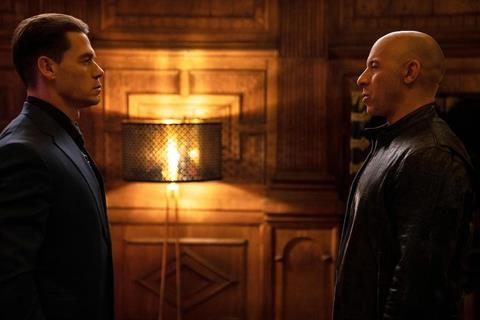 Universal Pictures has moved the UK release of Fast & Furious 9 forward by two weeks, with the film now coming out on June 24.
The change moves the blockbuster off the previous July 9 date occupied by Disney's Black Widow, and also ahead of sci-fi Voyagers on July 2 – another Universal title.
The new release date also lands in the middle of the Euro 2020 football tournament, compared to the previous date which was with only one game remaining, although there are no games scheduled for June 24 itself. Distributors have often avoided releasing during major football tournaments in the UK due to their popularity.
Fast & Furious 9 will now be one of the first blockbusters to play in UK cinemas since their permitted reopening on May 17. Disney is releasing Cruella on May 28, but as a simultaneous theatrical and Disney+ release, potentially limiting its takings.
The move aligns Fast & Furious 9 with its June 25 release date in the US, where it is titled F9; the film had its world premiere in South Korea on May 19.
Over 400 UK cinemas reopened on Monday, May 17 including the Vue and Odeon chains; with Cineworld (and the Picturehouse chain it owns) following suit on Wednesday, May 19.