The EuropaCorp chief has dropped new images from his upcoming $180m sci-fi adventure Valerian And The City of A Thousand Planets ahead of the release of the new teaser trailer on Thursday.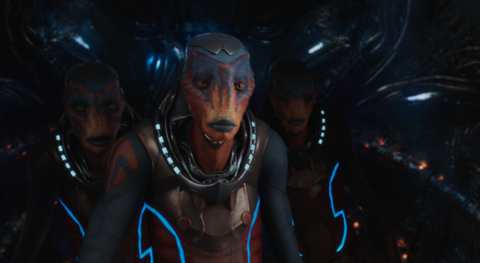 Dane DeHaan and Cara Delevingne star as the lovebird adventurers in Besson's adaptation of the French comic book.
EuropaCorp showed the trailer to buyers at AFM and has scheduled a July 21 release next summer in the US with the UK, France, Germany, Brazil and Argentina opening on the same weekend.
Principal photography on Broad Green's horror-thriller Wish Upon, which was a popular title for international sales agent Mister Smith at the AFM, is underway in Toronto. Joey King, Ryan Phillippe and Ki Hong Lee star and John Leonetti directs the story about a bullied teenager who finds a cursed music box. Barbara Marshall wrote the screenplay. Busted Shark's Sherryl Clark produces and Broad Green Pictures' Gabriel Hammond and Daniel Hammond serve as executive producers.
Gunpowder & Sky has begun development on urban teen comedy Paper Chase by Lauren Domino and Angela Tucker, who will direct. Loretha Jones, the former president of programming at BET Networks and executive vice president of MTV Films / Paramount Pictures, serves as executive producer.