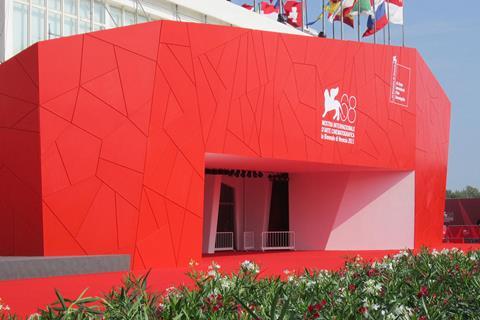 The Venice Film Festival has announced major changes to this year's review embargos ahead of the 2018 edition, which runs August 29 – September 8.
In a press release the festival announced it is extending reviews embargoes until after the public screening of the film has begun. The festival says the change is to "maintain press preview screenings" before premieres. Previously embargoes lifted directly after press screenings.
This policy now mirrors embargo rules at the Berlinale, and is in contrast to the controversial rule changes installed at Cannes this year, which saw press screenings axed before red carpet premieres.
Traditionally press screening for Venice Competition films start in the morning with premieres taking place the same evening, but screenings for other strands run throughout the day.
Screen's chief critic and reviews editor Fionnuala Halligan commented: "This is great news for film-makers and for critics which we welcome at Screen. It follows the example set by Berlin and gives critics time to carefully consider the complexities of what they have seen while allowing directors and their cast the anticipation and joy of the red carpet. It also demonstrates Venice's confidence in the media to respect their embargos, which is much appreciated. During a difficult time for both independent cinema and film criticism, it's great that we can work together in this way."
The full release is below:
The ongoing transformations in the world of communications, brought about by the rise of new technologies and social networks, have affected the traditional lapse of time between the appearance of comments by the press and the start of public screenings during the Festival.
Traditionally, press previews gave journalists – essential partners of a film festival – sufficient time to carry out their work productively. Back when articles appeared solely in print form, journalists' reviews were published the next day, or in any case, after the first public screening.
The desire to maintain press preview screenings for each film participating in the Festival and, at the same time, the advisability of respecting the traditional lapse of time between the first screening and the first comments, can only be achieved if journalists observe the embargo until the first official public screening of each film has begun.
Therefore, in order to guarantee the effectiveness of the Festival and the quality of the welcome it offers, it has become necessary to request that each and every journalist should observe this embargo.
We thank you in advance for your collaboration.