Award-winning Italian immigration film struggling to find distribution on director's home turf.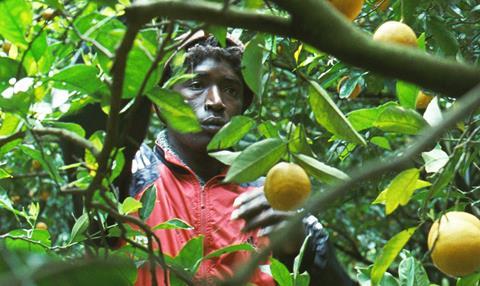 Since its premiere in Cannes, Jonas Carpignano's Mediterranea has won plaudits and awards almost everywhere it has been seen - and yet the film has yet to secure distribution in the director's native Italy.
The film, picked up for the US earlier this month by IFC/Sundance Selects, is in contention for the prestigious European Parliament LUX Prize.
It screened in Venice Days today (Sept 11) as one of the three finalists for the LUX prize alongside Deniz Gamze Ergüven's Mustang and Kristina Grozeva & Petar Valchanov's The Lesson.
Mediterranea tells the story of two friends from Burkina Faso who travel across the Mediterranean to start a new life in southern Italy. The local community is hostile to immigrants and they face a very tough time in establishing a foothold in the new country.
Worldwide sales
Mexican-based NDM, the sales arm of Carlos Reygadas' production outfit Mantarraya, has sold the film all over the world.
Countries that have recently acquired the film include Denmark (Ost For Paradise), Greece (Weird Wave) and Norway (Mare Film). Haut Et Court has just released the film in France.
"I am very excited that this little film we made in our backyard is getting out there and is really going out into the world - but it is very hard to be living in Italy and to get everyone you know asking 'when do we see it?'," the director commented in Venice this week of the film's struggle to find distribution in Italy.
This failure is being seen by some as a sign of how tough the independent arthouse distribution market has become in Italy.
If no buyers come forward, Carpignano is contemplating some form of self-release in Italy, so that the film can at least be seen in his home town.
New film
The young Italian director is currently preparing his second feature, A Ciambra. Set in a gypsy neighbourhood in southern Italy, this is the story of a young Romanian boy who has a relationship with an African man.
"It takes place in the same world as Mediterranea, with the same characters, the same people and more of less the same timeline," the director said of the new film, which has been developed at Torino Film Lab.
The new film is being made through Carpignano's recently formed production company Stay Black. Berlin-based DCM will again co-produce.
Shooting is due to start in April 2016.
Stay Black is a family operation, run by Carpignano along with his father, who is based in Rome, and actor Koudous Seihon, one of the stars of Mediterranea.
Mediterranea will receive its UK premiere at the BFI London Film Festival next month.