David Gordon Green's Manglehorn, Andrew Niccol's Good Kill and Joshua Oppenheimer's The Look of Silence among competition titles.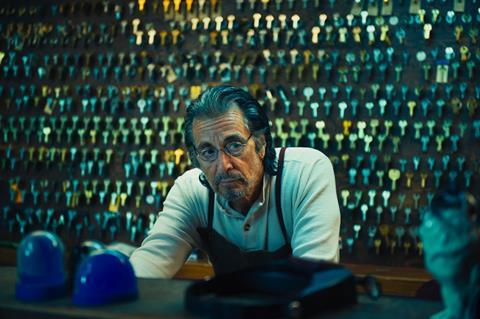 Scroll down for full lists
The line-up for the 71st Venice Film Festival (Aug 27-Sept 6) has been revealed this morning by Biennale president Paolo Baratta and film festival director Alberto Barbera at Rome's St. Regis Grand Hotel.
Early standouts include Abel Ferrara's Pasolini, which centres on the final days of the Italian filmmaker and his death in 1975; David Gordon Green's Manglehorn, starring Al Pacino as a locksmith in a small town who never got over the love of his life; and The Look Of Silence, Joshua Oppenheimer's highly anticipated follow-up to his award-winning documentary, The Act of Killing.
As previously announced, Alejandro Gonzalez Iñárritu's Birdman or The Unexpected Virtue of Ignorance, starring Michael Keaton, will open the festival on August 27 and is among the 20-strong competition titles, of which all but one are world premieres (Rakhshān Bani E'temād's Tales is an international premiere).
Out of Competition
Five US features are among the 17 out of competition titles, all of which are world premieres.
These include Peter Bogdanovich's She's Funny That Way (aka Squirrels to the Nuts), about a married Broadway director who falls for a prostitute-turned-actress, starring Owen Wilson, Imogen Poots and Jennifer Aniston; and James Franco's adaptation of William Faulkner's 1929 novel, The Sound and the Fury, in which Franco stars alongside Seth Rogan and Jon Hamm.
Al Pacino makes his second Venice appearance in Barry Levinson's The Humbling, about the relationship between an aged, suicidal actor and a younger woman played by Greta Gerwig.
Gremlins director Joe Dante returns with Burying the Ex, his first film since 2009's The Hole, in which a young man's regrets over moving in with his girlfriend are compounded when she dies and returns as a zombie. It stars Anton Yelchin and Ashley Greene.
Other standout titles in the section include Nymphomaniac Volume II (director's cut), a longer version of Lars von Trier's dark, sex drama; UK animation The Boxtrolls; and Words With Gods, featuring short films from Emir Kusturica, Mira Nair, Hideo Nakata and Alex de le Iglesia.
Documentaries playing out of competition include In the Basement, from Ulrich Seidl, director of the Paradise trilogy; and Italy in a Day, which compiles video submitted from the public and is the latest in a series that began with Life in a Day in 2011.
As previously announced, Ann Hui's The Golden Era, about the life of radical Chinese writer Xiao Hong, will close the festival on September 6.
Horizons
The opening film of the Horizons (Orizzonti) section is The President by Mohsen Makhmalbaf, which centres on a dictator who flees with his young grandson after he is overthrown and gets to know the people he ruled in a new light.
All 18 Orizzonti titles are world premieres.
A total of 39 nations are represented by films in the official selection including:
Italy: 25
France: 19
US: 17
UK: 7
Germany: 6
Belgium: 4
China: 4
Russia: 3
Related stories
Official selection
Venezia 71: In Competition
The Cut, Fatih Akin (Ger-Fra-It-Rus-Can-Pol-Tur)
A Pigeon Sat on a Branch Reflecting on Existence, Roy Anderson (Swe-Ger-Nor-Fra)
99 Homes, Ramin Bahrani (US)
Tales, Rakhshān Bani E'temād (Iran)
La rançon de la gloire, Xavier Beauvois (Fra-Bel-Swi)
Hungry Hearts, Saverio Costanzo (Italy)
Le dernier coup de marteau, Alix Delaporte (France)
Pasolini, Abel Ferrara (Fra-Bel-It)
Manglehorn, David Gordon Green (US)
Birdman or The Unexpected Virtue of Ignorance, Alejandro González Iñárritu (US) [Opener]
3 coeurs, Benoît Jacquot (France)
The Postman's White Nights, Andrei Konchalovsky (Russia)
Il giovane favoloso, Mario Martone (Italy)
Sivas, Kaan Müjdeci (Turkey)
Anime nere, Francesco Munzi (It-Fra)
Good Kill, Andrew Niccol (US)
Loin des homes, David Oelhoffen (France)
The Look of Silence, Joshua Oppenheimer (Den-Fin-Indo-Nor-UK)
Fires on the Plain, Shinya Tsykamoto (Japan)
Red Amnesia, WANG Xiaoshuai (China)
Out of Competition
Words With Gods, Guillermo Arriaga, Emir Kusturica, Amos Gitai, Mira Nair, Warwick Thornton, Hector Babenco, Bahman Ghobai, Hideo Nakata, Alex de la Iglesia (Mexico-US)
She's Funny That Way, Peter Bogdanovich (US)
Dearest, Peter Ho-sun Chan (HK-China)
Olive Kitteridge, Lisa Cholodenko (US)
Burying the Ex, Joe Dante (US)
Perez, Edoardo de Angelis (Italy)
La zuppa del demonio, Davide Ferrario (Italy)
The Sound and the Fury, James Franco (US)
Tsili, Amos Gitai (Isr-Rus-It-Fra)
La trattativa, Sabina Gazzanti (Italy)
The Golden Era, Ann Hui (China-HK) [Closer]
Make-Up, IM Kwontaek (S Korea)
The Humbling, Barry Levinson (US)
The Old Man of Belem, Manoel de Oliveira (Por-Fra)
Italy in a Day, Gabriele Salvatores (Italy-UK)
In the Basement, Ulrich Seidl (Austria)
The Boxtrolls, Anthony Stacchi, Annable Graham (UK)
Nymphomaniac Volume II (director's cut), Lars von Trier (Den-Ger-Fra-Bel)
Horizons
Theeb, Naji Abu Nowar (Jor-UAE-Qat-UK)
Line of Credit, Salome Alexi (Geo-Ger-Fra)
Senza nessuna pieta, Michele Alhaique (Italy)
Cymbeline, Michael Almereyda (US)
Near Death Experience, Benoit Delepine, Gustave Kervern (France)
La vita oscena, Renato de Maria (Italy)
Réalité, Quentin Dupieux (Fra-Bel)
Goodnight Mommy, Veronika Franz, Severin Fiala (Austria)
Hill of Freedom, HONG Sangsoo (S Korea)
Bypass, Duane Hopkins (UK)
The President, Mohsen Makhmalbaf (Geo-Fra-UK-Ger) [Opener]
Your Right Mind, Ami Canaan Mann (US)
Belluscone, una storia siciliana, Franco Maresco (Italy)
Nabat, Elchin Musaoglu (Azerbeijan)
Heaven Knows What, Josh Safdie, Ben Safdie (US-Fra)
These Are the Rules, Ognjen Svilicic (Cro-Fra-Ser-Mac)
Court, Chairanya Tamhane (India)
Horizons - Out of Competition
Io sto con la sposa, Antonio Augugliaro, Gabriele del Grande, Khaled Soliman al Nassiry (Italy-Palestine)
Horizons – Short Films
La Bambina, Ali Asgari (Italy)
Ferdinand Knapp, Andrea Baldini, (France)
Great Heat, Chen Tao (China)
Mademoiselle, Guillame Gouix (France)
Castillo y el Armado, Pedro Harres (Brazil)
Daily Bread, Idan Hubel (Israel)
3/105, Avelina Prat (Spain)
Maryam, Sidi Saleh (Indonesia)
Art, Adrian Sitaru (Romania)
Era Apocrypha, Brendan Sweeny (US)
Cams, Carl-Johan Westregard (Sweden)
In Overtime, Rami Yasin (Jordan)
Horizon – Short Films – Out of Competition
Lift You Up, Glyn Stewart (US)
L'attesa Del Maggio, Simon Massi (Italy)