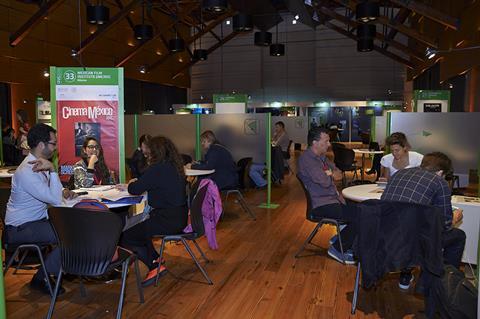 Peter Nadermann, the champion of high-end Scandinavian content who served as executive producer the original Millennium film series and launched NADCON with Constantin Films six years ago, used a Ventana Sur keynote to emphasise the potential benefits of co-productions under the right circumstances.
Speaking at the Buenos Aires market's new Fiction Factory programme on Wednesday (12), the former ZDF Enterprises executive who now plies his trade at Cologne-based producer NADCON wasted no time disabusing attendees of the notion that a co-production is a predictable route to success.
"In this business you have to understand the market," said Nadermann in his talk, titled 'In a globalized film and TV market, is co-production the answer?'. He continued, "It makes no sense to do a co-production if you don't have the product that fits your market and your partner.
"It's a bad proposal to come with a Second World War project to Germany, because nobody is interested because they think they're the best in the world at these stories."
Nadermann, whose recent credits include executive producer on Lone Scherfig's The Kindness Of Strangers, which will open the 2019 Berlinale, then turned to his passion – Scandinavian content. He has brought the Wallander series to the small screen, as well as The Killing and The Bridge, Stieg Larson's Millennium film series, which tapped into global fascination for the computer hacker Lisbeth Salander, and the Snabba Cash (Easy Money) film series.
"When I [first looked at] Scandinavian content it started with the analysis that it was a very interesting part of the world, the most modern TV structure, and public service channels with huge audiences that they feed with interesting programmes," he said.
"They had to keep ratings by being strong. They took a lot of risks to keep the high ratings. These countries are very small, so I thought how can I bring this model to Germany? So I got the rights to these books. We filmed all the Wallander books first. I got to know the author and he was always a very willing partner. I have found in Scandinavia, people are open to do things."
He added, "Scandinavia's [power] is based on two things. Firstly they're enormously understanding of tradition, and secondly they're extremely modern. They're always five to 10 years ahead of Germany. So it's nice to work so much with Scandinavian [partners] so I'm better prepared for that."
Turning to his native Germany, Nadermann described it as the best co-production market in the world and a "very aggressive" culture, intimating that because German TV is completely funded by German entities, opportunities are ripe for producers to source international elements that capture the imagination of local viewers. "I trust my taste and I'm always best when I find something new like The Killing."
While he believes in companies maintaining independence to steer clear of the top-down pressure so pervasive in larger, risk-averse corporate cultures, he also heaped praise on Netflix.
"Netflix do it right," he said, noting the streaming titan's aggressive forays into Europe and string of talent deals. "They are intelligent, young, brilliant. They have all these ideas that make them interesting and dangerous, because they are so good."
Asked by The Gersh Agency partner Roy Ashton which TV genres travelled well, Nadermann did not hesitate. "The genre that travels best is crime, especially in Europe, and especially in Germany. On the other side of the spectrum what's very difficult is domestic comedy."