Also in Nyon: Gloria Films projects; Docs in Progress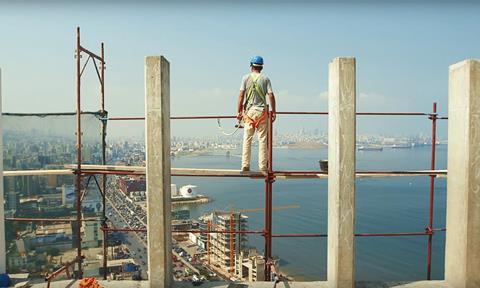 Wide House is to handle international sales on veteran French director Claire Simon's latest feature documentary The Village which she presented at the Pitching du Réel during the Doc Outlook - International Market (DOCM) in Switzerland's Nyon this week.
The €604,000 production by Petit à Petit Production centres on a documentary film festival held in the village of Lussas in South Ardeche that has created an internet TV platform and production studio for independent documentaries, and on the resistance to this from the local farming community.
Simon, whose previous feature documentary The Graduation (Le Concours) was also handled by Wide House and won the Documentary Award at last year's Venice Film Festival, explained that The Village is being conceived as a double format with a documentary series and a feature film. France's Ciné plus has already come onboard as a partner for the 7 x 26 minute series.
Syndicado picks Taste Of Cement
Toronto-based sales agent Syndicado has acquired international distribution rights for Ziad Kalthoum's second feature documentary Taste of Cement (pictured) which had its world premiere in Nyon's International Feature Documentaries competition.
Syndicado's Aleksandar Govedarica told Screen that he had signed up the co-production between Germany, Lebanon, Qatar, Syria and the United Arab Emirates shortly before the premiere in Nyon last weekend.
Taste of Cement centres on a group of Syrian construction workers building a skyscraper in Beirut while at the same time their own houses are being shelled. The Lebanese government imposes a nighttime curfew on the refugees so that the workers are practically prisoners.
Swiss-Paraguayan connection
Nyon's pitching event also saw Cineworx Filmproduktion, the production arm of Swiss distributor Cineworx, unveil its second collaboration with the Paraguayan-born director Arami Ullón, I Left With A Closer Look (Me fui sin mirarte de cerca), after they previously worked together on her 2014 documentary El Tiempo Nublado, which was Paraguay's Oscar entry for 2016.
Ullón's new project travels to a remote corner of Paraguay in the Chaco region and the lives of the Ayoreo natives. German DoP Nikolai von Graevenitz (Siberian Love) had already committed to the project which has received support from film funds in Basle and Zurich as well as the Swiss Federal Office of Culture.
Producer-distributor Pascal Traechslin told Screen in Nyon this week that Cineworx will be releasing Russian director Andrey Zvyagintsev's Cannes Competition title Loveless in Swiss cinemas.
They are also planning a winter 2018 opening for Basle-based Freihändler's production of Nathalie Oestreicher's Apple And Volcano - In Search Of What Remains, which has its world premiere today (April 27) in the Helvétiques sidebar of Nyon's Visions du Réel International Documentary Film Festival.
Gloria double
The French production outfit Gloria Films is involved in two of the Pitching du Réel projects: the company is reuniting with US-based filmmaker Nora Philippe after her 2014 film Job Center, Please Hang On! for her new project Girls of Tomorrow, described as a feminist college movie following a group of students during a school year at the all-female Barnard College.
In her pitch, Philippe revealed that Citizen Four DoP Kirsten Johnson has agreed to be part of the film's crew.
In addition, Gloria Films will serve as a co-producer on French-Israeli filmmaker Tamara Erde's Through Our Eyes, exploring the archives of the director's grandfather Ephraim Erde, an official Zionist photographer from the 1930s.
The €320,00 co-production by Berlin-based Katuh Studio with Israel's Gum Films and Gloria Film is aiming to be delivered by next March in time for the 70th anniversary of the founding of Israel.
Katuh Studio had been one of the co-producers on Alain Gomis' Berlinale competition title Félicité which won the Jury Grand Prix last February,
Meanwhile, next month will see one of Gloria Films' latest productions, the feature documentary Nothingwood by Sonia Kronlund, having its world premiere in the Directors' Fortnight and then opening theatrically in France on June 14.
NHK backs Afghan project
During her pitch of Afghan-born Aboozar Amini's debut feature documentary Last Stop Cinema Pamir, the Amsterdam-based Chinese producer Jia Zhao of Silk Road Salon reported that the €199,000 project had received a green light for backing from Japanese broadcaster NHK for its Inside Lens slot.
Amini's film follows buses travelling through Kabul, encountering a multitude of historical and social sites and passengers with their daily life stories.
A graduate of the Rietvelf Art Academy and the London Film School, Amini had presented his first fiction feature film, The Cineaste, at Locarno's Open Doors Hub and Goa's Film Bazaar last year.
Speaking exclusively to Screen, Gudula Meinzolt, Head of DOCM, said that the line-up of 15 projects for this year's Pitching du Réel had been selected from 170 submissions.
However, only 14 projects were then presented to the select audience of commissioning editors, sales agents and funders since the director of Merry Christmas, Yiwu, Mladen Kovacevic, is currently shooting on location in China.
The co-production between Belgrade-based Horopter Film Production and Joachim van Trommel and Raymond van der Kaaij's Revolver Amsterdam is described as a "poetic observational documentary" about the Chinese city of Yiwu where 60% of all Christmas decorations in the world are made.
Docs in Progress
Meanwhile Govedarica was one of the members of the three-person jury for this year's Docs in Progress Award which was presented to Polish director Wojtek Pustola's White Cube, produced by Endorfina Studio, about the race between man and machine in the quest for perfection as sculptors from the Italian town of Carrara are confronted by competition from robots producing any 3D marble form from a computer file
Other documentaries in postproduction at the Docs In Progress showcase included Simonka de Jong's A Family Quartet about the family dynamics surrounding a 13-year-old musical prodigy and Nicole Schafer's Buddha In Africa, about a boy growing up in a Chinese Buddhist orphanage in Malawi and the cultural challenges he faces between his African roots and Chinese upbringing.