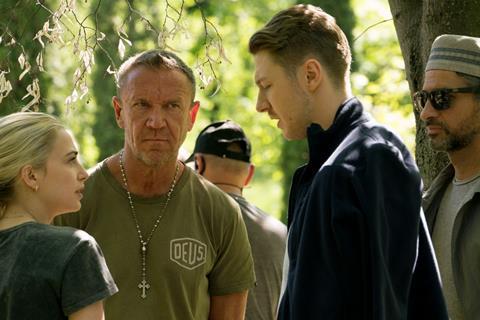 Jason Flemyng (Lock, Stock and Two Smoking Barrels), Raza Jaffrey (Homeland, Netflix's Lost In Space) and Sophie Simnett (Netflix's Daybreak) are on board Renny Harlin horror thriller The Refuge, which Voltage Pictures has acquired for worldwide sales ahead of the virtual Cannes market.
Principal photography is underway in Bulgaria on the film from Revelations Entertainment and B2Y Production that marks the latest action foray from the director of Die Hard 2 and Cliffhanger.
The Refuge centres on US military veteran Sergeant Rick Pedroni, who returns home a changed and dangerous man after a tour of duty in Afghanistan where he suffered an attack by a mysterious force.
While officials dismiss his behavior as PTSD and order trauma therapy, Pedroni's wife Kate discovers her husband has been possessed by a malevolent spirit.
Ben Sztajnkrycer wrote the screenplay and the cast includes Johanna Harlin (Class Reunion 3) and Aston McAuley (Rocketman).
Producers are Yariv Lerner (Hellboy, Rambo: Last Blood), Rob Van Norden (Olympus Has Fallen, Rambo: Last Blood), Revelations Entertainment partner Gary Lucchesi (Underworld franchise, The Lincoln Lawyer), Michael McKay (Brahms: The Boy II), Revelations Entertainment CEO Lori McCreary (Invictus, CBS' Madam Secretary), and Harlin.
Voltage CEO Nicolas Chartier and president and COO Jonathan Deckter serve as executive producers.
"I'm sure our partners the world over will be thrilled with the perfect recipe for success that has been put together for Refuge: great producers Gary, Lori and Yariv with an outstanding track record in the genre (and all spaces), combined with a cool script and the icon that is Renny Harlin," said Deckter.
Flemyng is represented by Kate Buckley at 42; Jaffrey by Principal Entertainment LA and ICM Partners; McCauley by 42; and Simnett by Circle of Confusion and Insight Management & Production.