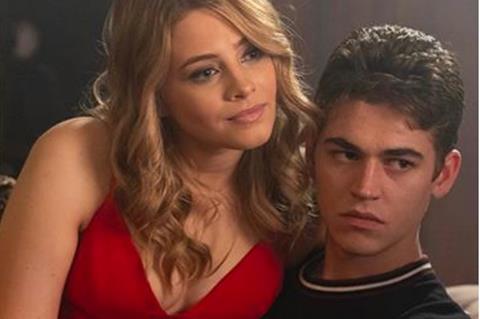 In encouraging news for the independent space amid the pandemic, Voltage Pictures' YA romance After We Collided has reached $20.9m at the international box office.
The sequel to Voltage's 2019 hit After stars returning leads Josephine Langford and Hero Fiennes Tiffin and continued to play well after a number of table-topping debuts last weekend including Italy, Spain and Portugal. It is scheduled to open in the US through Open Road Films on October 23.
After We Collided brought in an estimated $4.2m from 21 markets over the session and stands at 2,374,296 admissions overall.
The film earned $396,645 on Saturday and Sunday through Shear Entertainment in the UK, where it expanded into 390 screens on Friday and stands at $956,894 and 44,460 admissions after 11 days.
It opened in Australia via Roadshow on Thursday (September 10) and earned $875,201 from 185 screens over four days – some 8% above the 2019 original's opening weekend – and drew 68,827 admissions.
The Swedish debut through Nordisk on Wednesday saw the film rank second behind Tenet as it delivered $295,567 from 122 screens and 19,386 admissions over the first five days
After We Collided grossed $137,000 from 67 over two days in Austria through Constantin to reach $889,968 and has generated 82,048 admissions to surpass its franchise predecessor's total admissions after 10 days in release.
Germany is the lead market on $5.2m and 529,676 admissions through Constantin after 10 days. After We Collided is tracking 10% ahead of the original and earned $920,000 over the two-day weekend ($540,000 on Saturday and $380,000 on Sunday) from 581.
After 10 days in release in Spain the sequel has exceeded the lifetime total of the original and stands at a little over $3m from 425 screens and 384,079 admissions through Sun Distribution following a $423,631 haul over Saturday and Sunday.
Italy, where the film plays on 603 screens and grossed $388,911 over the two-day weekend, has produced $4.2m and 495,128 admissions through Leone after 11 days.
Besides Australia and Sweden, nine debut markets included Canada on $523,620 and 59,545 admissions through VVS over three days; Poland on $380,253 and 68,500 admissions through Monolith since Friday; and number one release in Norway on $379,823 via Nordisk that exceeded the original's opening weekend by 156% and drew 27,371 admissions.
Roger Kumble (Cruel Intentions) directed After We Collided, which like the original is based on the book by Anna Todd. After grossed $58m internationally and $70m worldwide.