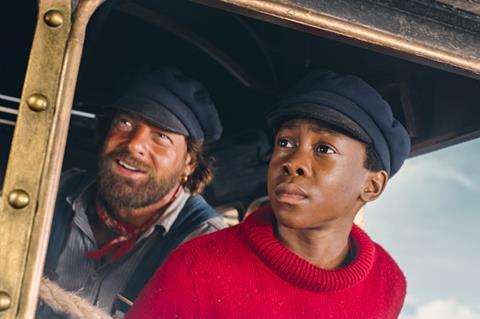 Family adventure Jim Button And The Wild 13 is to be re-released by Warner Bros when cinemas in Germany re-open.
The $24m German feature led the local box office when it opened on October 1 and grossed $6.88m over five weeks, before theatres were closed on November 2 as part of a nationwide lockdown that remains in place.
Sales agency Global Screen, part of Will Smith and Elysian Fields's Telepool, picked up global distribution rights to the film ahead of the European Film Market (EFM) and is introducing the title to international buyers this week.
Global Screen has said the film, on which the main roles were shot in the English language, is the second most expensive German feature ever made.
Producer Christian Becker of Rat Pack Film Produktion said he hoped to see the family feature – about 12-year-old Jim and his best friend, train driver Luke – return to screens later this spring.
"We were number one at the German box office for four weeks and then the lockdown came," said Becker, whose previous box office successes include Vicky The Viking and Hui Buh – The Goofy Ghost. "This was a disaster for all of us. When cinemas open again in Germany hopefully in April or May, we will re-issue the film and bring it back to the cinemas."
Becker revealed that many of the posters for the original release deliberately omitted dates in the event they would need to be re-used. The home entertainment release has been put back to facilitate the film's return to cinemas.
The film is based on Michael Ende's bestselling novel and the sequel to 2018 box office hit Jim Button And Luke The Engine Driver. Both were directed by Dennis Gansel.
Further titles at EFM
Rat Pack, a subsidiary of Constantin Film, has further features being presented at EFM this week, including The Magic Kids: Three Unlikely Heroes and Max And The Wild Bunch, both on the slate of Arri Media International.
Rat Pack also has several upcoming projects in the pipeline such as Peter Thorwarth-directed horror Blood Red Sky, which is scheduled to surface as a Netflix Original this summer.
Meanwhile, live action kids' movie Laura's Star, directed by Joya Thorne, is set for release through Warner Bros in December 2021 – a year later than originally planned as a result of the pandemic.
Before then, at Halloween, the sequel to Becker's Hui Buh – The Goofy Ghost will be released in German cinemas, again through Warner Bros. International sales are handled by Beta Cinema.