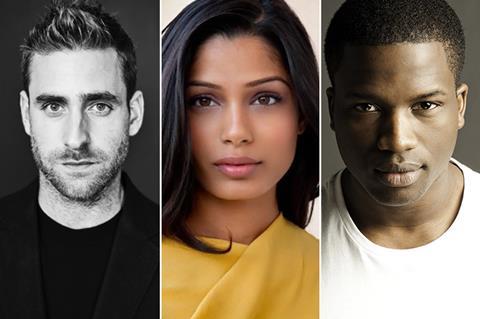 WestEnd Films has snapped up international rights to period romantic comedy Mr Malcolm's List starring Freida Pinto, Sope Dirisu and Oliver Jackson-Cohen (who stars in the new version of The Invisible Man).
Billed as a fresh, modern and original take on the period genre, the film is directed by Emma Holly Jones and is an expansion of her short film Mr Malcolm's List: Overture.
The story is set in 1800s England. Julia is a young lady of society courted by a mysterious and wealthy suitor, Mr. Malcolm - the biggest 'catch' of the season. When she doesn't match Mr. Malcolm's list of unattainable demands for his future wife, humiliated, she begins to plot her revenge. The script by Suzanne Allain is based on a novel of the same name which will be released worldwide in August by Berkley Press.
The film is produced by Untitled Entertainment's Laura Rister, Rebelle Media's Laura Lewis Blinder Films' Katie Holly and Emma Holly Jones. Pinto also serves as executive producer on the film as does Refinery29 with whom the producers developed the short.
The film will shoot in Ireland this summer. WestEnd will be introducing the film to buyers in Berlin.
Jackson-Cohen is represented by United Agents and Management 360. Pinto is repped by CAA and Principal Entertainment. Jones is repped by Verve, Management 360 and Ginsburg Daniels Kallis. Dirisu is repped by Markham Froggatt Irwin and Allain is represented by Verve and Bellevue Productions.