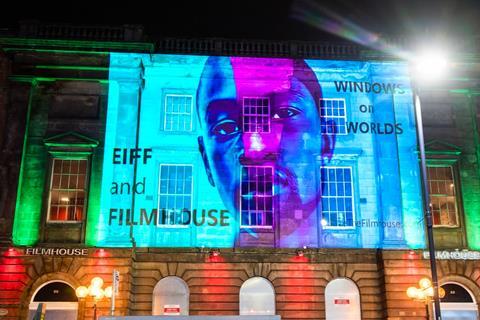 The 'Save the Filmhouse' campaign has confirmed to Screen that it "hopes" to still put in a bid for for the purchase of the Edinburgh Filmhouse ahead of the deadline for bids on December 7.
A crowdfunding campaign was launched on November 16 to raise the estimated £2m needed to buy the Edinburgh Filmhouse building. As of December 6, it had raised £170,867.
The campaign has been spearheaded by former senior staff of the Filmhouse, ex-head of programming at Filmhouse Rod White; ex-head technician David Boyd; former programme manager James Rice; former Filmhouse CEO Ginnie Atkinson; with the support of Edinburgh Film Guild chair Jim Dunnigan and secretary Phil Denning.
The online campaign is one stream of funding for the group, who are hoping to still put in a bid tomorrow, with support from some additional unnamed backers.
"The process is ongoing," Rice told Screen. "We are hoping to put in a bid. The Crowdfunder is one element we've used to raise the funding."
The 88 Lothian Road building was formerly the home of the Filmhouse cinema, the Edinburgh International Film Festival (EIFF) and the Edinburgh Film Guild. The building was put up for sale after parent company the Centre for the Moving Image (CMI) – which also ran the Belmont Filmhouse in Aberdeen – went into administration in October of this year, with the sale being handled by the CMI administrators, FRP Advisory.
Prince Charles Cinema bid
London's Prince Charles Cinema has also launched a bid to save the Edinburgh Filmhouse, headed up by Edinburgh native Gregory Lynn, who has co-run the West End-based Prince Charles for 20 years. The team behind the Prince Charles Cinema says the bid is fully costed and funded, and includes plans to buy the Filmhouse building and carry out renovations following surveys that showed it had fallen into disrepair.
"The Prince Charles Cinema in London is obviously a great cinema, we all know that well," said Rice. "Our view, or my view at least, is that Edinburgh needs a true cultural cinema that's a mission-driven venue, that can really push well beyond what the market allows in terms of driving diversity and pushing educational benefits for the city. The Prince Charles bid – those guys can run a good cinema, I have no doubt about that, but I don't think them taking over the site would solve the problem of losing the Filmhouse. It's got a whole range of other benefits that are mission driven. That's what we're trying to re-establish."
It is understood that there are other parties, outside the Save the Filmhouse campaign and the Prince Charles Cinema, that are expected to enter bids. A date for when the successful bid is to be announced has not been established, but is not expected to be imminent.
The intellectual property of EIFF has been purchased by Screen Scotland from the administrators, FRP Advisory.