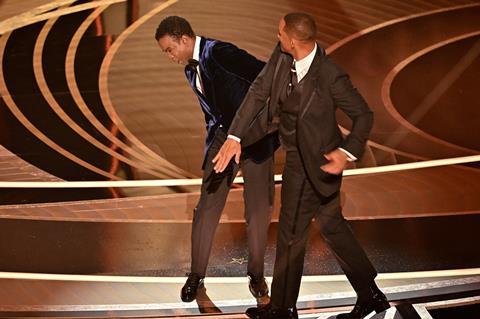 Will Smith has opened up about slapping Chris Rock at this year's Academy Awards in an emotional video posted on YouTube.
In the video, Smith said Rock is "not ready" to speak to him yet following the incident. He said: "I've reached out to Chris and the message that came back is that he's not ready to talk. I will say to you Chris, I apologise to you. My behaviour was unacceptable and I'm here whenever you're ready to talk."
He added that the reason he did not apologise directly to the comedian during his acceptance speech (after winning best actor for King Richard) was because he was "fogged out by that point… it's all fuzzy."
Smith said he had spent the last three months "understanding the nuances and complexities of what happened in that moment" and "there is no part of me that thinks that is the right way to behave".
He also apologised to his fellow nominees and singled out Questlove, who had to take to the stage following the incident to collect his best documentary Academy Award for Summer Of Soul. He said: "It happened on Questlove's award and I can still see Questlove's eyes. I'm sorry isn't really sufficient."
In a message to his fans, Smith added: "I am deeply remorseful, and I'm trying to be remorseful without being ashamed of myself. I am human, I made a mistake and I'm trying not to think of myself as a piece of shit."
Smith's next acting project is Antoine Fuqua's upcoming slavery drama Emancipation for AppleTV+, which is expected to debut towards the end of this year.
Watch the video below.