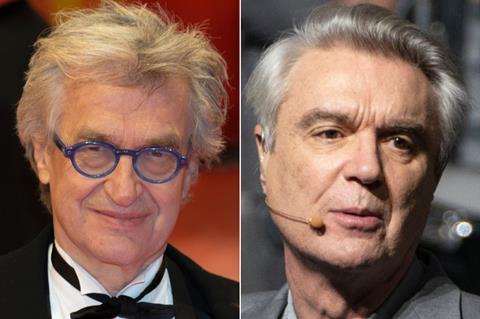 A new anthology series titled This Is Music from directors including Wim Wenders and David Byrne is one of 10 international projects selected for the Co-Pro Series section of the Berlinale Co-Production Market 2021 (March 2-5).
The Berlinale Series has also selected six series to play in the online festival, which runs from March 1-5.
Scroll down for full list of Co-Pro Series, Berlinale Series and Series Market Selects titles
Produced by Norway's Oslo Pictures, anthology series This Is Music is created by Bjørn Olaf Johannessen, who wrote Wenders' 2015 Berlinale feature Every Thing Will Be Fine. Julie Andem (writer on hit Norwegian series Skam) and Louder Than Bombs filmmaker Joachim Trier will also direct segments alongside Wenders and Byrne.
Also selected for the Co-Pro Series is Balaton Brigade, to be directed by Ildikó Enyedí, the Hungarian director whose 2017 film On Body And Soul won the Golden Bear and went on to be nominated for the international feature Academy Award. Balaton Brigade is produced by Hungary's Joyrider and Film Force.
The Co-Pro Series pitches will take place online on March 2, hosted by the Norwegian Film Institute. Creators will then hold online meetings with potential partners.
Berlinale Series
The six titles in this year's Berlinale Series represents a smaller selection than last year's eight.
Among them are the first documentary work to play in Series – Ted Passon, Yoni Brook and Nicole Salazar's US title Philly D.A., about the efforts of Philadelphia District Attorney Larry Krasner to reduce the city's incarceration levels. It is produced by Josh Glenn and Michael Gottwald of US firm Department Of Motion Pictures; the pair were previously Oscar-nominated as producers of drama feature Beasts Of The Southern Wild in 2013. With eight 54-minute episodes, Philly D.A. is premiering at Sundance before its European bow in Berlin.
Also playing is Russell T Davies' It's A Sin, about a group of young queer men in 1980s London as the AIDS crisis is beginning to take hold. Executive produced by Nicola Shindler for Red Production Company (before her departure from the firm to form Quay Street Productions), it debuted on Channel 4 in the UK on January 23.
The Berlinale Series Market and Conference has also selected 12 titles for its newly created Berlinale Series Market Selects label, which intends to spotlight works from the Market with high commercial potential.
Those chosen include UK series Finding Alice, also produced by Red, starring Keeley Hawes, Joanna Lumley and Nigel Havers in the story of a woman faced with a storm of secrets after her husband dies shortly after they move to a new house. Studiocanal is handling world sales.
Conference topics include a masterclass on 'Social Impact Storytelling' from Maurício Mota, producer of US series East Los High; and a presentation on global narrative trends from Guy Bisson of data research firm Ampere Analytics.
The full Series Market and Conference programme will be announced next month.
Berlinale Co-Pro Series 2021
Afterparty (Cro) dir: tbd, scr: Dora Šustić, prod: Antitalent
Speed (Nor) creator/dir: Martin Lund, writer: Thorkild Schrumpf. prod: Ape&Bjørn,
Until I Find You (Can) dir: tbd, scr: Kaleena Kiff, based on the novel by John Irving, prod: Big Blue, The Netherland & Curiosity Pictures,
Richter (Ire-NZ) dir: tbd, scrs: Anna McPartlin, Michael Bennett, prod: Blinder Films, Kingfisher Films
Eldorado KaDeWe (Ger) dir: Julia von Heinz, scrs: Julia von Heinz, John Quester, Sabine Steyer-Violet, Oskar Sulowski, prod: Constantin Television, UFA Fiction
Balaton Brigade (Hun) creators: Gábor Krigler, Balázs Lengyel, Balázs Lovas; dir: Ildikó Enyedi, prod: Joyrider, Film Force
This Is Music (Nor) creator/scr: Bjørn Olaf Johannessen, dirs: Wim Wenders, David Byrne, Julie Andem, Joachim Trier, prod: Oslo Pictures
Hinterland (Ger) creator/dir: Sven Bohse, prod: Ringel Film
58 Seconds (Sp-UK) creators: Jeremy Brock, Paul Unwin, dir: tbd, prod: The Mediapro Studio, BlackBox Multimedia
Project in partnership with Series Mania:
Good People (Bel-Fr) creators: Matthieu Donck, Stéphane Bergmans, Benjamin D'Aoust, prod: Hélicotronc, Unité
Berlinale Series (synopses provided by producers)
Amongst Men (Arg)
Dir: Pablo Fendrik
Cast: Gabriel Goity, Nicolás Furtado, Diego Velázquez, Diego Cremonesi, Claudio Rissi
Broadcaster: HBO
Four episodes of 60'
A VHS recording of a senator participating in an orgy with a tragic ending unleashes a path of death, destruction and madness as he tries to recover the lost tape. It's 1996, and the underground world of Buenos Aires is controlled by gangs and corrupt police officers.
Me And The Others (Austria-Ger)
Creator: David Schalko
Dir:: David Schalko
Cast: Tom Schilling, Lars Eidinger, Katharina Schüttler, Sophie Rois, Mavie Hörbiger, Martin Wuttke
Broadcaster: Sky
Six episodes of 40'
What is the relationship between "I" and "the others", and what would change if you could define the rules of the game at will? David Schalko's absurd satire explores these questions with razor-sharp dialogue and a delight in escalation.
It's A Sin (UK)
Creator: Russell T Davies
Showrunner: Russell T Davies, Nicola Shindler
Dir: Peter Hoar
Cast: Olly Alexander, Neil Patrick Harris, Stephen Fry, Keeley Hawes, Nathaniel Curtis, Lydia West, Callum Scott Howells, Omari Douglas
Broadcaster: Channel 4, HBO Max with All3Media International
Five episodes of 48'
A story of love, life and loss. A group of queer young men come together in London in the early 1980s. They are all searching for themselves and a future filled with freedom and love. But the onset of the AIDS crisis confronts them with harsh realities.
The Last Days of Gilda (Bra)
Creator: Gustavo Pizzi
Dir: Gustavo Pizzi
Cast: Karine Teles, Julia Stockler, Antonio Saboia, Ana Carbatti, Lucas Gouvêa
Broadcaster: Canal Brasil
Four episodes of 30'
Gilda loves cooking, men and life. But for her narrow-minded, religious neighbours this self-confident, independent woman who butchers pigs in her garden and has more than one lover, is increasingly becoming a thorn in the flesh.
Philly D.A. (US)
Creators: Ted Passon, Yoni Brook, Nicole Salazar
Dirs: Ted Passon, Yoni Brook
Cast: Larry Krasner
Eight episodes of 54'
Documentary
Promising to reform law enforcement and reduce the number of people who are incarcerated, the progressive Larry Krasner is elected District Attorney of Philadelphia in late 2017. But his plans are not universally welcomed.
Snöänglar (Snow Angels) (Swe-Den)
Creator: Mette Heeno
Dir: Anna Zackrisson
Cast: Josefin Asplund, Eva Melander, Maria Rossing, Ardalan Esmaili, Cecilia Nilsson
Broadcaster: SVT, DR
Six episodes of 58'
The disappearance of a five-week-old baby at Christmastime plunges the child's mother Jenni into despair and brings police officer Alice onto the scene. The two are not the only ones whose lives are touched by the case.
Series Market Selects
Aftertaste (Australia)
Creator: Julie De Fina, Matthew Bate
Dir: Jonathan Brough
Cast: Erik Thomson, Natalie Abbott, Rachel Griffiths
Production company: Closer Productions
Broadcaster: ABC (Australian Broadcasting Corporation)
World sales: ABC Commercial
Episodes 1-3 of 6
When his latest outburst goes viral, volatile celebrity chef Easton West flees back to his hometown and tries to reinvent himself through an unlikely partnership with his 19-year-old pastry wunderkind niece.
Grow (Den)
Creator: Milad Avaz
Dir: Milad Avaz
Cast: Lars Mikkelsen, Andreas Jessen, Sebastian Jessen
Production company: SF Studios Productions, Rocket Road Pictures
Broadcaster: TV2 Denmark, TV4 Sweden
World sales: ZDF Enterprises
Episodes 1 and 2 of 8
A stockbroker remembers his family roots in organised crime and dives ever deeper into the world of Danish biker gangs. His ambition is only matched by the efforts of his brother, a drug enforcement officer, to save him.
Dreams Of Alice (Rus)
Creator: Anastasia Volkova
Showrunners: Valeriy Fedorovich, Evgeniy Nikishov
Dir: Andrey Dzhunkovskiy
Cast: Alina Gvasaliya, Aleksey Rozin, Ekaterina Vilkova
Production company: 1-2-3 Production
Broadcaster: TV-3
World sales: 1-2-3 Production
Episode 1 of 8
Teenage girl Alice lives in a small town where everything seems ordinary at first sight. She can't wait to get away from it: the bullying at school, the fights with her mother - and the bloody premonitions that keep haunting her. But what if there is no way to leave?
Alive And Kicking (Sp)
Creator: Albert Espinosa
Dir: Roger Gual
Cast: Álvaro Requena, Marco Sanz, Sara Manzano, Aitor Valadéz
Production company: Movistar+ in co-production with Dynamo Audiovisual
Broadcaster: Movistar+
World sales: Beta Film
Episodes 1 and 2 of 7
Four teenagers escape from a psychiatric institution. With a detective on their heels, they take on life with their very own wit, humor and charm – challenging our conception of sanity.
Finding Alice (UK)
Dir: Roger Goldby
Cast: Keeley Hawes, Joanna Lumley, Nigel Havers
Production company: Red Production Company
Broadcaster: ITV
World sales: Studiocanal
Episodes 1 and 2 of 6
The night Alice and her family move into the dreamhouse her husband Harry built, he has a fatal accident. His sudden death kicks up a storm of secrets, debt and suspicion which Alice is forced to confront in order to survive.
Echos (Ger)
Creators: Jakob M. Erwa, Florian Kamhuber
Showrunner: Jakob M. Erwa, Florian Kamhuber
Director: Jakob M. Erwa
Cast: Lilly Charlotte Dreesen, Sabine Timoteo, Mercedes Müller
Production company: NEUESUPER
Broadcaster: ProSiebenSat.1, JOYN
Word sales: Beta Film
Episodes 1 and 2 of 6
When a group of bored high-society kids meets the invisible lower class in the Munich catacombs, everything crashes.
Standing Tall (It)
Creator: Leonardo Fasoli, Maddalena Ravagli
Dir: Gianluca Maria Tavarelli
Cast: Alessandro Gassman, Maya Sansa, Andrea Sartoretti
Production company: Publispei
Broadcaster: RAI
World sales: ZDF Enterprises
Episodes 1 and 2 of 8
An ex-police officer investigates into his estranged son's alleged suicide. With the help of old allies and facing the demons of his past, he risks everything to keep the promise he made to his only child.
Son Of Mine (Can)
Creators: Michel D'Astous, Anne Boyer
Dir: Mariloup Wolfe
Cast: Antoine L'Écuyer, Élise Guilbault, Patrice Godin
Production companies: Quebecor, Duo Productions
Broadcasters: Club Illico, TVA
World sales: Oble
Episode 1 and 2 of 6
Eighteen-year-old Jacob's life is shattered by the sudden onset of schizophrenia. His once-bright future is irretrievably shaken by this unforgiving mental illness. As is his mother Marielle's life, who won't give up on her son and is determined to help him to get onto the road of recovery.
Outlier (Nor)
Creators: Arne Berggren, Kristine Berg
Showrunners: Arne Berggren, Kristine Berg
Dirs: Ken Are Bongo, Arne Berggren, Kristine Berg
Cast: Hanne Mathisen Haga, Stein Bjørn, Eila Ballovara Varsi
Production Company: Shuuto Norway
Broadcaster: A Media
World sales: REinvent International Sales
Episodes: 1 and 2 of 8
A criminology student returns to her home town in Northern Norway to throw herself into the investigation of what turns out to be a serial killer case.
OVNI(s) (UFOs) (Fr)
Creators: Clémence Dargent, Martin Douaire
Dir: Antony Cordier
Cast: Melvil Poupaud, Michel Vuillermoz, Géraldine Pailhas
Production company: Montebello Productions
Broadcaster: Canal+
World sales: Studiocanal
Episodes 1-4 of 12
1978. Didier, a brilliant space engineer, is assigned a new task after his rocket launch went awry: As the head of GEPAN, he has to solve the many mysteries of UFO sightings and lead his team of misfits to efficiency and success.
Suck It Up (Nor)
Creator: Henriette Steenstrup
Dirs: Gunnar Vikene, Charlotte Blom
Cast: Henriette Steenstrup, Nils Ole Oftebro, Gunnar Eiriksson
Production company: Monster Scripted
Broadcaster: Viaplay
Worldsales: TBA
Episodes 1-3 of 6
Pørni has two daughters, an irresponsible ex, a father and a nephew she took in after a family tragedy, a job in child welfare and a house and garden. Why would she have trouble finding time for herself - especially her love life?
Seeds Of Deceit (Neth)
Dir: Miriam Guttmann
Production company: De Familie Film & TV
Broadcaster: VPR
World Ssales: Dogwoof
Episodes 1-3 of 3
Documentary Form
Dr. Karbaat, a pioneer in artificial insemination, became subject to controversy when evidence accumulated that he used his own semen for the process. The documentary series portrays the shocking revelations and the people whose lives were affected by this.