AUGUST 7 UPDATE: War For The Planet Of The Apes reaches $147.8m; Despicable Me now highest grossing animated franchise ever.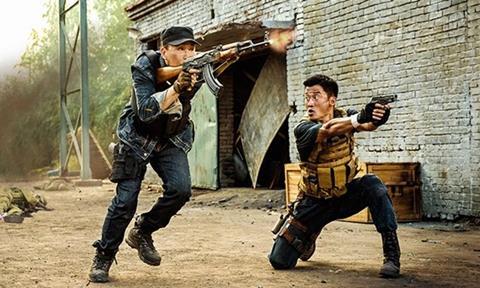 Chinese action film Wolf Warriors 2 grossed an estimated $163m internationally, lifting the worldwide total to $471.1m.
Jing Wu directs the story that centres on a special forces operative who is pulled back into service when mercenaries terrorise nearby villagers. Jing Wu, Frank Grillo and Celina Jade star in the action tentpole, which has become the first film at the Chinese box office to cross $450m within 11 days.
The H Collective, the venture recently launched with backing from Chinese businessman Jian-hua 'Kenny' Huang, holds North and South American rights on the sequel to the 2015 film that grossed $80m in China.
Alibaba's Once Upon A Time grossed $38m to elevate the running total to $61.5m.
FOX INTERNATIONAL
UPDATED: War For The Planet Of The Apes grossed $31.5m in 73 markets, with number one debuts in its 14 newly released markets. The third instalment of the Planet Of The Apes trilogy stands at $147.8m internationally and $278m worldwide.
France generated $7.3m from 757 screens, Brazil produced $4.3m and Germany $3.1m. In Latin America, Peru generated $1.9m, breaking the record for the biggest August opening ever in the market. The film opens in South Korea on August 15.
Captain Underpants: The First Epic Movie added $1.3m from 1,053 screens in five markets. The early international total is now up to $18m, with a release in Mexico coming this week. The UK generated $762,000 over the weekend for a running total of $5.7m.
WARNER BROS PICTURES INTERNATIONAL
UPDATED: Dunkirk grossed $25.2m in 63 markets, representing a solid drop of 44%. Christopher Nolan's Second World War film stands at $181.1m internationally and $314.2m worldwide.
The UK produced $6.1m for $49.8m in week three, dropping only 44% from last weekend. It has surpassed the lifetime total of Inception. Australia produced $2.2m in week three for $12.9m, dropping just 31% and ranking number one over War For The Planet Of The Apes and the opening of Atomic Blonde.
France generated $1.8m for $12.8m, South Korea generated $1.6m for $20.1m, while Germany produced $1.2m for $4.3m. Mexico saw a 39% drop from last weekend on $1.1m for a running total of $4.2m. Brazil produced $888,000 in its second weekend for $3.1m.
The film ranks number one in Holland after three weekends on $773,000, dropping just 38%. The film stands at $4.7m, taking it past the lifetime total of Nolan's Interstellar. Spain generated $821,000 in week three for a $6.7m running total.
IMAX generated $3.5m, bringing the international IMAX total to $24m. China, Japan and Italy have yet to release.
Annabelle: Creation debuted at number one in Italy this weekend, one week ahead of the rest of the world including North America, grossing $1.1m. The results were on par with Annabelle and The Conjuring 2. It surpassed virtually all other comps, including 62% ahead of Lights Out.
The film will roll out in 38 additional markets this week including the UK, Australia, and South Korea.
UNIVERSAL PICTURES INTERNATIONAL
UPDATED: Atomic Blonde kicked off for Universal in Australia, New Zealand, Ecuador and Venezuela this weekend, generating $2m. Combined with $34m from North America, Universal's worldwide total is $36m.
Sierra/Affinity has released the film in 26 markets through its distributors, and Universal currently estimates the action release grossed $3m this weekend for a total of $9.6m internationally. Combined with the Universal total, the Charlize Theron action film stands at $45.6m worldwide.
Australia produced $1.7m including previews, enough for third place, while New Zealand generated $219,000 for second position. Ecuador produced $37,000 in a very slow market.
Venezuela generated $20,000 for fifth place and is bigger than all comps including Lucy and Kingsman. There are 20 more territories to open over the next two months. This week, Atomic Blonde opens in the UK, Netherlands and Colombia.
Despicable Me 3 grossed $22.6m in 64 territories for $640.7m internationally. The animation stands at $881.6m globally, with $240.9m from North America. The animated tentpole passed Despicable Me 2 ($607.7m) on Wednesday to become the seventh-highest grossing animated film of all time at the international box office.
Slovenia delivered a number $155,000 debut including previews. It's the second biggest Illumination opening after Minions. South Korea produced $4.7m for $17.1m and is holding at number three behind two local films.
In Japan, Despicable Me 3 is holding strong at number two in its third weekend on $3.4m for $28m, down 29% from last weekend.
China is holding at number six behind five local films this weekend on $1.6m for $149.2m (1.014bn RmB). The animation is now the second-highest grossing animated film of all time in China behind Zootopia.
The UK has generated $51.7m, Brazil $37.5m, Germany $35.1m, Mexico $34.4m, and France $33.9m.
Illumination's Despicable Me franchise, including Minions, has now grossed $3.532bn globally, passing the Shrek franchise to become the highest grossing animated franchise of all time globally.
The Mummy crossed $400m at the worldwide box office on Sunday. The 'Dark Universe' title added $1.5m from 47 territories for $322.3m internationally. The film stands at $402.3m worldwide, with $79.9m coming from North America.
Japan is holding at number three in week two on $1.3m. China remains the top market on $91.5m, South Korea stands at $27.6m, Russia $16.9m, Brazil $14.2m, Mexico $13m, and $11.3m in the UK.
Girls Trip grossed $1.7m over the weekend for $5.5m. The raunchy comedy stands at $90.9m worldwide, with $85.4m coming from North America.
The film debuted at number one in South Africa on $186,000, bigger than all the comp films including Bridesmaids and The Hangover. Trinidad generated $188,000 for first place in the market. The UK produced $1.3m, dipping only 12% from last week, for $5m after 10 days.
The Beguiled grossed $255,000 over the weekend for $4.9m. With $10.5m from North America, the worldwide total is $15.4m. The film opens in Brazil this week.
SONY PICTURES RELEASING INTERNATIONAL
The Emoji Movie, from Sony Pictures Animation, grossed $12m this weekend from 4,800 screens in 21 total markets. The opening is 2% ahead of Storks and 12% ahead of Smurfs: The Lost Village for the same new group of markets at current exchange rates. The international total is now $12.7m.
In Latin America the animation featuring the voice talents of TJ Miller, James Corden, Anna Faris and Maya Rudolph grossed $5.4m from seven markets. The region was led by a number one opening in Mexico on $2.8m.
In Europe, the UK launched with a solid $3.5m including previews, while Germany pulled in $1.2m from 835 screens. Spain is next to release on August 11.
The Dark Tower debuted at number one in 11 of 19 markets with a gross of $8m from 3,800+ screens. Russia, the only major market to open this weekend, topped the charts with a strong $4.1m from 2,150 screens.
The international release continues over the next three weeks for the Stephen King adaptation, including major markets France, Germany and Italy this week.
Spider-Man: Homecoming grossed $9.6m in 63 markets, bringing the international total to $376m. South Korea is the top market on $51.4m, followed by the UK on $34.8m, Brazil $29.9m, Mexico $26.7m, and Australia $19m. Japan is the next market to release on August 11.
Baby Driver grossed $7m in 42 markets, lifting the international total to $57.5m. Top holdovers include France, down 33% in its third week on $745,000 for $4.7m, Germany off 35% in its second week added $630,000 for $2.1m, while the UK generated $465,000 for $15.3m, down 33% in its sixth week. The film opens in Mexico on August 10.
Mubarakan, a Hindi-language comedy by Sony Pictures Networks India, added $1.2m from six SPRI markets, bringing the total to $9.2m. Abracadabra, a local language comedy, debuted in Spain on $500,000.
EUROPACORP
UPDATED: Valerian And The City Of A Thousand Planets added $16.4m in 41 markets for $51.7m. The sci-fi has amassed $87.8m worldwide.
The film remained at number one in Croatia and Serbia, number two in Thailand, Latvia and Slovenia, and number three in France, Germany, Hong Kong, Belgium, Turkey, Bulgaria, Iceland and Lithuania.
Luc Besson's sci-fi opened in the UK on $ 2.4m, Mexico generated $540,000, Poland produced $540,000, while Taiwan generated $421,000 during its opening weekend.
Valerian's dropped 36% from last weekend in Germany, adding $1.5m for $9.5m. France produced $5.5m for $20.5m.
This week, Valerian will open in Australia, New Zealand, Brazil and Russia, as well as several smaller Latin American territories.
WALT DISNEY STUDIOS MOTION PICTURES INTERNATIONAL
UPDATED: Cars 3 added $10m over the weekend for $138.8m internationally. The animation posted strong holds in the Netherlands, where it dropped 23% from last weekend. Belgium saw a 28% drop, while Finnish box office dipped 12% from last weekend.
The animation opened in France on $6m including previews, 18% ahead of Finding Dory opening weekend and 10% ahead of Inside Out opening weekend. In Taiwan, Cars 3 was the number one western release for the weekend. China, Italy and Germany have yet to release. Mexico is the top market on $15.6m.
Pirates Of The Caribbean 5 added $2.1m for a running international total of $610.1m. In Japan, the tentpole added another $1.1m in its sixth weekend of release, dropping only 46% for $51.8m to date. Pirates 5 is now the second biggest western release for 2017 to date, behind Beauty And The Beast. China is the top market on $172.3m.
PARAMOUNT PICTURES INTERNATIONAL
Transformers: The Last Knight grossed $9.4m from 55 markets, including three new openings. The tentpole now stands at $454m. Japan produced $4m at 685 locations, while Spain generated $1.2m at 515 locations, enough for first place in each market. Israel generated $196,000 from 74 locations.
Baywatch grossed $882,000 in 28 markets and the international running total is now $117.3m.