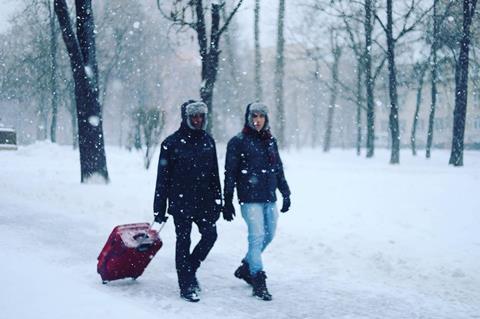 Panamanian World Cup rom-com Frozen In Russia (Congelado En Rusia) has capitalised on the country's first ever participation in the football tournament to become the national all-time box office champion in a little over two weeks.
As of Sunday, writer-director Arturo Montenegro's smash stood at 147,941 admissions and $712,034 and counting, eclipsing the eight-year record of Chance, which finished on 136,039 admissions and $475,271.
Frozen In Russia set a new admissions mark when it reached 137,462 on June 13 and centres on a football-mad local who promises to marry a Russian woman if his country qualifies for the World Cup. The tournament kicked off in Russia last week.
The film debuted at number one on May 31 through Prolatsa and attracted 50,000 admissions in its first week. The smash will continue to play in Panama as Montenegro and his Q Films harbour high hopes for upcoming releases in Guatemala, Costa Rica, and El Salvador.
Frozen In Russia shot in 2017 in Portobelo in Panama after three weeks of production in Russia, where Montenegro was granted access to Moscow's hallowed Red Square as well as the city's subway system.
The Panama-Russia co-production – Q Films produced with Russia-based Fernando Moreno – also shot in Moscow's Luzhniki Stadium, where the World Cup final will take place on July 15, as well as parts of Saint Petersburg.
The film tells of football fanatic Jamal, who promises Panama's famous wooden statue of Jesus Christ known as Portobelo's Black Christ that he will marry a Russian woman if Panama qualifies for the 2018 World Cup. When the Black Christ demands he find a wife before 'la sele' plays their final game, Jamal sells all his belongings and heads to Moscow in search of love.
Panama famously qualified for the World Cup last October when the national side secured a 2-1 victory over Costa Rica in the dying moments of the game, and benefited from the United States team's failure to qualify when they lost unexpectedly to Trinidad & Tobago.
Panama lost 3-0 to Belgium in their opening first round World Cup game on Monday (June 18), and next play England on June 24.