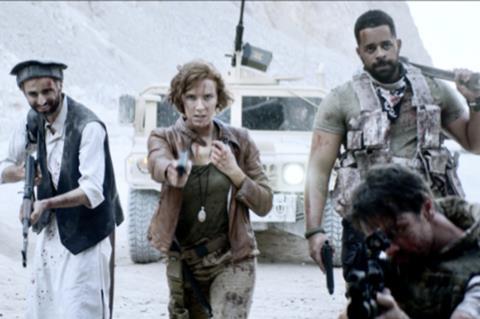 The UK horror and fantasy film festival Frightfest (August 25-29) has unveiled its 2022 line-up, with the world premiere of Neil Marshall's action horror The Lair set to open the event.
Starring Charlotte Kirk, the film tells the story of a Royal Air Force pilot who, after her plane is shot down, finds herself stranded in an underground bunker where she ends up awakening deadly man-made biological weapons. Marshall will also be introducing a restoration of one of his previous films Dog Soldiers.
Closing the festival is the European premiere of Scott Mann's Fall starring Grace Caroline Currey, Virginia Gardner and Jeffrey Dean Morgan.
FrightFest will screen 32 world premieres in total. Damien Leone's clown horror sequel Terrifier 2 will make its world premiere as will Wolf Manor from Eastenders actor Dominic Brunt and Andy Mitton's supernatural horror The Harbinger.
Barbarian starring Georgina Campbell and Bill Skarsgård will have its UK premiere at the festival along with Dark Glasses from Dario Argento who will be introducing the film himself. Other notable guests include directors Justin Benson and Aaron Moorhead and actor Brea Grant.
The line-up also features Michel Hazanavicius' Final Cut, which opened Cannes earlier this year; Sundance title Piggy from Carlota Pereda, and Travis Stevens' A Wounded Fawn which premiered at Tribeca last month.
Frightfest will take place at the Cineworld and Prince Charles Cinema in London's Leicester Square.